A High-Tech Case Study
Bit-Wizards eliminates frustrations for Backridge Tree Service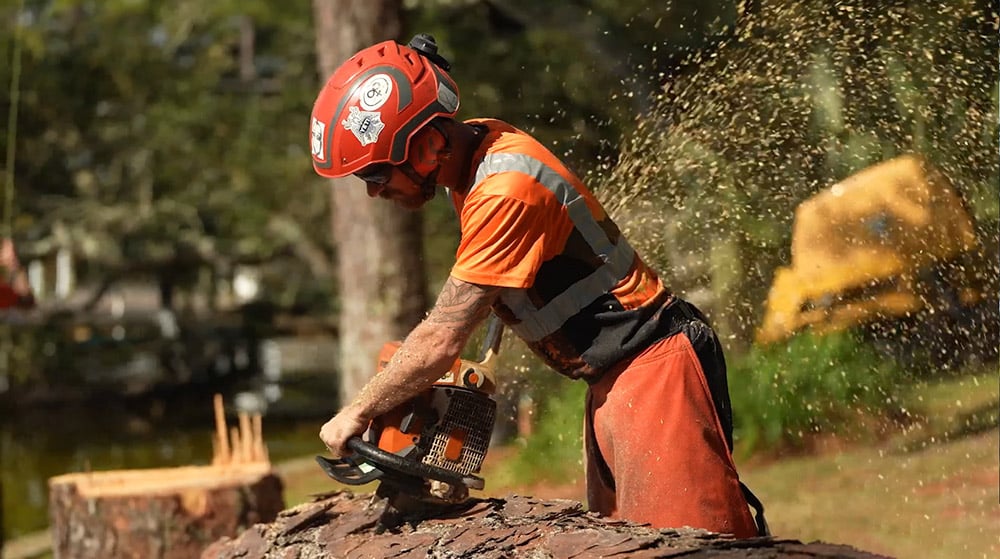 Project Summary and Client Background
Founded in 1998, Backridge Tree Service serves sidential, commercial, and municipal customers in Santa Rosa, Okaloosa and Walton counties. The company offers complete professional tree services including pruning, tree removal, stump grinding, tree and plant health care, consulting and supplemental support systems.
Technology is an integral part of how Backridge Tree Service conducts business day in and day out, from providing estimates and invoices, to coordinating with clients and organizing calendars. Backridge hired the Bit-Wizards Managed IT Services team to handle all aspects of their technology and take away their IT frustrations.
The Challenge
Backridge specializes in tree care, but the nature of their business requires the use of technology daily.
"It got to the point where we were spending so much time battling the technology that we weren't doing what we're good at, which is tree care," said board certified master arborist and Backridge Tree Service president Rob Calley. "Our office was spending so much time trying to solve problems that we weren't ever going to get a solution to."
Certified arborist and office and client care manager Alicia Calley wears many hats in her position.
"I answer the phone and set up appointments for our boss to meet with clients to look at their tree care needs," she explained. "I schedule all the tree work, help with our crew and any paperwork they might need, coordinate with permitting and scheduling cranes if we're doing a crane removal, invoicing, billing, et cetera."
Alicia Calley said Backridge found itself spending a lot of time trying to fix problems with technology while handling these daily tasks.
"All of a sudden, the printer would lose connection and you weren't able to print or scan," she explains. "We just felt like we were spending so much time on technology that we should've been spending with clients."
Security is another aspect of IT that Backridge needed assistance with.
"We have hundreds of clients, and their privacy is very important to us," Alicia Calley said. "So that's something we really needed taken care of."
Backridge Tree Service contacted Bit-Wizards to set up an appointment. That's when the Managed IT Services team was given a thorough picture of the technology problems Backridge was facing, as well as their priorities. At that point, Bit-Wizards put together several possible solutions and worked with Backridge to determine what would be best for them.
The Solution
Once Bit-Wizards had the go ahead on a plan of action, they got right to work.
"We stepped in to take care of all their IT related needs," said technical alignment manager Ben Taylor. "We needed to get their business set up to succeed in the modern era where you have to rely heavily on computers, IT security, and email."
One of the first things Bit-Wizards did was go into Backridge Tree Service's existing environment to get a full understanding of everything they had set up. The Managed IT Services team took notes of what they saw so they could replicate all those settings on enterprise grade hardware.
"We took out their consumer grade or ISP (internet service provider) equipment and replaced it with enterprise grade equipment like a firewall access point," Taylor explained. "We also migrated their email to Microsoft Office 365 and locked that down with our hardening techniques."
Taylor says this can all be managed remotely from the cloud.
"We installed remote management software on the computer so that if the client ever has any issues, we can just remote in and take care of anything they need. We can see the health and status of the computer, and they don't have to wait for us to come on site."
Taylor says IT security and support is now a constant for Backridge.
"We continuously monitor their computers. We update their computers once a week. We have consistent backups running and antivirus scans going for them. We also meet with them just about every quarter to go over how things are going, how things can be improved and what they may have upcoming that we can assist on."
Bit-Wizards is always available to help Backridge in a timely manner, no matter what they might need help with.
"They have no problem getting in the car and driving to the office if that's what needs to be done," Alicia Calley said. "I feel like I can reach out to Bit-Wizards with any question, even if it's how to do something in Word, and they are open to helping us. It's not just equipment and technology, but anything related that we could call and ask about."
The large and diverse team is what Taylor says sets Bit-Wizards apart.
"We have an extensive group of people that all have different backgrounds and specialties," he said. "A lot of companies have an IT person or two that are set in their ways and know what they know."
As Taylor explains, this makes many IT professionals very restricted in what they can do.
"Something unique about our managed services is that we have a team of individuals here that each have their own set of skills and directions they've gone in their IT careers. That helps them solve all sorts of problems that come up across a variety of fields."
The Result
Backridge Tree Service has been a client of Bit-Wizards since December 2017, and Rob and Alicia Calley are blown away by the results of their partnership with the Managed IT Services team.
"It's done. Bit-Wizards has helped our business," Rob Calley said. "They came in and they met with us. They saw our needs. They made a custom plan. Once we were in their system, they would follow up with us to assess where we were and solve any problems."
Alicia Calley said she can call Bit-Wizards and get her problems solved right away.
"We're not spending all this time on technology anymore. If we have a problem, we can pick up the phone and it's handled. Our experience has been great."
Bit-Wizards has allowed Backridge to fully focus on their business and what's important to them.
"Bit-Wizards brings to the table the opportunity to never have to fool around with technology problems," Rob Calley said. "We focus on agriculture. That's it. They handle the technology. You are a better person and a better company by being associated with Bit-Wizards because it's not just the professional work that they do. It's also the community work that they do. And that means something to me."
Alicia Calley said the fact that they no longer have to worry about technology takes a huge weight off their shoulders.
"We're not technology people. We need those programs to work for our business, and when things don't work, we go to the experts. We're the experts of trees, they're the experts of technology."
Bit-Wizards
70 Ready Ave. NW, Fort Walton Beach  |  BitWizards.com  |  (850) 226-4200