Soundbytes Summer 2023
Business updates from around the 850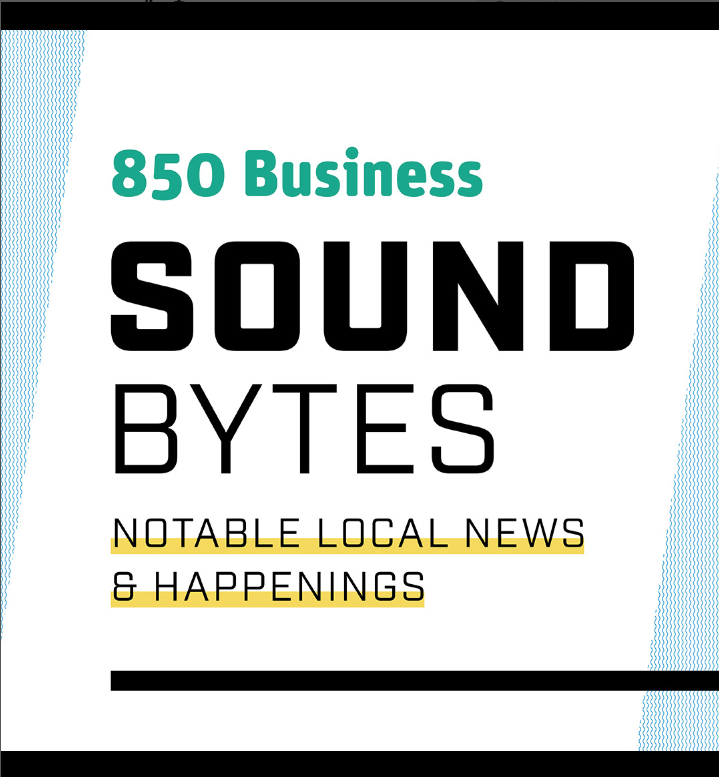 ---
Compiled by Rebecca Padgett Frett
---
Capital // Local Honors
Sachs Media HONORED in area and national awards competitions
Sachs Media earned the top honor in the 2023 Florida Public Relations Association (FPRA) Capital Chapter Image Awards, receiving the Grand All Image Award for the firm's "Hometown Hero Housing Program" campaign on behalf of Florida Realtors.
The campaign also earned an Image Award and a Judges' Award for the firm. Sachs Media received another Image Award and Judges' Award for its "Kickstart Success: Supporting Childhood Education at Northwest Florida" campaign for the Early Learning Coalition of Northwest Florida. The annual FPRA Capital Chapter Image Awards competition recognizes public relations practitioners in the Tallahassee area for exceptional work in a range of categories.
A Sachs Media campaign related to Florida's solar industry earned an honorable mention in the public affairs category at the 24th annual PRWeek Awards.
Sachs Media was the only Florida firm honored with one of these prestigious national awards. In 2022, powerful interests were advocating for legislation to eliminate a consumer-friendly solar policy called net metering, which allows Florida homeowners and businesses to trade extra power they generate for a credit on their bill.
With the help of Sachs Media, a coalition of clean energy advocates and businesses launched a comprehensive campaign to rally public support and share the experiences of solar consumers who had chosen to use this eco-friendly technology. The campaign resulted in a veto of the legislation by the governor.
---
Capital
Local Happenings
» Stearns Weaver Miller has expanded its statewide Land Development, Zoning and Environmental practice with the addition of Elizabeth "Liz" Desloge Ellis. Ellis is an experienced litigator who represents private and public sector clients in complex real estate development, land use and property rights matters. Her experience includes litigating eminent domain, inverse condemnation and Bert J. Harris issues. In addition, she represents clients on matters including public records, constitutional law and labor and employment disputes.
» Capital City Bank has announced that Mike Dasher has joined its team of wealth advisors, bringing more than seven years of experience in the financial industry and 13 years of experience in charitable gift planning and development with Florida State University. Dasher will be teaming with Capital City Trust Company, Capital City Investments and Capital City Strategic Wealth to provide expertise in investment strategies, retirement planning, estate and tax planning and risk management for clients. He is a graduate of Florida State University and holds a bachelor's degree in business management. He is an active community volunteer, currently serving as a member of the Tallahassee Regional Estate Planning Council, Tallahassee Quarterback Club, Tallahassee Chamber of Commerce and Economic Club of Florida.
» Capital City Bank has announced that Don May has been named its community president for Leon and Gadsden counties. He will be called upon to provide leadership for local banking teams while strengthening the company's position in both communities. William Smith has been made responsible for market strategy and development as the regional market executive for North Florida, which includes Gadsden, Jefferson, Leon, Madison, Taylor and Wakulla counties in Florida and Grady County in Georgia. As a second-generation Capital City banker and Tallahassee native, May brings more than 30 years of management and banking experience to the role of community president. He has held executive-level positions with Farmers & Merchants Bank, The First and most recently, Tallahassee National Bank.
---
Capital
Local Honors
» Leon County's Household Hazardous Waste program was named the 2022 Top 100 Leader in Sustainability by Call2Recycle, Inc. This designation is bestowed upon top-performing organizations that demonstrate exceptional commitment to battery collection and recycling. Through the Hazardous Waste Center, Leon County employees and residents have made a significant impact on the environmental health of the community by reducing the mishandling of hazardous household materials and diverting more than 300,000 batteries from the landfill.
» Leon County Government received three Project of the Year Awards from the Big Bend Branch of the American Public Works Association (APWA) for "delivering transformational public works projects that exceed the needs and improve the quality of life for county residents." Each year, APWA highlights exceptional projects that have not only met their goals within budget but have also surpassed public expectations. The following projects received awards: the Tram Road Culvert Replacement, the Smith Creek Road Bike Lane and the Magnolia Drive Project.
» At the Refuge House's Building Hope Birthday Bash & Benefit, executive director Emily Mitchem presented Gwen Marshall Knight with the Volunteer of the Year award. Mitchem noted the support and service provided to Refuge House by Marshall Knight, including the provision of space in the Leon County Courthouse to assist domestic violence survivors; helping Refuge House gain access to court proceedings during the pandemic; and a strong working relationship between Refuge House and the Clerk of Court's office on behalf of families and survivors.
» TCC Nets Continuing Ed Awards
Tallahassee Community College brought home two exemplary program awards from the National Council for Continuing Education & Training (NCCET). The Division of Workforce Development received the Exemplary Program Award for Innovation Through Collaboration, and the Wakulla Environmental Institute (WEI) received the Exemplary Program Award for the Oyster Aquaculture Training Program. The awards were presented during the NCCET Annual Conference and Partner Exhibition, which took place in Nashville.
---
Capital
New & Notable
» On April 10, Tallahassee Community College hosted a ribbon-cutting and open house for the newly renovated Student Union. Speakers included TCC president Jim Murdaugh, vice president for student affairs Sheri Rowland and Student Government Association president Tommy McCall, as well as Bonnie Davenport, president of BKJ, Inc., Architecture and Shawn Roberts, president and CEO of Mad Dog Construction.
Appointments
» Gov. Ron DeSantis announced the appointment of Donald Rubottom as chair to the Public Employees Relations Commission. Rubottom, of Tallahassee, was the staff director of the Public Integrity and Ethics Committee at the Florida House of Representatives. He was previously elected as an Oklahoma state senator and is a current member of the Florida Bar. Rubottom earned his bachelor's degree from Southern Methodist University and his Juris Doctor from the University of Tulsa.
» DeSantis announced the appointment of Rebecca Matthews to the Board of Physical Therapy Practice. Matthews, of Tallahassee, is the vice president of Automated Health Systems. Previously, she served as the chief executive officer of the Florida Healthy Kids Corporation and the chief of staff for the Florida Office of Insurance Regulation. She currently serves as chair of the Florida Education Foundation. Matthews earned her bachelor's degree in communication from Florida State University.
---
Emerald Coast
Local Happenings
» Alys Beach has hired Karen Troutt in the new role of vacation experience concierge. She will be the primary contact for guests through the Alys Beach Vacation Rental Program. Troutt received her bachelor's degree from Purdue University and has experience in marketing/communication, hospitality/concierge services and had her own business for over a decade.
» Alys Beach also welcomed Robert Stenhammer as general manager and vice president, overseeing operations, guest services, the vacation rental program and Alys Beach Neighborhood Association matters. Stenhammer holds a master's degree in hospitality and tourism and a bachelor's degree in business management and is a leading industry expert in all aspects of resort management, community associations, private club management and luxury real estate services. He has worked at luxury resorts including Telluride and Hilton Head. Stenhammer has already implemented a concierge program and has plans for a rental app, a new booking platform and other initiatives to improve guest experience.
» Berkshire Hathaway HomeServices Beach Properties of Florida announced that Hana Hawkins is joining the agency as managing broker for the Destin location. Hawkins will be responsible for overseeing daily operations, managing brokerage transactions, implementing agent training programs to ensure the delivery of quality customer service, and recruitment. A veteran of the local real estate market, Hawkins has been a licensed agent since 2012 and has built her business on professionalism, ethics and market knowledge. She has been active in the Emerald Coast Association of Realtors, serving as the Miramar Beach director on the board of directors from 2021 to the present and as the 2021 co-chair and 2022 chairman for the Young Professionals Network. She is a 2020 ECAR Leadership Academy Graduate. Hawkins was also named ECAR's 2022 Realtor of the Year for Destin and 2021 Realtor of the Year for Miramar Beach. In addition, Hawkins has led the ECAR Destin Tour for over nine years.
Appointments
» Gov. Ron DeSantis announced the appointment of Steven Warrick of Gulf Breeze to serve as a judge on the First Judicial Circuit Court. Warrick has been a partner at Brooks, Warrick & Associates, P.A., since 2008. Previously, he was an associate at Fitzgerald & Brooks, P.A. He received his bachelor's degree from the University of South Alabama and his law degree from Nova Southeastern University. Warrick fills the judicial vacancy created by the retirement of Judge Mary Polson.
---
Bay
Local Happenings
» Visit Panama City Beach is pleased to announce the recent appointment of Morgan Simo as sports and special events coordinator. Prior to joining the Visit Panama City Beach team, Simo worked with
The St. Joe Company as part of the opening team for Homewood Suites by Hilton Panama City Beach. After completing her bachelor's degree in business admin-istration at Florida State University, Simo continued her education at FSU by obtaining her master's degree in public and corporate communication. In her new role, Simo will assist the sports and special events team in planning and executing the destination's many events throughout the year.
---
I-10
Appointments
» Gov. Ron DeSantis announced the reappointment of Jonathan "Scott" Christy to the Commercial Motor Vehicle Review Board. Christy, of Marianna, is a trucking supervisor for Anderson Columbia. A commercial driver's license holder, he is trained in pre-trip and post-trip inspection, defensive driving and load requirements.
---