40 Years of Success in the Restaurant Business
Epicurean-in-Chief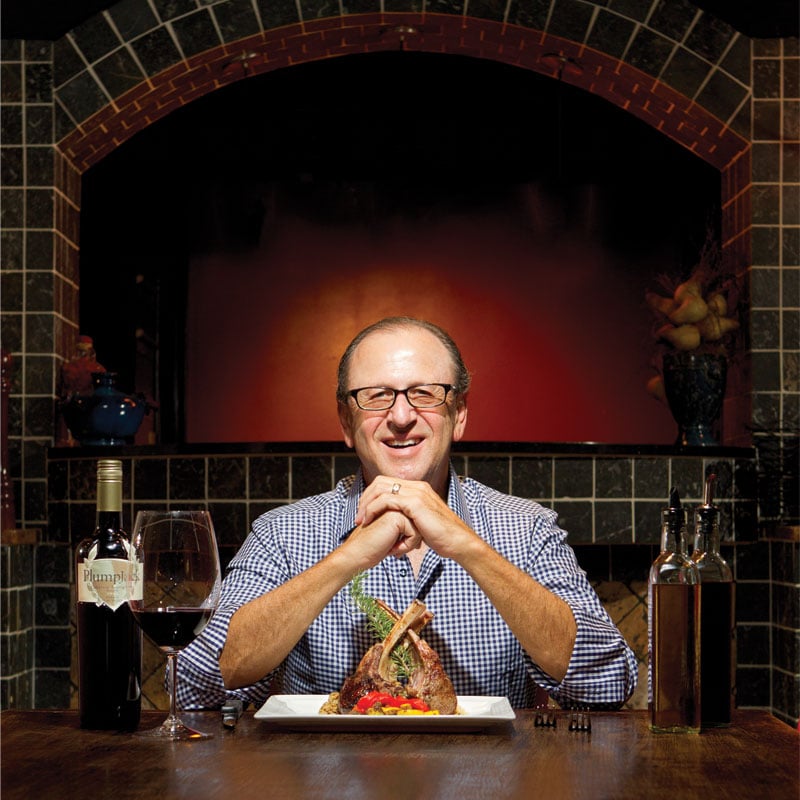 In the beginning, there was the Deli. Which begat The Brass Rail, which begat Andrew's Second Act, which begat Maxin's, which begat Tutto Benne, which begat Epicurian Catering, which begat Andrew's Upstairs, which begat Andrew's North, which begat Trio, which begat Andrew's Capital Grill & Bar, which — finally — begat Andrew's 228. And it was all good.
And that is the genesis of Andrew Reiss, who this year celebrates his 40th anniversary as a restaurateur. At 63, Reiss isn't quite as old as Methuselah, but he does have the distinction of running Tallahassee's longest lived restaurant business in the same location on Adams Street in the shadow of the Capitol.
"Why am I still here? In my opinion, No. 1 is me — my kid calls me a lovable pain in the ass. I never give up. I'm dogged. I'm still fussing if that's not clean enough or that's not right. I'm determined," he explained. "No. 2 — location. Thank God for the Florida Legislature and what that brings to our community and that I have really been able to take advantage of it."
Local public relations guru Ron Sachs has known Reiss since their days at Miami Norland High and has "worked for food" promoting the restaurants ever since starting his communications firm in Tallahassee 17 years ago. In addition to having a "calm" personality, Sachs said he attributes his friend's business longevity to always being willing to improve and change.
"Forty years into this stellar career, he is as engaged in the business today as he was when he started," Sachs said. "Andy's secret is that he's never complacent. He's always proactive in looking ahead to what should the menu be, what should the service be, what should the ambience be. And that's why he's been willing to start from scratch and completely change the formats of the restaurants."
His parents were Jewish refugees who fled Hitler and Reiss was born in the place they met and married — Qingdao, China. ("You know, where the [Tsingtao] beer comes from," he said.) His family ultimately settled in South Florida and his father was maitre d' at the luxury Carillon Hotel in Miami Beach during its mid-century glory.
Reiss and his brother would accompany their father to the hotel and worked their way through several jobs — washing dishes, busing tables, valet parking and working at the front desk and cabanas — as they were growing up.
In addition to being introduced to the hospitality industry at an early age, Reiss was also raised in a "continental" household where "food was big" and white wine was served with dinner. "My dad was always the kind of guy who wouldn't go to a restaurant that didn't have a white tablecloth," he said.
Even with his food-centric roots, Reiss initially attended the University of Florida with thoughts of becoming an accountant. That only lasted two years before he changed majors and transferred to the hospitality program at Florida State University.
At the time, he was dating Maxin Munchick, who he met as a teenager at summer camp, would convince to transfer with him to FSU and later wed after graduation.
After Andy and Maxin were married, "we were hippie types … and used the money that we got for our wedding to go to Europe for a year." They worked at a restaurant in Switzerland to extend their stay. When they returned to the U.S. they moved to Aspen "to feel what being a ski bum was like" and then moved north of San Francisco.
While in California, Reiss got the call that would set him on his career path. A local businessman named Winn Simpson owned an Adams Street building. The state capital was staying put in Tallahassee as construction began on a new Capitol building, and Simpson told Reiss he would give him a start in the restaurant business if he would move back to Tallahassee.
Reiss said yes and knew just what kind of restaurant he was going to open. After sorely missing the foods he was used to as a Jewish kid from South Florida while an FSU student, he wanted to introduce the capital city to a true, New York-style delicatessen.
"We were Tallahassee's first corned beef sandwich, Tallahassee's first lox, bagel and cream cheese, we brought knishes and blintzes and all that kind of stuff to Tallahassee," Reiss said of The Deli, which opened in November 1972.
Reiss thought Tallahassee needed an introduction to continental fine dining and, when the lower floor of the building became vacant three years later, he opened Andrews 2nd Act, that white-tablecloth restaurant his father was so fond of.
In 1977 he took his business upstairs, opening the jazz bar Maxin's — another first locally — and two years later brought Northern Italian cuisine to town with Tutto Bene. In the early '80s, he started his catering business and for years was the contract caterer for the Leon County Civic Center.
"It was so easy to come up with new concepts for Tallahassee, because there weren't any concepts," Reiss said in a 2008 retrospective story in Tallahassee Magazine.
In that same story, Reiss said the secret to his success was evolving to meet changing tastes, including offering menus with lighter, less expensive entrees, and catering to a younger clientele that lives nearby rather than trying to lure patrons back to downtown from their homes in the northeast.
In 1986, he would revamp Maxin's and Tutto Benne into a 185-seat restaurant, Andrew's Upstairs, and add outdoor dining at his street-level restaurant.
Reiss did have two brief forays off of his downtown corner. He moved his restaurant to a location in the northeast part of town for a year in 1996, while a top-to-bottom $4 million renovation of his downtown building was underway, and he opened a family-style restaurant called Trio in the same area that lasted five years.
Reiss would return to downtown in 1998 with the newly revamped Andrew's Capital Grill and, after significant renovations, would open the former 2nd Act space as Andrew's 228.
In addition to promoting his restaurants, throughout the years Reiss has devoted much time and energy to promoting Tallahassee's downtown. He has served on the Downtown Improvement Authority since 1978, with several stints as chairman, and started the organization that has become Visit Tallahassee.
In 1997, he was instrumental in creation of the wildly popular Downtown Getdowns, which now attract 5,000 to 10,000 people during football game weekends. This year's Oct. 12 event was planned as a "Happy Birthday" party for his restaurants.
Friends and coworkers agree that Reiss' fatherly attributes are what make him a good boss to the estimated 7,000 people, many of them college students, who have worked in his businesses over the years.
"These are really good college jobs if you can get past how fussy I am about promptness and appearance," Reiss said. "They're learning how to be on time and how to be meticulous, because they'll not last with me otherwise. It's a good thing. It's good for the company, and it's good for them."
Jack Penrod, general manager of Reiss' restaurants who has worked with him for 12 years, calls his boss "firm but fair."
"He's got a very kind of cool way about him — but at the same time, he's very driven, tenaciously driven about details," said Penrod, who Reiss calls his "heir apparent." "He holds on to his ideals that make a restaurant successful, and he pushes them over and over and over again. But at the same time, he's a very fair person and a very firm person. People respect that and listen to him."
Sachs agrees: "He's one of the calmest people you'll ever meet in one of the most stressful of businesses … it almost seems counterintuitive, I think that's one of his secrets to success."
On a typical day, Reiss goes to work in the morning, comes home after lunch and then returns to the restaurants in the early evening — a total of 12 shifts a week.
Why did Reiss' restaurants succeed when other local icons such as the Silver Slipper and Chez Pierre fell by the wayside?
For starters, when the winds of change blew, Reiss changed with them. For example, when the Legislature enacted a law banning lobbyists from giving legislators any meals, trips or gifts, many local restaurants were decimated by the loss of business. The gift ban cost downtown Tallahassee businesses $500,000 a week during the 2007 session, according to a study done by the local Tourist Development Council. To compensate, Reiss moved his catering division away from government jobs to more weddings and locally based work.
Reiss said buying the building that houses his restaurants after Simpson's untimely death in a car accident as well as a contiguous building when it became available, also gave him another advantage.
"In tough times in the late '70s and early '80s I think if I didn't own the building I would have folded it up," he said. "The restaurant business is a penny-pinching, fine-margin business." When you own the building housing your restaurant "instead of lease payments, you got mortgage payments, but so many years later you own it and you have something to go to a bank with and say 'I'm going through tough times, lend me some money.'"
Reiss' "season" is the time around the two-month legislative session in the spring. "The session for me is what Christmas is for the malls," he told The Miami Herald in 2005. It makes up for the summer's sales doldrums. "This will be my 39th summer of losing money," he says. His goal? "It's a matter of how little I can lose."
The upside of the restaurant business is cash flow, according to Reiss. While law firms and ad agencies have to bill clients and wait for payment, "you come and eat with me, you gotta pay …. You use the cash flow to build equity."
While he is proud of his foresight throughout the years and success with different restaurants, Reiss grows wistful when he talks about what might have been.
"I think if I regret anything it's that I should have just stuck to one concept and gone to different markets with it," he said.
"I make a mean sandwich. I think my biggest mistake in business was when I had The Deli and then I opened up the Second Act. I really wanted to be a Golden Spoon Award winner. And I accomplished that. And then two years later I opened up Maxin's, and we were successful and then two years after that, I opened up Tutto Benne and we were successful. Had I put my energy (into one) instead of multiple different concepts, if I would have just taken my deli or my love of sandwiches, I could have been the guy … "
In addition to his career as a restaurateur and service to the downtown community, Reiss has also taken a leadership role in the hospitality industry. He was instrumental in the decision to relocate the industry's trade association, the Florida Restaurant and Lodging Association, to Tallahassee.
In fact, the group partnered with Reiss, paying for needed upgrades to the building relating to fire safety and accessibility, and their offices now occupy the floors above Reiss' restaurants. In January, Reiss will be inducted as chairman of the statewide association during an event at Miami Beach's renowned Fountainebleau Hotel.
"There is no question that Andy is an industry icon, not only for the exceptional food and service he brings to the table, but also his community involvement and association leadership throughout our great state," said Carol Dover, president and CEO of the FRLA.
Reiss will be the first independent restaurant owner to lead the association, a position usually held by organizations with a high profile statewide. But Reiss said he has no doubts he'll be an effective advocate. "I don't want to say this in an obnoxious way, but there is no restaurateur or hotelier that's on a first-name basis with every governor since Reubin Askew. I've known all the senators and all the representatives for 30 years. I don't have to go (to the Capitol) and lobby. I lobby when they come to lunch."