30A Entrepreneur Mike Ragsdale Takes Aim at Growing His Online Business
30A Entrepreneur Mike Ragsdale Takes Aim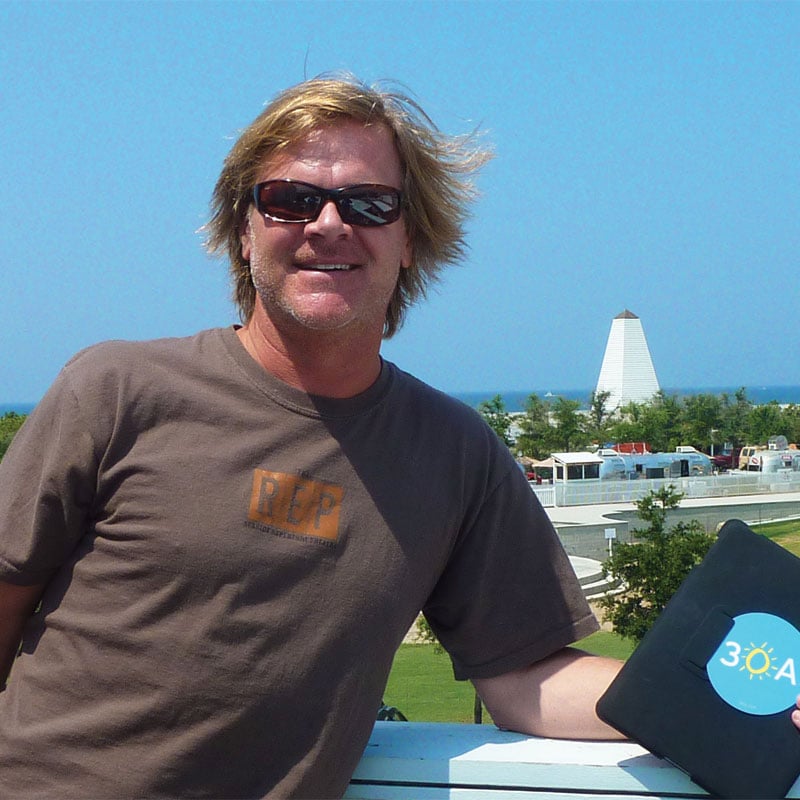 Prominent 30A entrepreneur Mike Ragsdale embraces change. The self-described "repeat offender" entrepreneur and creative promoter prides himself on acting when he recognizes or envisions a challenge.
"It's like jumping off the high dive," he says. "The quicker you can make it up the ladder, the better."
Known locally for successful projects such as Digital Graffitti in Alys Beach, 30A.com and Town Wizard, Ragsdale along with his wife, Angela, and two of his children took a significant leap into the unknown late last year when the family packed up and set off for an eight-month trip around the globe.
The ambitious journey to visit lesser known places in Eastern Europe, the Middle East and Asia was not the 40-something father of four's first leap off the high dive. He spent most of his life in and around Birmingham, Ala., achieving entrepreneurial success in businesses as diverse as online consulting, fitness and the restaurant industry. "My wife and I were always dreaming about doing something radically different," Ragsdale says. "The kids said, 'Give it up. You talk but never do anything.' We decided it was time to wake up, do something or quietly resolve to be happy (in Birmingham)."
The Ragsdales drew a latitude line across the U.S. on a map, staying south of Birmingham because they did not want to shiver through life in a colder climate. They considered California, Texas, Louisiana, Mississippi and quite liked Savannah, Ga. "About that time, a friend who knew we were looking to move told us about his home that was for sale in Santa Rosa Beach," he says. "We came to look at it, fell in love and in about 60 days we'd moved."
It was September 2006 and the Ragsdale family knew they had found their forever home along 30A. "I think there is a certain type of person who is willing to 'give it all up' to just be near the water," he says.
"My story is absolutely no different."
Mike Ragsdale quickly became something of a local activist, promoting all things 30A. From Digital Graffitti, among Ragsdale's earliest local endeavors, through the successful development of 30A.com, the entrepreneur's mission has been to effectively communicate the 30A way of life. Celebrating the unique and authentic sense of place found in South Walton is of paramount importance, he believes. The Internet and its tools are the media for his creative communication.
"Much of the 30A audience is out of the area," he says. "We are keeping people in touch with a place they love. It's a privilege. I'm just in love with the 30A brand. I am in love with it as a place and with the opportunity that still exists for our area. I'm just excited to be at the table and to be able to help contribute. It's just an honor."
With 30A.com flourishing, Ragsdale did not intend to simply tread water. His next leap into the entrepreneurial unknown was to scale 30A's success by creating TownWizard, a web-based guide tool that gives users street-level local knowledge and local color about a particular town.
"TownWizard was spawned from 30A," Ragsdale said. "People that I didn't even know approached me about doing a 30A type business in their town. I was reluctant to partner with someone I didn't know. So we decided to take the foundation of 30A.com, the know-how to launch it and monetize the system."
Partnering with Jeff Armstrong of Seagrove Beach, he used the tools developed for 30A to create a business plan for a universal local guide to provide that all-important authentic sense of place. Destin Shines was the first test case.
"Many people who visit a place want to know the local flavor, the local sense," Ragsdale says. "So TownWizard empowers a true local entrepreneur to help provide that authenticity. It's almost like a business in a box."
Armstrong, 45, shares Ragsdale's passion for entrepreneurs and their enterprises. The two first met at work in Alys Beach, where Armstrong remains CFO. As part of the team's efforts to replicate 30A.com's success, and get a better understanding of the system launch from an entrepreneur partner's point of view, Armstrong started PCBShines.com. "We really created this business from scratch as a test case for future entrepreneurs."
TownWizard goes where government or tax-funded promotional organizations can't, Ragsdale believes.
"Yes, we have great organizations to promote the area, but we [TownWizard] have great partnerships," Ragsdale says. "They have a job, but we can drill down deeper. They can't promote an individual business. At the publishing level, we can really get down and introduce you to those local businesses. You need to have both [kinds of organizations]. I think it's wonderful when we work together."
TownWizard is now in more than 150 different markets in eight countries on four continents, including Lima, Peru, and Guam. "We also just received a round of funding from our European partner," Armstrong said. "They'd bought two locations in The Netherlands. They realized how great it was and signed a licensing agreement for Europe." The Euro-partners will be marketing TownWizard Europe, using the same logo, software platform and concept. One thing they're still trying to work on — the language barrier in Europe.
What TownWizard does better than any competitor, Ragsdale believes, is answer the universal question: What do you want to do today, this weekend or next week? Plus, the answer comes from a source with deep local knowledge and up-to-the-minute details about who-what-when-and-where in the particular town or neighborhood. "Larger [online] sites lack relevance," Ragsdale explains. "That is where TownWizard has the advantage. I am not really worried about the Googles of the world."
TownWizard radically inverts the business model of most online guides. First, the business does not focus on tourists, but cultivates locals to share their knowledge online. It was something of a no-brainer, Ragsdale and his partners felt, that visitors always want to eat where locals eat, do what locals do and experience a place as if they had an insider's perspective.
"We also recognized that small is better," he says. "So much of IT marketing focuses on large metropolitan areas. What's missing is information about rural America and great neighborhoods. No one had focused on them." Ragsdale is proud that even if TownWizard only reaches 100 people in a given area, it reaches the "right" 100 people who have key information to share.
TownWizard's entrepreneurial promise is very seductive, Ragsdale says. It's affordable, can be operated from anywhere an Internet connection is available and is fun. As its website promises, you get "everything you need to create a local guide for all mobile devices and the Web."
The problem is that not everyone is cut out to be an entrepreneur, he discovered. "I felt very personally responsible to help them succeed," he says. "It was very tough for me when one of our entrepreneurs did not do well. I took it very hard. But I can't hand-hold. That's just a statistical reality. It was an intense educational process for me."
TownWizard had reached a point in its growth that called for yet another commitment to take a plunge into change. Ragsdale reached out to friends from AOL/Time Warner to help him find the best way to replicate the TownWizard system while maintaining the all-important personal relationships that fuel it.
The quest took the business partners to California, where their schedule literally read like a Who's Who of Silicon Valley. "At 9 a.m. we met with Apple, 11 a.m. it was Google and 4 p.m. was Facebook," Ragsdale recalls. "We spent the last year and hundreds of thousands of dollars to scale up the tools." The result is not only a scaled-up TownWizard, but a system in which it is much easier to integrate something new.
Maintaining close ties with its entrepreneur partners is part of the online business' operating matrix that Ragsdale feels is integral to its success. Monthly conference calls — with 40–50 partners and recorded to be shared with others — are used to discuss next versions of the software, share ideas and showcase successes.
With its success rippling out across the globe, 30A.com remains a focal point for Ragsdale. "The No. 1 goal for me is to make sure 30A.com is a shining model success story," the self-described town evangelist says. "I'm the product guy, always dreaming about what to add."
TownWizard now has a life of its own and has moved past the critical point in its life span where businesses face the challenge of grow or limit their success. The opportunities are global, and the product doesn't have a shelf life, Ragsdale and his partners believe. They continue to think big, while maintaining the authenticity of relationships that allow TownWizard users to obtain timely local knowledge.