Women Business Owners in Florida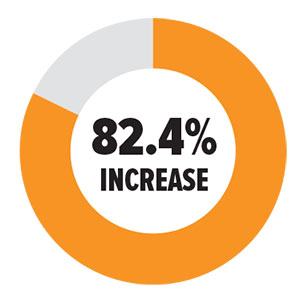 Whoever came up with Enterprise Florida's "Perfect Climate" marketing pitch to the world has to be tone deaf to reality in the Sunshine State.
A tie? Really?
News flash. The number of women-owned firms in Florida is growing. I mean, really growing. They are responsible for hiring hundreds of thousands of workers and are big contributors to the state's economy.
But while Enterprise Florida officials say they want to take a new approach to their marketing campaign to bring new businesses to Florida, the tie will apparently remain an element.
According to the fifth annual State of Women-Owned Businesses Report from American Express OPEN, women are doing well here, thank you very much. (See chart at right.)
Nationally, today there are an estimated 9.41 million women-owned firms (an increase of 73.7 percent over 1997), which are responsible for employing more than 7.9 million workers and have annual sales totaling more than $1.46 billion. Florida is ranked 12th in the growth of women-owned firms in the past 18 years and 35th in the growth of firm revenue during that same time period.
But apparently, Enterprise Florida doesn't plan to drop the tie, perhaps just reduce its prominence, according to its chief marketing officer, Melissa Medley. Besides, she told The News Service of Florida, the campaign has gone over well with the agency's target audience, "business decision makers."
The tie was introduced in early 2013, the brainchild of a Jacksonville firm. It suffered some backlash at the time, but no changes were made and the Legislature didn't bother to step into the controversy. Debate died down but the issue reemerged during the Legislature's spring session as Enterprise Florida sought more money for its marketing efforts.
Florida should be recognized as having a good climate for any business, no matter the sex of the CEO or founder. The numbers don't lie.
And in our October issue, we plan to introduce you to some amazing women from Northwest Florida who are making a tremendous impact in business and their communities. We will be announcing the 10 winners of our annual Pinnacle Award and telling you a little of each one's personal story and recipe for success. I am sure you will agree that these women have made a mark in our region with their contributions.
The October issue will be unveiled at Gulf Power's annual economic symposium to be held Oct. 11-13 at the Sandestin Golf and Beach Resort. We are proud to say that Gulf Power has joined with 850 to sponsor this year's Pinnacle Award.
So, get ready to raise a glass to the women who have made a difference in Northwest Florida's community and business world.