Winning the Race
County intends to make Tallahassee the capital of cross country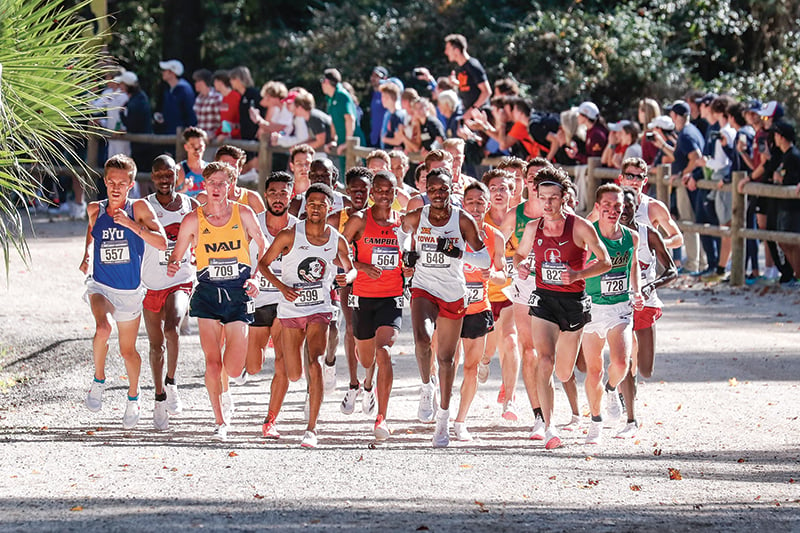 Had Visit Tallahassee entered a bid to host the World Cross Country Championships 15 years ago, it likely would have been laughed out of court.
To begin with, Florida's heat and humidity do not make for optimal running conditions. Further, the state capital was inexperienced at hosting cross country championships. And, in the history of the world championship, runners had competed in the United States just twice.
What Tallahassee did have was a vision. Representatives from the Gulf Winds Track Club, Florida State University and the Leon County Parks and Recreation Department looked over a closed-out landfill turned park and saw the potential for a dedicated cross country venue.
Their vision was true.
Apalachee Regional Park quickly gained a stellar reputation among cross country programs in the region, state, country and finally, the world. In 2026, Tallahassee will be the first U.S. city to host the World Cross Country Championships in 34 years.
As of this year, Apalachee Regional Park will have hosted the Florida High School Athletic Association state cross country championship 13 consecutive times. In 2021, the park welcomed the first NCAA Division I Cross Country Championships to be held in Florida in 70 years. Last fall, the NAIA and JGCAA cross country national championships both took place at Apalachee Regional Park.
"At this point, we've hosted every biddable national championship for cross country," said Ryan Zornes, the senior sports and sales director for Visit Tallahassee, Leon County's tourism promotion department.
Not coincidentally, the park has undergone numerous improvements in recent years.
Zornes' work centers around bringing athletic organizations to the area for meets, tournaments and championships, all with the goal of driving up tourism and bed tax revenue.
"We work in sales, but we don't necessarily have a product to sell," Zornes said. "We're selling the destination, so ultimately for us, it's about having strong partnerships within the community."
These partnerships include restaurants, hotels and attractions. In addition, Visit Tallahassee relies on access to athletic facilities owned by the city, county and educational institutions.
From the outset, Zornes and his predecessor, director of parks and recreation Amanda Heidecker, planned to take Apalachee Regional Park to the national stage. Preparing for that eventuality began shortly after the park opened in 2009 with the widening of the cross country trail to meet NCAA requirements.
"In the 2010s, we saw some really big enhancements with some help with the parking cell, the solid waste facility and then some permanent fencing went up around the course that really helps us with crowd control," Zornes said. "A really big thing that happened during that time was that we had fiber optic run throughout the course so that we could put these events on television or stream them or, when we have our mobile jumbotron out, people can watch them live on the scoreboard."
The most recent phase of improvements was completed in 2021 with the construction of a multiuse operations center, permanent finish line and awards stage.
The improvements were expensive — the last phase alone cost the county roughly $3 million — but the return on investment in the form of visitation and economic impact has more than justified them.
"When we look back at what we were able to do in 2022 just off of our cross country meets, we had over $13 million in direct spending," Zornes said. "This is money that is coming from outside of this community, and that generates over $20 million in economic impact."
It is impossible to predict the dollars that the 2026 World Cross Country Championships will bring to the region, but for Zornes, the exposure will be priceless.
"There are going to be a ton of economic drivers that come with that kind of event, but ultimately, it's really trying to solidify Tallahassee on the map as the capital of cross country," Zornes said. "That's something that we have taken as our mantra, and we want the world to know, not just the country, about how much we love cross country here."