What Florida's Population Boom Means For Northwest Florida
We're Growing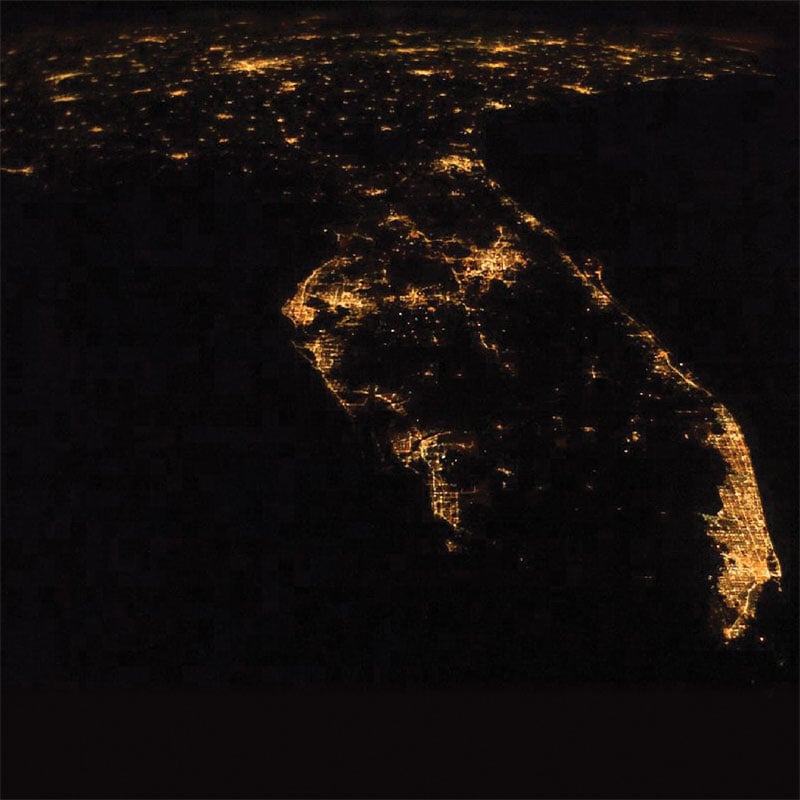 There were no population estimates back then. The first official census didn't come until the mid-1830s, a decade before Florida was granted statehood in 1845. There were 34,730 total residents of the state — 18,395 white, 16,335 nonwhite. And, unlike the Florida of today, the major population centers were in the north, where a good percentage of residents lived in the economically dominant early settlements like Tallahassee, Pensacola, Apalachicola and Port St. Joe.
My, how times have changed.
This year, Florida is expected to become the nation's third largest state, coming close to boasting a population of nearly 20 million and surpassing New York. Only California and Texas will be bigger.
State Archives of Florida, Florida Memory
Railroads built by Henry Flagler and Henry Plant helped populate Central and South Florida. The staff and crew of the Florida East Coast Railroad stand by the Henry M. Flagler streamliner in 1939.
For the state's economic development leaders, it's a welcome change from the Great Recession, when Florida for the first time in modern memory began losing more people than it was gaining. In 2009, for instance, for the first time since statehood, Florida lost more residents than it gained. The New York Times even ran an article in August of that year commenting: "Imagine the shock … to discover that traffic is now headed the other way. That's right, the Sunshine State is shrinking." Most who left went in search of jobs elsewhere during the recessionary years. Now, however, the state is again growing — mostly because of new residents who have come here in search of employment. And the pace of growth will certainly be faster than the past 10 to 20 years.
According to an AP analysis of U.S. Census data released in January, more than half of the state's new residents are between the ages of 25 and 64. And many of the jobs luring them here are in the tourism industry, which has seen a dramatic rebound from the depths of the recession. Indeed, the state's tourism numbers hit a record in 2013 with 94.7 million visitors — a 3 percent increase over 2012. It marked the third year in a row the state had hit a record — and the trend is expected to continue in 2014. It's not surprising then that the statewide number of tourism-related jobs jumped 2.9 percent in 2013, to a total of 1,088,200. In fact, the 2013 tourist-record announcement came from Gov. Rick Scott at Universal Orlando Resort, which is undergoing an expansion that will likely result in 3,500 new jobs this year.
"People are moving here because they want to retire, and we want them to continue to do so," said Melissa Medley, senior vice president and chief marketing officer of Enterprise Florida, the state's public/private partnership designed to promote economic development. "But people are also moving here because our economy is expanding in a judicious, strategic and positive way."
Where They're Going
The population trends of the past several decades aren't expected to change much as Florida moves into its role as the nation's third largest state. The biggest percentage of migrants will move into the state's already highly populated areas of South and Central Florida, along with Jacksonville in the Northeast. Some of that growth, especially in the south, will be fueled by a growing influx — and investment — from Latin Americans.
So, what will happen in Northwest Florida? Experts agree that our region will grow, some areas seeing their population jump by double digits over the next 20 to 40 years, but obviously not in the same numbers as some counties to the south.
"When you look back historically, growth has been much more rapid in the central and southern part of the state," said Stan Smith, director of population studies at the University of Florida's Bureau of Economic and Business Research. "The population center of Florida shifted continuously to the south and east from the first day they had data. The projections show a continuation of that."
North Florida will grow, but will never return to the glory days of when it was the population center of the state — before the railroads funded by Henry Flagler and Henry Plant opened development further south into the peninsula. Besides, a lot of the growth is related to tourism — and snowbirds prefer the warmer weather found from Orlando to the Keys.
"As the state grew … it sort of skipped over North Florida," Smith added.
Miami-Dade County's skyline continues to grow as does its booming population, fueled in part with an influx of business and new residents from Latin America. Miami's Brickell Avenue meets the demand for luxury real estate (March 2013).
Population projections developed by the Florida Legislature's Office of Economic and Demographic Research predict that Florida's population will grow by 32.78 percent — or by more than 6.3 million residents — by the year 2040. It pegs the growth in Northwest Florida, now with a population of more than 1.43 million residents, at 21.24 percent — pushing the region to 1.74 million. Some of the biggest growth will come in the counties most heavily impacted by the military — Santa Rosa, Okaloosa, Walton and Bay counties. (Okaloosa and Walton have been recognized as one of the fastest growing regions in the country for several years running.)
Larry Sassano, president of Florida's Great Northwest, an economic development engine for the region, suggests the growth projections for Northwest Florida may be on the low side, particularly not taking into account the expected expansion of the aerospace industry along the Gulf Coast.
"I especially see growth in Bay, Leon and Escambia counties, the major hubs that already attract major talent pools," he said.
The region's focus on promoting the aerospace industry is expected to be a major plus in attracting new businesses, providing high wage jobs for current residents and luring more skilled workers to the area.
Florida's Great Northwest has been actively promoting the region among airplane and airplane parts manufacturers worldwide as a great place to locate because of the existing and willing trained workforce, many of them former military; the availability of land; easily accessible port, rail, air and road transportation corridors; and the region's close proximity to major airplane assembly plants in the Southeast.
"There's a lot of growth in the aviation industry, and I think the commercial aviation industry will really take off as worldwide travel expands. There is a lot of pent-up demand, and all the major manufacturers are looking to expand their businesses," Sassano said.
Promoting Growth and Jobs
"The state is very involved in facilitating jobs and growth," said Enterprise Florida's Medley. "That includes the decisions we make to invest in certain sectors or activities that will yield a return on investment to us at some point down the road."
Last year the state poured $65 million into promoting tourism. The numbers of visitors show that it obviously worked. Medley said the financial return to the state was "in the billions," and Gov. Rick Scott this spring is asking the Florida Legislature to up that annual investment in tourism promotion to $100 million.
The state is also investing in the promotion of international trade — hoping to benefit from the Panama Canal expansion — and business incubators, pushing to get research and development commercialized and growing.
Sean Pavone/shutterstock.com
Downtown Tampa has the second highest number of high-rises in the state, behind Miami. View along the Hillsborough River in 2011.
"As a state, we are doing things that make us more attractive to business," Medley added. "Florida is a microcosm of the U.S. If a business can be successful here, it could grow nationally. And as our businesses grow here, the environment improves and workers move here."
Outside of tourism, Florida doesn't really have a budget to promote business expansion to the state or lure new residents. Not like Michigan, which promotes business development and tourism through its "Pure Michigan" TV and radio ads. (Michigan has the most visited state tourism website for seven years running, generating 9 million visits in 2013.) New York last year set aside $140 million for its "New York State Open for Business" campaign.
"That compares to zero for us," Medley said. "Businesses don't necessarily choose states, they choose communities. As the state's economic development entity, we're trying to earn the opportunity for our communities to have a seat at the table. We never had a budget to promote the state on behalf of business."
But this spring, Enterprise Florida is asking the Legislature for $3 million to start growing a campaign to put the state's message in front of corporate CEOs and site selectors.
Are We Ready?
Some of the counties in Northwest Florida are projected to grow at the same rate as those in the southern and central sections of the state, the numbers of people coming in just won't be as large. Still, if Santa Rosa County adds 73,352 residents, as it is projected to do by 2040, or Wakulla County becomes home to another 12,814 residents, it is bound to have a major impact.
State Archives of Florida, Florida Memory
Tallahassee builder Orion C. Parker (in bowler) and his crew pause in August 1906 for a group photo during construction of the two-story Florida Governor's Mansion in Tallahassee, once the state's center of population.
"We have fewer people here, but that doesn't mean the impact (of growth) will be any less," said Tony Carvajal, executive vice president of the Florida Chamber Foundation. "We're going to see a good bit of growth the further west (in the Panhandle) that you go. That whole northwest corner, there is a big manufacturing and military boom going on there."
If the region's population grows too fast, Carvajal warns that we might not be prepared for it.
"We have the space to grow, we have the talent to grow," he said. "But we're going to need 65,000 to 75,000 new jobs. That means new, not replacement jobs, if we want to maintain a 6 percent unemployment rate for the region."
Ed Smith, president of the Emerald Coast Association of Realtors, which serves Okaloosa and Walton counties, is concerned that growth will put an untenable burden on what he sees as the region's already overtaxed infrastructure.
"We've got to have the infrastructure in place to accommodate that type of growth," he said. "Many of our infrastructure components are maxed out."
There are some large proposed developments for the region to handle the population growth, including the West Bay plan in Bay and Walton counties backed by The St. Joe Company. Earlier this year, St. Joe hosted an open house in Santa Rosa Beach to unveil a 50-year plan for the build-out of West Bay, which would stretch out over more than 125,000 acres if the plan wins approval (all in Bay County except for 12,000 acres in Walton County.)
The original West Bay plan covered 75,000 acres in Bay County. An extra 50,000 added to the west end would help the company build its vision of a retirement community similar to The Villages, located just south of Ocala in Central Florida.
"We feel like this demographic, with this sector plan, could be the third leg of the economic stool, and a steady one," St. Joe CEO Park Brady recently told the Panama City News Herald, referring to tourism and the military as the first two legs.
Of the company's plan to build retirement homes, he added, "It's recession-proof, steady, non-seasonal … When the economy went south in 2006, The Villages were still selling 2,600 homes a year."
Scott Holstein
Tallahassee was proclaimed Florida's Capital in 1824 because it sat midway between the state's two most populated areas, Pensacola on the west and St. Augustine on the east. The 22-story new Capitol and the historic old Capitol (seen here in March 2013) were built on the same site occupied by the territorial Capitol.
But Carvajal cautions that Northwest Florida can't just look at itself as a location for tourists and retirees. So, is Northwest Florida ready? "The short answer is, if we keep using the patterns of growth and management we've used the last 20 years, we're not."
And he said the region must work to protect its military assets, an essential element in helping attract new industry and new workers to Northwest Florida.
"In Central Florida, we lost out on the space industry to some degree, and there is a whole brain drain going on along the state's East Coast. We don't want to have that happen in Northwest Florida," he said.
"This is still a great, unspoiled territory. But you can't have just residential growth. It needs to be economic growth. We face a peril of having too many retirees without enough other income to buoy us. Where are you going to get those health care workers, the people who support the broad range of industries that will be needed? Each community has to come up with its own answers."
And Medley agreed that it is the communities that will have to promote the business climate they want.
"The state doesn't create jobs," she said. "Businesses do."