Welcome to your new home for business in Northwest Florida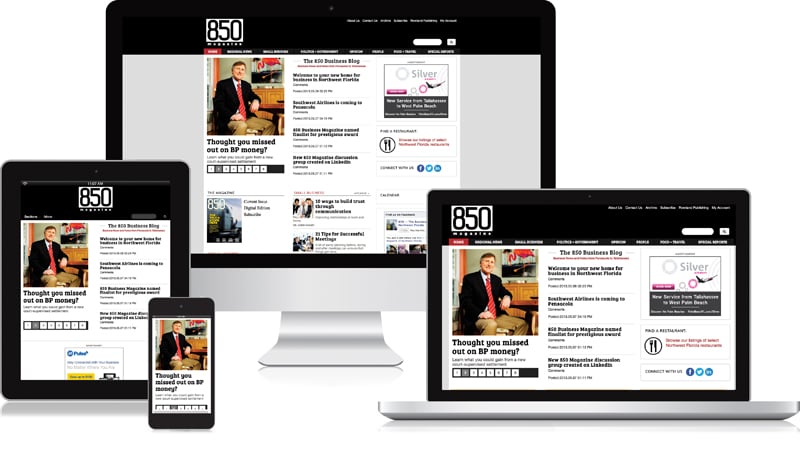 In business, mobile means anywhere. In the hotel lobby or at the airport, you're constantly tending to your business. No matter where your business takes you, 850 Business Magazine is available at your fingertips with a new mobile-friendly website.
As you may have already noticed, the new www.850businessmagazine.com features more commentary and stories about the people, issues and changes in Northwest Florida. And it's been designed with a revolutionary interface that automatically adapts our pictures and stories to be easily viewable on any size mobile device — phone, tablet or laptop. This means no more pinching and zooming; now just click and scroll.
The new 850 Business Magazine website is dedicated to helping you do business in Northwest Florida. To that end, we've reorganized the layout of our online magazine to help you quickly locate the tips, features and commentary about your Northwest Florida business.
To get you started, here is a guide to some of our new sections:
SMALL BUSINESS — Resources for your business, with tips and advice on finance, human resources, management, technology and more.
REGIONAL NEWS — Features and updates of the people and businesses across Northwest Florida, arranged by region. We've broken it down to: Tallahassee area, Destin/Fort Walton area, Pensacola area, the Forgotten Coast, along 30-A and along I-10.
850 BLOG — Finally! Our team of reporters, editors and photographers are now able to bring you breaking news stories and updates from Pensacola to Monticello.
POLITICS + GOVERNMENT — Stay up to date on the latest issues that affect our region and interviews with the lawmakers shaping the new rules of business.
OPINION — Commentary on the current topics from movers and shakers across Northwest Florida, including 850 Publisher Brian Rowland and Editor Linda Kleindienst.
FOOD + TRAVEL — You gotta eat, right? In addition to the stories of our outstanding restaurants and food industry, we now have a searchable and sortable guide to the top dining establishments across the region.
PEOPLE — Get to know the personalities behind the business, keep up with the latest job changes and check out our select group of 40 rising stars under age 40 that are changing the face of Northwest Florida.
CALENDAR — Chambers of Commerce, marketing firms, organizations and speakers are now able to post their upcoming events — for free – and give attendees enough time to "save the date".
SPECIAL REPORTS — In nearly every issue of our print magazine, we focus on an area of special interest or importance.
ARCHIVE — Cover-by-cover, a searchable archive of past 850 Business Magazine issues.
FLIPBOOK — For those who don't get our print version delivered, we've made available our latest issue in digital flipbook form. Now, everyone can appreciate the photography, design and advertisments.
Keep checking back as we will be adding more stories — and especially photos — to the site. There is still some cleaning up to be done as we convert everything from the old site to this modern content management system. Please let us know if you see anything that needs to be fixed, or if you just want to offer some comments and suggestions.
With this new website, we're also renewing our efforts on social media, so don't forget to like us on Facebook, follow us on Twitter and join the new 850 group on LinkedIn.
Good doing business with you!