Walton County tourism bounces back
The tourism-based economy of Walton County has experienced a major rebound. Not only are the repeat customers coming to the beach, so are new visitors from across the country.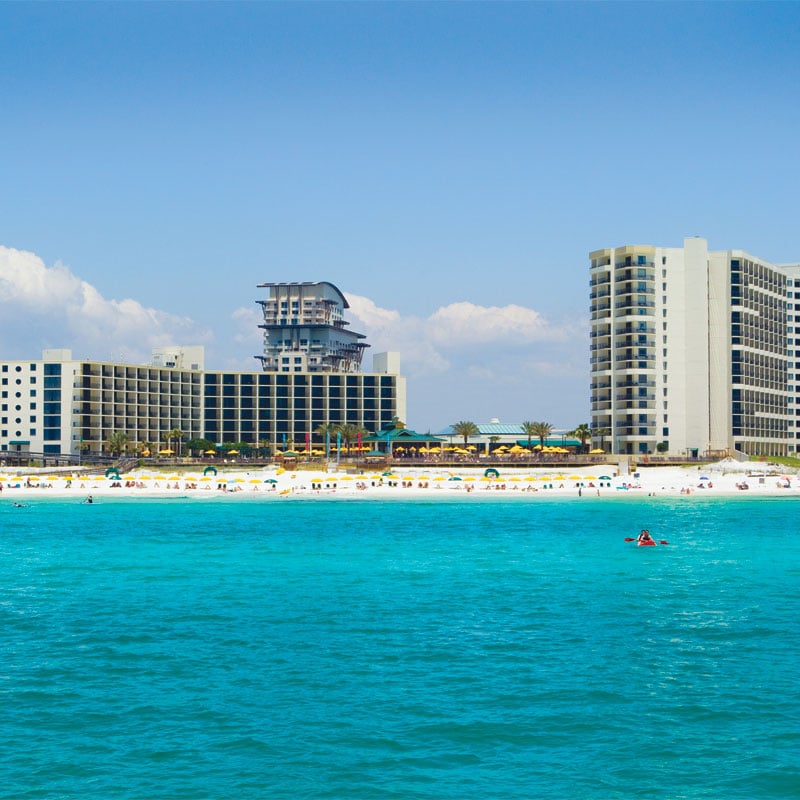 Laughter and chatter fill the air poolside at the Hilton Sandestin Beach Golf Resort & Spa. Tables at the outdoor restaurant are filled with guests while the conference rooms bustle with business meetings. The parking lot is packed.
What a difference two years can make. In 2010, tourism along Florida's Northwest Gulf Coast shrank to almost nothing when bookings were cancelled out of fear that oil from the Deep Water Horizon spill would be gushing ashore.
Perhaps hardest hit was Walton County, where tourism is the chief economic driver and nearly two out of every three residents is employed in the tourism industry. Because of the spill — and fears that the county's beaches could be affected — hotel rooms went unbooked, restaurants often stood empty and charter-fishing boats bobbed idly at the docks.
In the end, the oil didn't come. Walton County's 26 miles of beaches remained pristine, untouched by the tar balls that littered the coast of Louisiana. Webcams showed the empty sugar-sand beaches to be as white as ever. But it was too late to save the season and some local businesses.
Walton's tourism industry began bouncing back in April of 2011 with a successful spring break. By summer, tourist visitation numbers reached levels seen prior to the oil spill. Economic Impact: $1 billion. Many believe that when all is said and done, 2012 could break records for the region.
But perhaps that's partly because an important lesson was learned during the oil spill summer.
"There are now increased efforts in promoting the destination for its richness in tradition, southern hospitality, arts and culture, culinary experiences and more," said Nancy Stanley, director of marketing and public relations for the Cottage Rental Agency in Seaside. "Tourism is not just about our beaches any more, but rather about what our destination can offer as a unique vacation experience — everything from visiting rare coastal dune lakes, attending one of the area's many culinary and fine arts festivals, exploring local artist colonies or even just shopping."
Walton County's story has become a lesson in resilience.
The Rebound
"It was a very rough year in 2010," remembered James Murray Jr., general manager of SunQuest Cruises in Sandestin. "But in 2011 we saw an 18 percent increase. That's extraordinary. We had a record breaking May this year, so 2012 seems to be going along at the same pace."
With the cash flow back to where it was, SunQuest has now brought on a new boat to start Walton County's only dolphin cruise.
"After two or three rough years, it's a breath of fresh air," Murray said. "Finally we can relax a little bit. A lot of companies didn't make it. Those that did are strong."
Another example of the region's positive economic performance is construction of a 10-screen, 40,000 square foot, $10 million movie complex in Grand Boulevard in Miramar Beach. Expected to open in February 2013, it is the first movie theater to be built in Walton County.
"Our overall annual sales have increased in the double digits from 2010," said Stacey Brady, director of marketing for Grand Boulevard, a shopping and lifestyle center. "Several of our restaurants and retailers are seeing double digit increases in sales so far this year. We expect sales to stay strong through the rest of the year."
Why the turnaround?
The numbers, everyone agrees, have undoubtedly been boosted by the continuing national advertising campaign bankrolled by BP to convince the rest of the country that the beaches along the Gulf Coast are fine, that the food is great, that the seafood is safe to eat and that recreation — from fishing to skiing — is as good as ever.
"Since February this year, we've been running flat and hard," said Karen Cooksey, director of sales and marketing for Hilton Sandestin. The occupancy rate for the resort's 600 rooms, she adds, has hovered around 98 percent since early spring. "We had such high levels of occupancy during the spring that we could hardly tell the difference when summer began."
Another good example is Silver Sands Factory Stores. In 2010 the designer outlet center, the largest in the nation, had about 7 million visitors. In 2011, that number jumped to 7.5 million.
Ashley Watkins, marketing director for the center, said they began partnering with the South Walton Tourist Development Council on promotions during the summer of the spill, helping to end 2010 "with record-breaking sales and traffic."
Drive and Fly Market
Walton County, home to tourist lures like Destin, Sandestin and 30A, has always been a strong drive market, bringing in tourists by car from throughout the Southeast. But the BP advertising campaign and the national media coverage of the spill and it's aftermath brought the area to the attention of a much wider market.
Dawn Moliterno, executive director of the South Walton Tourist Development Council, knows only that BP spent "millions" on the television ads, in addition to the $30 million it gave Northwest Florida's Gulf Coast counties to boost local promotional efforts (Walton County got $8 million).
Ironically, Moliterno doesn't know what states the ads played in, how often they were seen or what stations they were seen on. But she's definitely happy with the bottom line. The county's bed tax revenues went from being a negative 30 percent in August of 2010 to a positive of nearly 64 percent in August of 2011. In fact, Walton collects more bed tax money than any other county in the region.
Jan Peele, general manager of The Orvis Company in Grand Boulevard, said the media fallout after the spill actually turned into "the best free marketing. The oil spill was talked about worldwide and put Northwest Florida beaches on the map. It opened people's eyes."
Brady, of Grand Boulevard, said while the publicity at first was negative the follow ups delivered a positive message that saturated markets which previously didn't know about "our slice of paradise."
It's not only the national advertising push, along with additional promotions made by the counties, that has made a wider audience aware of Northwest Florida's Gulf Coast. It's also easier to get here than ever before, especially with increased airline service through the two local airports — Northwest Florida Regional Airport in Okaloosa County to the west and Northwest Florida Beaches International Airport in Bay County to the east. (In June, Southwest Airlines even added a new seasonal non-stop service between Northwest Florida Beaches International Airport and St. Louis. And the Baltimore and Washington, D.C. area, are now readily accessible through both airports.)
"Walton has a tradition of a high return rate (of visitors)," Moliterno said. "But in the past year, new areas have been popping up in our research. More visitors have been coming in from across the country, including Texas, Ohio, Indiana and Minnesota."
Warm Weather and Family Fun
The family-friendly focus — and the mild winters — have also been a major element of Walton's tourism success.
The county does a brisk business during Spring Break, even though it doesn't market to the under-25 crowd and is considered more of an upscale destination than some other local beach towns.
Pelican Beach is a condo resort with about 60 percent of its units available for rental. They do a strong business during Spring Break but have rules in place that encourage families and discourage college students. There is a parent/child ratio of three children to one parent required and a tight curfew for underage youngsters. The result? "We pretty well fill up with families," said Dan Martin, sales manager of the resort.
The warm weather this past winter was also a major plus to attracting visitors, many of whom had denied themselves a vacation during the economic downturn and the summer of the spill but were finally ready to splurge a little again.
Jon-Michael Goins, head golf professional at Regatta Bay in Destin, said the course's numbers are definitely trending upward.
"Of course, 2010 with the oil spill really hurt but '11 was a decent comeback and '12 has been really, really good so far.
We've seen a definite increase," he said. "And the weather has been exceptional this year. We didn't really have much of a winter. It was very, very mild. I'll bet we didn't have five days under 40 (degrees). And even going into the summer, the early part of June has been relatively mild."
Rosanne Dunkelberger contributed to this report.