VPS Named Fastest Growing Airport in The Country
With the addition of direct flights to high-traffic locations, the airport is experiencing huge economic growth.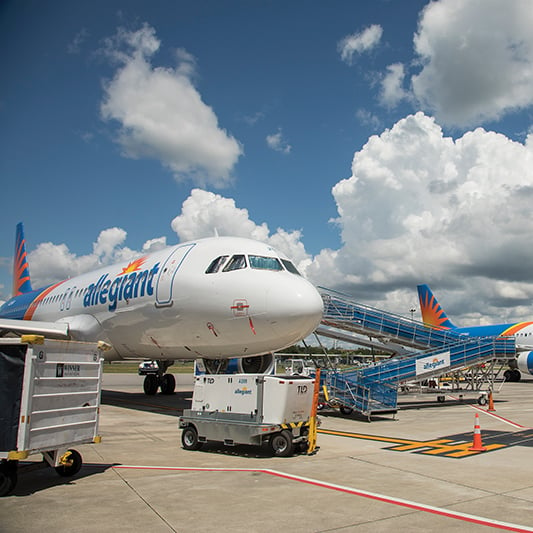 Destin-Fort Walton Beach Airport's success took off around the time of the Deepwater Horizon oil spill and has yet to touch down, says Okaloosa County Commissioner Carolyn Ketchel.
The devastating BP spill, a financial and ecological tragedy, ironically turned into a tourism triumph, as word of mouth spread through the rest of the country from media coverage and advertisements.
"Prior to that, we were just a destination by car for many from the Southeast," Ketchel explained.
"Now, people have discovered our white sands and emerald-green waters. We're no longer that sleepy little airport that you have to fly to Atlanta from if you want to reach anywhere else in the United States; we have major carriers here that take us directly to many destinations."
Allegiant Air Base
Of those carriers, Allegiant Air has been a game-changer for the airport, known to flyers as VPS.
Three years ago, the Okaloosa County Commission utilized $3 million from the Tourist Development Council to dangle a carrot over VPS and snag a major airline. It just so happened Allegiant bit first.
Prior to the partnership in 2016, VPS offered direct service to five cities via Delta, United and American Airlines. Allegiant introduced six new routes, promoted an 18% increase in passenger traffic and an economic impact of $19 million in its first year, and then followed up with 10 more routes in 2017.
As of now, Allegiant Air has established a year-round, three-airbus base at VPS, adding five more destinations to the departure boards.
"Now that we're a year-round base, many maintenance technicians have been hired to service aircrafts," said Tracy Stage, Director of Okaloosa County Airports. "Ground support positions have been filled, along with roughly 65 new, high-wage jobs for Allegiant aircrew alone."
Not to mention, the increased need for support positions. Dozens have been hired to operate amenities, such as the Hudson Group newsstand and gift shop, and the airport's watering hole, Emerald Coast Bar & Grill. Stage notes that these businesses, as well as Allegiant and other airlines, are still seeking helping hands and welcoming applicants.
"We're a small team at VPS but a well-oiled machine, and our success emulates our growth," Stage said. "Just look at some of these cities we're flying into!"
Departures from key markets such as Baltimore, New York City and Dallas not only entice innumerable tourists to spend a week at the beach, but offer cheap, returning flights that cement their decision to fly VPS.
"We aren't just the fastest growing airport in the region or in the state. We're the fastest growing airport in the country."
Supply and Demand
According to Ketchel, Allegiant's routes will attract over 25,000 additional passengers per year, for an estimated $418 million in tourism revenue by 2023.
"We're seeing such huge economic growth that we're having to focus on building roads, and building them quickly," she said. "We're putting lots of heads in beds, which make all the people who own hotels and restaurants very happy. Our tourism development dollars are off the chart, which encourages us to put it back into the community and market. It's very cyclical."
More than 1.3 million passengers are projected to take flight with VPS this year, a whopping 43 percent increase in traffic from 2016. This May, the airport experienced the busiest day in its 63-year history.
With fresh routes in full swing, another record breaker is imminent. For Stage, that means increasing VPS's scope from a priority standpoint.
"We're expanding our fuel farm. We're going through a master plan update to look at all the facilities from parking to the terminal area. We're under design now to update our apron area and house even more aircrafts, and we're adjusting our TSA checkpoint to handle additional passengers. All of this growth has driven huge demands on the infrastructure, and we've got an incredible team that's working together to meet them."
VPS also aims to create an atmosphere unique to the Emerald Coast that echoes community values. Stage notes that VPS recently hired Passenger Ambassadors, assistants that "work the floor" and offer guidance to inexperienced flyers in the spirit of our famous, Southern hospitality.
This spring, VPS debuted the Emerald Coast Visitor's Center, where expert tipsters dish on must-see attractions. The center is nestled next to baggage claim and features a 210-gallon aquarium, where native, tropical fish blow bubbles at inquisitive tourists.
A Military Model
VPS doesn't let the fact that the Emerald Coast is a military community slip under the radar. Screens in the lobby loop interviews with retired war veterans, and a massive Huey helicopter permanently resides at the entrance.
It's to the military, Ketchel believes, that VPS owes its success.
"What people don't realize is that this is a joint-use facility — there's only 27 in the nation, and (VPS) is one of them," she states. "As long as this airport serves the military, it continues to benefit our community."
Ketchel emphasizes that Stage, a former U.S Air Force airman, understands that model, and has seamlessly transformed VPS into both a military hub and tourist destination.
As of now, an American Airline flight transports both Eglin Air Force Base personnel and civilians to Washington, D.C. daily. Eglin Air Force Base also mans a joint-use, federal grant-funded fire station on VPS's runway. Stage was responsible for its creation in 2017.
"(Stage) has a high-charging spirit with a tremendous managerial style," Ketchel praised. "I can't say enough about his ability to manage and market the Destin-Fort Walton Beach airport, and how well he works with our military partners."
Stage, who has served as Airports Director for only three years, but has been with the county's three-airport system for 12, renounces credit.
"Like I said before, I have a great team," he insisted. "When you've got a group like that, good things happen."
As for what's on the horizon for VPS, Stage's reply is teasingly tight-lipped, but hints at something big.
"Let's just say there's much more in the wind to come."