Travel Writers Praise Pensacola's Beauty and Authenticity
Tourism thriving in city of five flags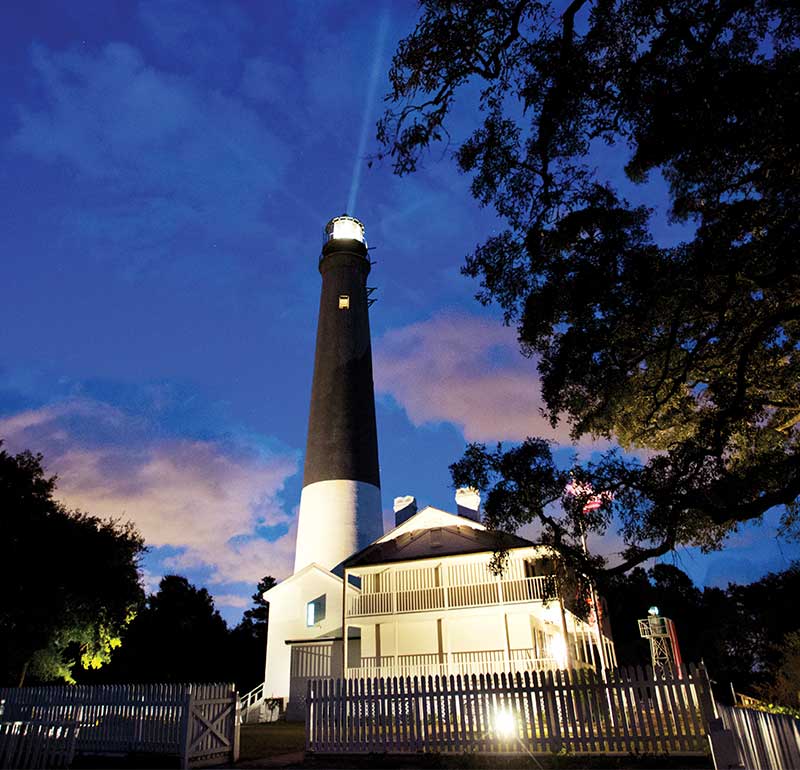 The Pensacola area might not be the first place that comes to mind when one thinks of taking a vacation to Florida. But while jockeying for position amid such well-known racehorses as Disney World, Universal Studios and SeaWorld, the theme park-less destination attracted more than 2 million travelers in 2017 — worth more than $787 million to the local economy.
"If you truly want to experience the Sunshine State, Pensacola offers stunning uncrowded beaches, amazing food, sensational attractions, and 450 years of rich history and culture. This city is more than a pretty face — she has a long and colorful past, and we're proud of who we are," said Nicole Stacey, director of marketing and communications at Visit Pensacola, the tourism-marketing organization.
Travel writers say one draw of the city is that it retains its unique identity, culture and historical authenticity. Renowned for its natural beauty, this coastal city beckons travel writers to explore the Gulf beaches and then the charming downtown scene.
"We're known for our beaches, which are ranked among the best in the country," says Stacey. "In 2017, Pensacola Beach was voted 'Most Beautiful Place in the State' by Conde Nast Traveler and was in TripAdvisor's 'Top 10 Beaches in the U.S.' "
The presence of the Pensacola Ice Flyers, the city's professional ice hockey team, and the Blue Wahoos, the city's minor league baseball team, also are cited in visitor surveys as major reasons for traveling to the area.
Historic sites are a consistent draw, marketed under the slogan "City of Five Flags." The flags represent the five governments that have held power here: Spain, France, the United Kingdom, the Confederacy and the USA. Pensacola has the earliest Spanish roots in what is now the continental U.S., and Pensacola Beach played a notable role in the Civil War, making the region a rich destination for lovers of history.
From the ruins of Fort Pickens on Pensacola Beach to Fort Barrancas across the water, to the 1859 Pensacola Lighthouse and Naval Air Station Pensacola, travel writers have found much to recommend to their readers. A key attraction along these lines is the U.S. Navy Flight Demonstration Squadron — the revered Blue Angels that call this place home.
The squadron flies in precision formations over the city and Gulf waters during routine practices from March to November and holds public air shows in July and November that attract thousands of visitors.

Southern Living magazine recommends the National Naval Aviation Museum as a must-see in its online article, "A Weekend in Pensacola." Other articles recommend the region's museums and historic sites, which include the T.T. Wentworth Jr. Florida State Museum; Historic Pensacola Village; the Pensacola Lighthouse and Museum; and various other one-of-a-kind spots that have earned accolades from travel writers in the United States and abroad.
"A great way to get your bearings is to join a Segway tour … around the historic district, (which offers) an educational and entertaining experience learning about the British, Spanish and French colonial influences and how they have shaped the city during the past 450 years," recommends writer Lucy Pares of the U.K.-based Family Traveller.
Pares goes on to describe how Historic Pensacola Village represents some of the earliest European history in the continental United States. Like many European travel publications enamored of Florida beaches, Family Traveller raved about the "unspoilt coastline" at Gulf Islands National Seashore and the abundance of wildlife to be seen there.
Showcases of local artistry within the historic parameters of the city also have been well-received by travel writers, who remarked on the quality of the Pensacola Ballet and the charm of hearing national headliners in concert at the Saenger Theatre, on the National Register of Historic Places.
The region also is growing a reputation for travel-worthy festivals, including November's two-week-long Foo Foo Fest featuring art, theater, music, street buskers, public art installations and an array of other high-quality experiences.
"The Foo Foo Festival is … packed with experiences and entertainment that will enlighten all of your senses. From a tango opera to stand-up comedians, (it) will create memories that will last a lifetime," wrote Huffington Post reporter Loren Browne in her article "The Best Festival of the Year — Foo Foo Festival, Pensacola Florida."
The culinary scene — built on fresh seafood and spiced with international flair — also is drawing attention and attracting talented chefs. In fact, Pensacola has boasted five prestigious James Beard chefs over the years. Jane and Michael Stern, featured on NPR's "Splendid Table" radio program and posting "authentic regional easts" on their site Roadfood.com, raved about Jerry's Drive-In, 5 Sisters Blues Café, Capt. Joey Patti's Seafood Restaurant and Peg Leg Pete's Oyster Bar.
Stacey said Visit Pensacola's marketing efforts have done well with travel writers because the destination appeals to many audiences represented in travel media — from professional women on girlfriend getaways to couples on romantic vacations to families wanting wholesome fun in a beautiful, relaxing setting.
"Our beaches are unlike any others, we have amazing cuisine because of all of the fresh Gulf Coast seafood and Southern flavors, and we have a rich history that is still celebrated along with the vibrancy of our progressive development downtown," she said. StyleBlueprint blogger Lisa Mowry concurred in her article "48 Hours in Pensacola."
She wrote: "Destinations like Pensacola offer the best of both worlds: long walks on sandy beaches and every ocean activity you can think of, mixed with a dose of city culture." Candice Walsh of Canadian Traveller, reported, "Pensacola is a wonderfully laid-back, chilled-out town; its diverse culture and coastal lifestyle appeal to many.
When you're done with exploring Pensacola's natural beauty, hit the downtown core around historic Palafox Street for boutique shopping, gourmet eats and some lively local atmosphere."