Top-Notch Hospitality
Q&A with Barry Shields, Manager, Governor's Club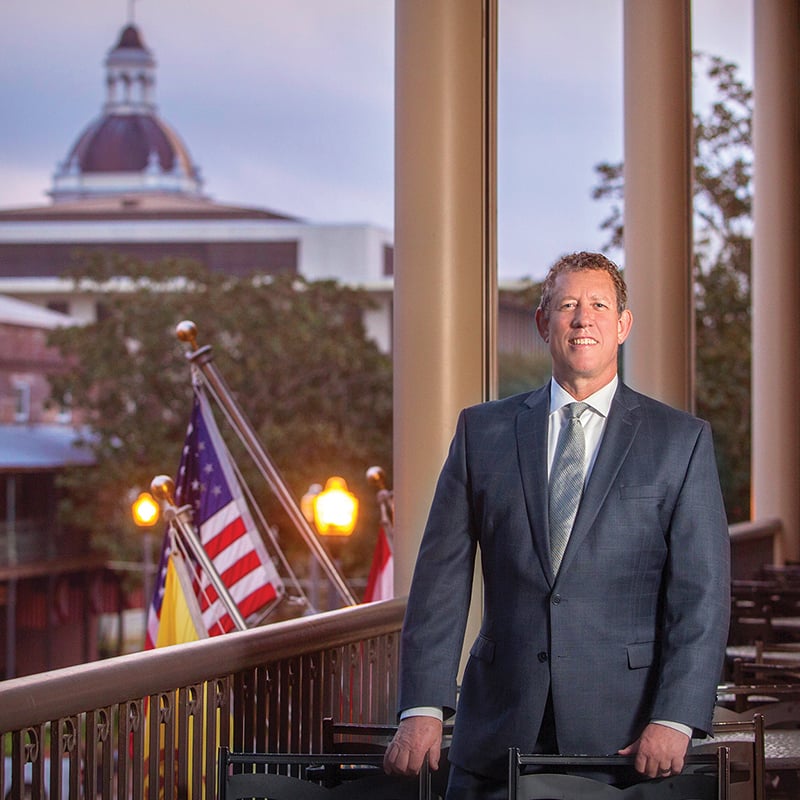 When lawmakers, lobbyists and others descend on Florida's capital city for the annual legislative session, the downtown bars and restaurants teem with people wheeling and dealing over happy hours and power lunches.
No place sees more of that than the members-only Governors Club.
Practically overnight, the club does four to five times the business it does during the summer months, said manager Barry Shields. He spends months getting new staff up to speed and making sure he has enough supplies, from silverware to wine glasses.
Plus, he makes sure to have plenty of top-shelf beverages on hand.
"Demand for the really good stuff happens toward the end of session, as folks look for something special to celebrate with," he said.
Shields, 55, launched his career in the hospitality business as a busboy at the Governors Club in the 1980s. After graduating from Florida State — he was the maître d' by then — he began working for a company called ClubCorp that took him to several clubs around the Southeast.
After 18 years in Tampa, he decided to apply for the Governors Club manager position and moved back to Tallahassee in 2014.
A lot has changed since his original time at the club — no tuxedos during dinner for one, he said. But some things still stay the same, including a high demand for service and a chaotic spring that is filled by the legislative session.
— Kathleen Haughney​
---
Q&A with Barry Shields
You started hereas a busboy. So were you a high school kid looking for a job?
Well, a college kid looking for a job. Tallahassee is my home; it's where I grew up. Once I got into college and decided that hospitality through the business school at FSU was the way to go, I worked various places around town. When this club opened up in '82, I probably read the paper around that time and the club piqued my interest. With that being said, a manager at the time hired me on as a busboy. At the time though, they didn't call them busboys. They called them "commis," a French word for dining room assistant.
During the legislative session and committee weeks, Tallahassee can become a whole lot crazier. How do you prepare for that buildup? Literally, overnight, we will do four to five times the business that we do regularly. So you have to prepare for that in the equipment we have on board — making sure everything is up to speed and we have enough supplies: plates, silverware, glasses. And then, most importantly, we have to make sure we are properly staffed. So, committee weeks usually start in January and February, and March–April is in session. We will actually start interviewing and increasing our staffing levels in August.
Do you make sure to order anything special ahead of time for session, such as a special type of bourbon or type of cigar? There's been a lot of request for the Van Winkle line of bourbon (Old Rip Van Winkle, Pappy Van Winkle, etc.), so we'll make sure to try to have plenty of that on hand if possible. … Pappy products are in high demand all over the world. Although we initiated a smoke-free happy hour in the lounge from 4:30 to 7 p.m., we'll sell plenty of premium cigars. Our humidor will be fully stocked with top brands, including cigars from My Father, Arturo Fuente, Perdomo, Padron and our best seller, the Diamond Crown Julius Caesar.
How has the club changed since it opened? In the '80s, the club was extremely formal. As service personnel, we would dress up at lunch in a business suit and work the dining room. For the evening, we would change into tuxedos and white gloves.
Do you miss wearing a tuxedo for dinner? Well, on some occasions, yes. But it was a chore every day, changing from your business suit to your tuxedo, and you had to keep several on hand and keep them clean. But it was worth it. It was a lot of fun back in those days.