TMH Physician Partners – Primary Care Opens in Panama City Beach
Practice is TMH's first in Bay County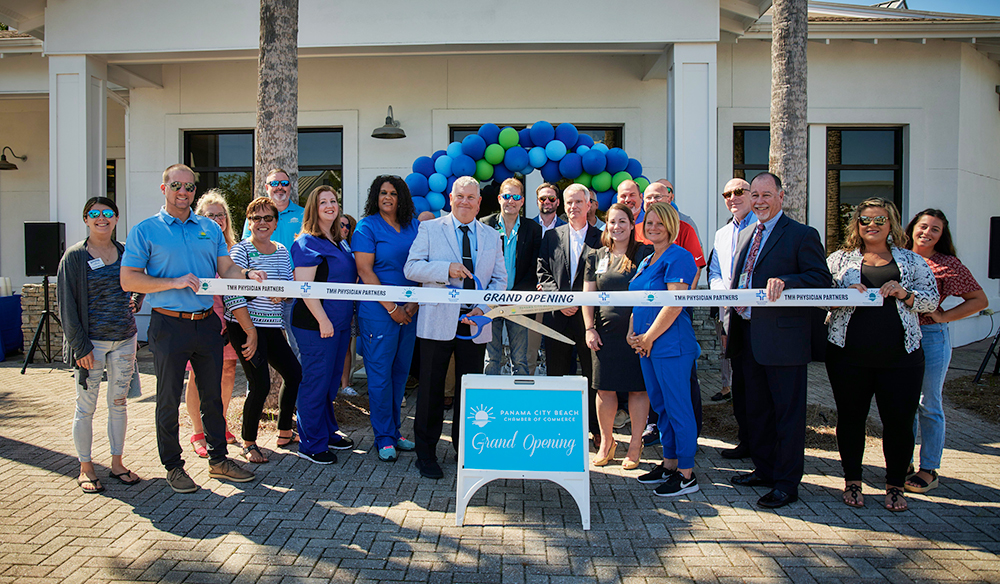 Residents in the Panama City Beach area have a new option for excellent primary care close to home with the opening of TMH Physician Partners – Primary Care, 651 Grand Panama Blvd., Suite 101.
Tallahassee Memorial HealthCare (TMH) celebrated the practice's grand opening with the Panama City Beach Chamber of Commerce, local leaders, neighbors and patients. The practice includes John Woltz, DO, who is now accepting new patients. A second physician will join the practice in early 2023.
"We're excited to celebrate this important milestone – our first primary care practice in Bay County," Mark O'Bryant, TMH president & CEO, said. "The Panama City Beach area is growing, and there's a great need for healthcare. Over the past 75 years, TMH has built a reputation for excellent, compassionate and local care. As we build a regional healthcare system for the future, we're proud to be an official part of the Panama City Beach community, and we dedicate ourselves to the patients and families who entrust us with their care."
TMH plans to continue to invest in Panama City Beach with an 80,000-square-foot medical office building scheduled to be complete in 2024. This building will ultimately house TMH Physician Partners – Primary Care, Tallahassee Memorial Urgent Care Center, an ambulatory surgery center, as well as cardiology and orthopedic services.
TMH's plan also includes building a 100-bed hospital with an emergency center and other inpatient services including surgery, cardiology procedures and imaging, to be complete by the end of 2027.
Both will be located near Interstate 79 and Philip Griffitts Sr. Parkway.
About 50 attendees celebrated the ribbon-cutting Friday and took tours of the new practice with Dr. Woltz, who is board certified in preventative and occupational medicine and had a previous career in the military. He sees patients ages 12 and older with a focus on staying healthy.
"My firm belief is that it's much easier to not get sick than it is to get well," Dr. Woltz said. "That's why finding a primary care physician and preventative medicine are so important. My wife and I are happy to make Panama City Beach our home, and I look forward to building relationships with my patients that lead to better health outcomes and quality of life."
Dr. Woltz grew up in Logan, Ohio, which is a small town in the Hocking Hills. He attended Capital University in Bexley, Ohio, and upon graduating, entered the U.S. Army for the next 11 years. He left the Army to attend medical school at the Ohio University College of Osteopathic Medicine, graduating in 2005. Dr. Woltz re-entered active duty in the U.S. Air Force, where he served for the next nine years and completed his residency at the University of Cincinnati College of Medicine.
Services he provides include:
Annual & sports physicals

Preventative healthcare & annual screenings

Immunizations

Chronic disease management

Treatment for minor injuries & illnesses

Lab work

Minor surgical procedures & biopsies
---
TMH Physician Partners – Primary Care is now accepting new patients. The practice is in the Village of Grand Panama at 651 Grand Panama Blvd., Suite 101. Call 850-234-3087 to schedule an appointment or request an appointment online at TMH.ORG/PCB.
---