The Organic Age
Once considered a fringe industry, organic farming is increasingly becoming mainstream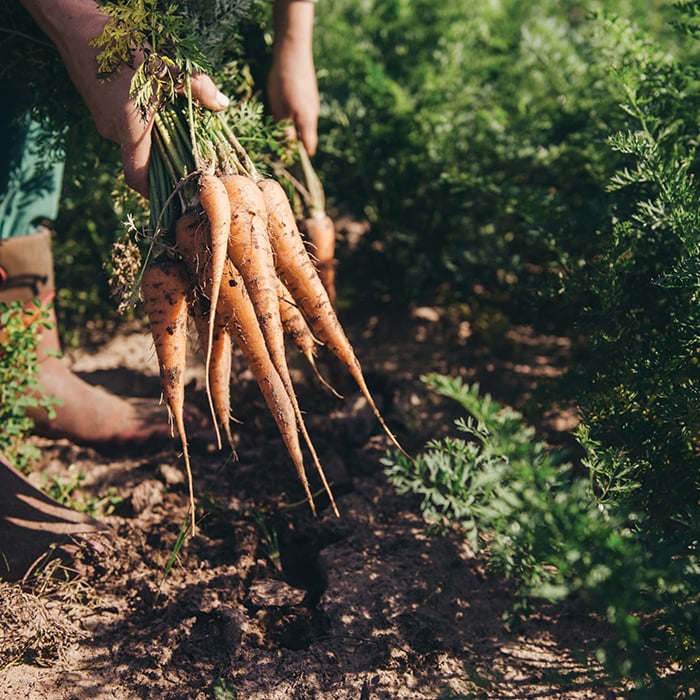 By all indicators, the organic food industry, if not wholly mainstream, is well on its way to becoming so. What generally is regarded as starting as a fringe or "hippie thing" in the 1960s was actually a return to the pre-industrialized farming of the earlier 20th century, and is today government-sanctioned and considered quite ordinary. Nationally and internationally, in developed and developing countries, the production, processing and import/export of organic products is taking hold, or taking off, to one degree or another.
In the United States, which leads the world in certified organic operations, studies show that organic food sells in almost three of four regular grocery stores, and organic food consumption — once a lifestyle choice of a few — is a choice of the many, at least on occasion. Organic food, in fact, comprises 5 five percent of all food sold in the United States, with personal health the primary reason people choose it, according to Katherine Paul of the Organic Consumers Association (OCA), a national group that champions organic consumers.
"People don't want to consume harmful pesticides," Paul says. "They want nutrient-dense food, which can only be grown in healthy soil, not soil that has been degraded by chemical fertilizers and toxic herbicides/pesticides."
Data from the U.S. Department of Agriculture (USDA), the Organic Trade Association (OTA), the University of Florida's Institute of Food and Agriculture Science (IFAS), and Florida Certified Organic Growers and Consumers Inc. (FOG), among others, attest to the industry's growth and viability. The USDA, for example, reports that organic farming is U.S. agriculture's fastest-growing sector, with 22,025 certified organic operations as of June 2016, up from 5,564 in 2002, when the department began keeping count. The 22,025, moreover, do not take into account farms transitioning from conventional to organic (a three-year process) or those that grow organically but forgo certification or choose a nongovernmental certification.
Consumer demand, along with premium prices, is credited with driving the growth, with the data showing organic food consumption rising steadily at 20 percent or more annually since the 1990s, creating one of the industry's biggest challenges — demand outstripping supply. The OTA, which tracks the industry's market performance, reports that organic food sales hit a record $39.7 billion in 2015, up 11 percent from the previous year. To appreciate the significance of the increase, consider that in 1997, when the OTA began keeping track, organic food sales were about $3.4 billion and represented less than 1 percent of U.S. food sales.
Another indicator is the near tripling of farmers markets across the country over the past 15 years, from 2,863 in 2000 to 8,476 in 2015, per the USDA. Northwest Florida typifies the phenomenon. Not only do farmers markets abound in the region but so do organic food producers, health food stores, co-ops, coffeehouses, eateries and other outlets that cater to the organic food crowd, including chain supermarkets, big box stores and membership warehouse clubs.
Possibly the greatest sign of the industry's mainstreaming, however, is its attraction of conglomerates such as Heinz, Kellogg, PepsiCo, Coca-Cola, General Mills and Kraft. Tellingly, a 2012 New York Times article noted that since the federal organic standards had come to the fore 10 years earlier, giant agri-food corporations "have gobbled up most of the nation's organic food industry." This trend carries implications, as will be noted later.
Florida, for better or worse, is relatively undeveloped when it comes to big or corporate organic producers. Not only are Florida's 366 USDA-certified organic producers generally small-scale operations (particularly in Northwest Florida), their numbers pale in comparison with states such as California (4,507 USDA-certified operations), Wisconsin (1,617) and New York (1,406). Even so, an IFAS study found Florida's organic sales growing at a rate not unlike the national 20 percent rate, and organic produce selling in 73 percent of conventional markets. A FOG survey, meanwhile, found Florida farmers, consumers and retailers wanting to grow the state's organic agriculture industry, and chains such as Publix, Whole Foods and Winn-Dixie reporting rising consumer demand for organic products.
"We continue to see organics as a growing category," confirms Publix spokesman Dwaine Stevens.
Mind you, the picture isn't entirely rosy. Critics point out that notwithstanding organic farming's rapid growth, it represents less than 1 percent of total U.S. cropland, and organic acreage has actually decreased in recent years. Organic food prices, meanwhile, remain high, which, while an inducement to producers, keeps many consumers from accessing the products. The mislabeling or misbranding of organic products, although not widespread, does occur. And too many farmers still cite pest pressures, low yields, lack of knowledge and onerous certification requirements as barriers to their entry into organics. That said, the industry's prognosis is good.
---
USDA certification, based on adherence to the department's National Organic Program criteria, is generally accepted as the industry's "gold standard for health and sustainability." USDA certification requires, among other things, that farmers eschew pesticides, synthetic fertilizers, genetically modified ingredients, and antibiotics and growth hormones in their plant and animal food production. The certification, moreover, entails annual inspections, voluminous paperwork and hefty fees, some of the costs of which may be recouped.
If one counts only USDA-certified organic operations, the 850 region has 10 of the 366 listed statewide. They are O'Toole's Herb Farm in Madison County; Green Meadows, Holly Hill and Farm Fresh Organics of Monticello, and Ladybird Organics in Jefferson County; Orchard Pond Organics in Leon County; Fox Family Farm in Jackson County; Burt Worthing Farm in Holmes County; Wheeler Farm in Washington County; and Amavida Coffee & Tea Company in Walton County.
Add Certified Naturally Grown (CNG) operations and the number goes up notably. A simpler, less-costly, nongovernmental alternative that claims adherence to the USDA guidelines but relies on peer reviews for accountability, CNG certification is popular with small-scale producers who sell directly to customers. CNG operations abound in the Panhandle, two being Turkey Hill Farm in Leon County and Full Earth Farm in Gadsden County. These two farms' respective principals, Louise Divine and Katie Harris, helped found and co-direct the Red Hills Small Farm Alliance (RHSFA), a grassroots network that operates an online market and counts some 40 members within a 100-mile radius of Tallahassee.
Generally speaking, Panhandle organic farms are small in size, output and number of employees, although several are part of larger land holdings and not a few utilize volunteers and interns. Of the 11 cited, four grow single or near-single seasonal crops. These are O'Toole (herbs), Holly Hill (starter plants), Green Meadows (blueberries) and Burt Worthing (chestnuts, pears and persimmons). The rest produce a wide variety of fruits and vegetables, and animal products in some cases. O'Toole and Worthing largely sell their products wholesale; the remainder retail directly to customers via farmers markets, u-pick operations, online services and/or Community Supported Agriculture (CSA), a subscription-type program whereby consumers receive weekly shares of a farm's products. Several of the farms also supply restaurants. Orchard Pond, the largest at 30 acres, additionally processes pesto, granola and other added-value foods; markets some of its products through a distributor; and operates its own online store, as well as serving select customers in Alabama and Georgia.
Amavida, the outlier, is a USDA-certified corporation that processes imported products. It purchases organically grown coffees from 14 countries, has its own roasting facility and three cafes on the Emerald Coast, and distributes to select outlets in Florida and several other states. Distinct as a certified benefit corporation, Amavida is committed to accountability, social and environmental well-doing, and transparency, and is legally bound to benefit both society and its shareholders.
---
Given the costs and hassles associated with USDA certification, why choose it? The answers vary, but generally, the designation is accorded credibility and accountability, along with educational, differential and political values.
"Often we think we're growing organically, but we might be using products not allowed under organic certification," says Margie Cole, of Holly Hill, noting the guidelines' instructional value.
Mary Phipps, of Orchard Pond, underscores the point.
"It helps reduce the learning curve," she says. "The guidelines are set; you don't have to figure everything out on your own."
For Andrew Fox, of Fox Family Farm, it's a marketing tool.
"We would say we grow naturally; we don't use pesticides or synthetic fertilizers," Fox says. "But resellers would say the same things. USDA-certified is a legal term that resellers can't use and people recognize and understand."
Charity Bramblette, of Worthing Farm, echoes the sentiment.
"My family's always been organic-minded," she says. "But more than anything, we wanted to be USDA-certified because it differentiated us."
Dan Bailey, the founder, president and CEO of Amavida, augments the point.
"The system's about trusting," he says. "People may put an organic label on products that may not be certified. If consumers want to ensure they're buying organic, they need to see the certification, because they're paying a premium price. More importantly, if they're buying organic because they don't want chemicals in their bodies or to minimize chemicals in the environment, that certification is important. Without it, there's no credibility."
Harris, of the CNG-certified Full Earth Farm, cites the political worth of USDA certification.
"CNGs are off the radar when censuses look at how much the organic industry has grown," she says. "In the future, I wouldn't be surprised if we go with USDA certification. I'm no politician, but people vote with their money, and that's tracked and it dictates what people grow and what people do."
Whatever the reason or certification, however, financial sustainability is a must.
As Divine of Turkey Hill aptly puts it, "You can use your own compost and all of that, but if you can't pay the rent, oh well."
---
Talk to small-scale organic producers, whether USDA- or CNG-certified, and certain themes or commonalties emerge, one being the focus on product variety.
"Diversity is key to survival for small-market farms," Divine says simply.
"We grow a bit of everything because we target farmers markets," Harris explains. "If you have only green beans, you won't sell much. You have to have diversity to have interesting displays or be able to supply a CSA."
"Consistency of supply and variety are critical," Fox agrees. "You can't grow just tomatoes or watermelons, because customers will tire of it. You've got to focus on a large number of crops and do it efficiently so you make a profit."
Although a fair number view organic farming as a labor of love, they also recognize that it is labor-intensive and full of challenges.
"Weed and bug control is the hardest," says Phipps, noting both are largely accomplished manually or mechanically. She rates record-keeping a close second.
"We have over 3 miles of blueberry rows in 5 acres, so you can imagine the difficulty controlling the weeds and grasses with weed-eaters," says Delores Green of Green Meadows.
For Fox, the challenge is the lack of formal support systems, which makes for a steep learning curve.
"You're unable to go to your local agricultural extension office for help," he says. "You're pretty much on your own. It takes lots of reading, checking what others are doing, and trial-and-error to see what works."
The selling is the hardest part, Harris offers.
"You can grow all day long, but if you don't have an outlet, what's the point?" she says.
Growers cite various reasons for going organic, but common among them are a strong sense of land stewardship and a belief that organically grown food is healthier, tastier, more nutritious and environmentally friendlier.
"We're very protective of the land," Green says, echoing a common theme. "I always say we don't live on the land, we live with the land. Growing things naturally also gives them better flavor and more nutritional value."
"If you read the ingredients in some of the conventional products used in produce and food production, it's scary," Cole says. "It's a health issue for me. But it goes beyond physical health. I think it can be healthy for the environment."
"I'm not going to badmouth conventional agriculture," says Frank Yaun, of Farm Fresh Organics of Monticello, whose agricultural roots date from the 1700s. "But vegetables taste better when they're grown for taste, not shelf life. For me, it's all about taste and health."
Enough growers express a sense of mission to make it a noteworthy commonality.
"I love that I can encourage and help home gardeners grow their own organic produce," says Cole, adding that it's one of her long-term goals to help reduce prices by helping increase the propagation of organic plants.
"A big piece of what we do is education," Harris says. "We're constantly trying to teach people how to cook what we grow. Being in a CSA can be intimidating if you've never seen vegetables like kohlrabi (German turnip cabbage). So we try to provide recipes and educate."
"Our mission in the RHSFA is definitely education," Divine says, adding the caveat that not every organic producer is so inclined. "Some just want to eat good healthy food or make a profit."
Even Amavida, by virtue of its B-corporation and Fair Trade mandates, aims to help improve the welfare of its foreign small producers.
"A lot of what we do is to support like-minded farmers who are trying to live on their land and protect their environment and their kids by not using pesticides," Bailey says.
Not surprisingly, given the internet's pervasiveness, its utilization is common among organic growers, as is volunteerism.
"The internet's hugely important for marketing and organizing workdays," Harris says. "For example, we're having a workday this weekend and 30 volunteers are coming. I was able to coordinate the entire thing online. That would have been almost impossible without the internet. We also use the internet to keep in touch with our CSA customers. And the Red Hills online market (rhomarket.com) couldn't exist without it."
"The internet's wonderful," Green says. "We have a blueberry lovers' email list with about 3,000 to 3,500 people that I notify when we're getting ready to pick. Facebook's another great contact. I post pictures all the time; people like to know what's happening at the farm."
"Social media's definitely important for advertising and getting word out about what we're doing," Phipps says. "And volunteers are extremely important. Everything we do is so labor-intensive that we depend on volunteers and interns to get things done."
"I wouldn't say we couldn't do it without volunteers," Divine says. "But it's awesome having them. They're also part of the education thing."
She underscores her point by citing Worldwide Opportunities On Organic Farms (wwoof.net), which links volunteers with organic farmers globally to promote cultural/educational experiences and sustainable agriculture.
Finally, a sense of community commonly informs the interactions of small organic producers, both amongst themselves and with their customers.
"We consider our customers visitors," Green says. "Like-minded people enjoy being together; that's part of it. We feel we gain from seeing the people who purchase our products. It's good to know that others value what you're producing."
"I think one of the biggest reasons I and others I know do it is community," Harris says. "We have a great community of growers. We draw off each other and bounce ideas off each other, and we're good friends. It's also important work and a labor of love."
"Small farms don't exist in a vacuum," Divine says. "It's a community thing. You see a personal relationship between us and our customers that you don't get in the grocery store so much. Validation's also an important aspect of direct-market farming. People say, 'These pole beans are the best I've ever eaten.' You feel good. Everybody wants validation, right? That's part of what makes the endeavor worthwhile, to have someone tell you you're doing a good job and they appreciate your work."
"There's a real sense of community," Cole agrees. "Most growers are willing to share information because it's not just for financial profit. Yes, we make a profit, but it goes far beyond that. We're all in this for the long haul. And what each of us does individually matters. When you put it all together, it can make a huge difference in the health of the individuals, the environment and even the community."
Possibly it's this sense of community and communal enterprise that gives a segment of organic food adherents an almost 1960s aura, if not in looks, then in outlooks. It's a quality — conveyed either by age, demeanor, worldview, philosophical underpinnings and/or sense of solidarity — that suggests they lived the era, draw inspiration from it, or both. That said, it is millennials who are driving the market's growth.
---
Projections are that consumer demand for organic foods will continue growing rapidly in major U.S. and foreign markets, increasingly mainstreaming the movement and giving rise to greater market competition — trends that concern organic purists and consumer advocacy groups already worried that big business dominates the industry. One concern is that massive growth will lead to large-scale economies and agribusiness consolidation, as occurred in conventional agriculture. Such a development would further undermine small farms — the backbone of rural economies.
A second concern is that organic principles will be further compromised if large corporations come to dominate the standards-setting boards and additional additives and non-organic ingredients are allowed in organic foods for the sake of volume, marketability and expediency. Already, more than 250 non-organic ingredients are permitted, up from 77 in 2002. Critics fear that "organic" will lose validity, much as "natural" has been rendered meaningless by misuse.
Such developments would put an ever-greater burden on consumers to do their homework. Paul, of the Organic Consumers Association, believes consumers are up to the task, however.
"Consumers are getting smarter every day," she says. "They realize the importance of supporting locally grown organic products and 100 percent grass-fed meat and dairy products."
And don't forget, Paul adds, hers and other consumer advocacy groups will continue monitoring the situation and doing their utmost to ensure organic foods' integrity, especially as traditional outlets and global-distribution food networks more come to dominate the market. Whatever the future, however, know that the Age of Organics is here.
At Orchard Pond Organics in Leon County, farming assistant Phil Nelson (above) sorts, cleans and weighs basil. Far left: farm owner Mary Phipps inspects a crate of newly harvested okra. Left: Phipps relaxes with a dear companion. Orchard Pond is a U.S. Department of Agriculture-certified operation, one of 366 in Florida. Phipps has found it to her advantage to simply comply with guidelines set by the federal government versus "having to figure out everything on your ownMary Phipps, owner of Orchard Park Organics, keeps score as kitchen manager Chris Alello, foreground, and kitchen assistant Olivia Watson tend to duties that include filling and boxing jars of tupelo honey. The product comes from tupelo trees in swamps in the Florida Panhandle. The trees bloom once a year for just a few weeks in the spring, making it a difficult and sometimes unreliable product to produce — if the bees aren't in the swamps when the bloom occurs, no honey is made. Tupelo honey, known for its greenish cast, was made famous by songwriter Van Morrison and was central to a movie, Ulee's Gold, which was filmed in Gulf County and starred Peter Fonda.
Katie Harris, Aaron Suko, Jon Jones and Victoria Dickeson pick cucumbers at the Full Earth Farm. Small organic farmers and certified natural growers share a sense of community and describe their efforts as labors of love versus business activities. They strive to adhere to strict standards that they fear may be compromised if industrial farming operations come to dominate standard-setting boards. A 2014 survey of certified organic farming operations conducted by the U.S. Department of Agriculture's National Agricultural Statistics Service showed that 14,093 certified and exempt organic farms in the United States sold a total of $5.5 billion in organic products in 2014, up 72 percent from 2008.