The Legacy of M.T. Mustian
Quietly, he stabilized Tallahassee Memorial Hospital and nurtured its growth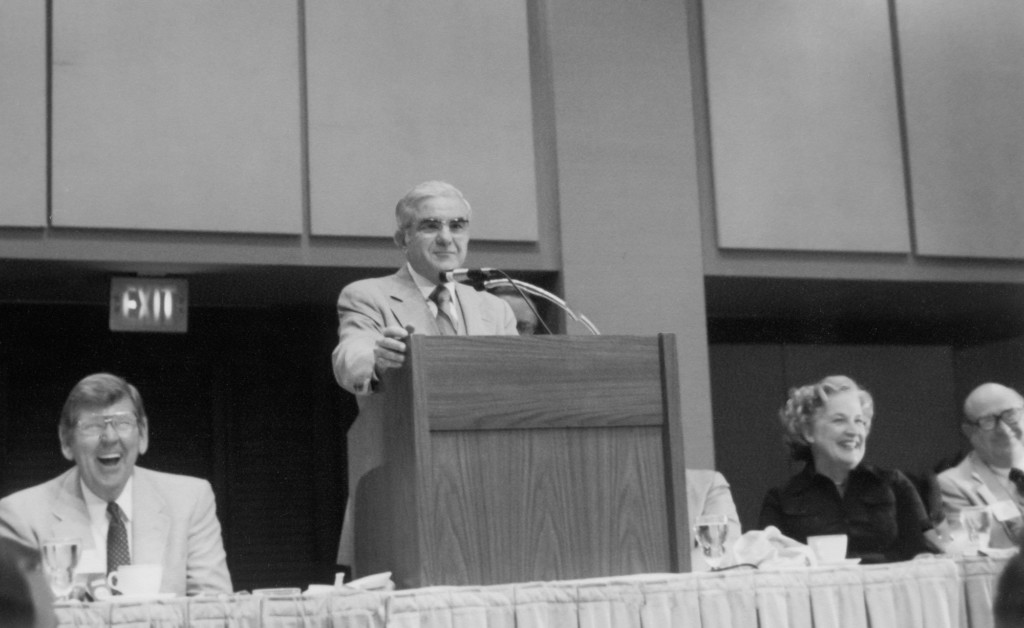 In his 96 years, longtime Tallahassee Memorial HealthCare (TMH) Administrator M.T. Mustian found little time for small talk.
"He liked to cut to the chase and get on with the matter," said his son Mark, an attorney and former Tallahassee city commissioner.
"But I found that people respected that about him. Generally, people want you to be straight up with them. They prefer that, if you disagree with them, you just tell them."
M.T. Mustian, who passed away in May of 2017, was the kind of person to whom people applied the words "pragmatic and visionary" or "conservative and progressive" in the same breath.
"He was good at thinking strategically, and I have discovered that's a rare talent," Mark said.
And he was a good listener.
"He would spend hours walking around the floors of the hospital and in the doctors' lounge listening to what their problems were," Mark said. "People appreciated that."
Those appreciative people included Alexander D. Brickler, MD, who was delivering babies at the hospital at Florida A&M University when Mr. Mustian arrived in Tallahassee in 1964.
Not long thereafter, the State of Florida ceased funding the A&M hospital, and Tallahassee was faced with the need to integrate TMH.
"M.T. and I and the hospital's medical director at the time got together in clandestine meetings and decided how we were going to proceed," Brickler said.
The trio, led by Mr. Mustian, determined that they would first integrate the old A&M facility by establishing an OB-GYN clinic there for indigent patients.
The move proved successful and helped pave the way for a broader integration of healthcare services in Tallahassee.
"The clinic saw an influx of white patients, and that softened the resistance of the militant segregationists so that we could pull things together and proceed to integrate TMH," Brickler said.
It was an early example of the value of Mr. Mustian's capacity for strategy.
There would be many others, including the purchase by TMH near the end of Mr. Mustian's tenure as administrator of 84 acres that some called "Mustian's Folly."
"Critics wanted to know what we were spending all this money for, but my father could see the day when the hospital campus would have to be expanded," Mark said. "It was a smart move."
In the first place, M.T. Mustian arrived in Tallahassee knowing that TMH was struggling financially.
His road to Tallahassee had been decidedly indirect.
M.T. Mustian was born in Texarkana, Texas. His father was an itinerant farmer who moved about the Lone Star State, pausing wherever the cotton was doing the best.
Mr. Mustian graduated high school in Atlanta, Texas, and then enlisted in the U.S. Army, serving as a medic in Gen. George S. Patton's 3rd Army in World War II. He was wounded in the battle for Koblenz, Germany, and was awarded a Purple Heart.
After the war, he attended Baylor University on the GI Bill, received his bachelor's degree in 1949 and served as an assistant administrator at hospitals in Alexandria, Louisiana, and Jackson, Mississippi.
He met his wife, Jackie, in Alexandria, where she had grown up. Both were employees of the Baptist hospital there.
"He was the business manager — and he was handsome," Jackie recalled. "And a budding relationship got started." She was the Secretary to the Chaplain and the Director of Nursing.
For a time, it seemed that M.T. Mustian's life would be as nomadic as his father's had been.
He checked in at Bay Medical Center in Panama City, Florida, where he served as CEO for four years, before moving to Gainesville and becoming Alachua General Hospital's Chief Administrator.
He next boomeranged to Texas, but he and Jackie disliked Houston and soon began shopping for a less urban environment.
Mark said his father accepted the administrator's job at TMH in 1964 after concluding, "things were so screwed up there that he couldn't possibly make them any worse." He would remain in the job for 25 years. His wanderings were over.
"M.T. came along and did a marvelous job with the hospital," Brickler said. "He made things right. You would never expect M.T. to be out front with a banner demonstrating for a cause, but he would work behind the scenes to get things done."
Indeed, Brickler said, M.T. Mustian changed the dynamic of hospital operations. Prior to his arrival at TMH, the administrator was subservient to the medical staff and did not much generate doctors' respect.
"M.T. was straight-laced and no nonsense but very fair in his thinking," said Brickler, who retired in February after he and his son, also an OB/GYN, combined to deliver a baby via Caesarean section on his 90th birthday. "If M.T. said he was going to do something, he'd do it. His word was his bond. He earned the complete support of the medical staff, which was hard to do at that time."
As a result, Mr. Mustian ensured that the hospital's administration would have as much to say about the direction and operation of the hospital as the doctors did. That was new, Brickler said.
"M.T. always said it was our job to run the hospital, and it was the job of physicians to deal with issues including quality of care and physician pay," said Bill Giudice, TMH's Vice President, Chief Financial Officer. "He was a master at avoiding entanglements with the medical staff. He would go to them with an issue, tell them it was their responsibility and let them solve it."
Giudice credited Mr. Mustian with always maintaining a cordial relationship with staff, no matter the tension that sometimes inevitably developed between doctors and the administration.
"There were people who didn't like him very much, but there were few people who didn't respect him," Mark said.
Giudice and Brickler agree that Mr. Mustian always was careful about not revealing too much of himself, but there were times when people glimpsed his sense of humor.
Giudice's desk is given to neat piles. Nonetheless, Mr. Mustian walked into his office one day about two years after Giudice had started at TMH, muttered, "Cluttered desk, cluttered mind," and walked off without saying another word.
The episode bothered Giudice and, two days later, he visited his fastidious boss' office, attracted his attention by clearing his throat and wondered aloud, "If a cluttered desk is a sign of a cluttered mind, what is an empty desk a sign of?"
Giudice lingered for a moment but heard nothing in response.
Years later, Giudice asked Mr. Mustian's executive secretary if he had ever said anything about the "empty desk" remark.
"She told me that was probably the day that M.T. was satisfied that he had the right person as CFO because I wasn't going to be a 'yes' man," Giudice recalled.
"And she said that right after I left, he closed his door and busted out laughing, but he wasn't going to do that while I was standing there."
Mark said his dad liked "silly humor" and recalled Mr. Mustian's fondness for shows including "Hee Haw" and "The Dukes of Hazard."
Jackie remembers times when the family would gather around the television to watch "The Beverly Hillbillies."
"I think we sort of identified with them," Jackie said.
Mr. Mustian was a highly regarded executive, yes, but he was also a gardener, one with zero tolerance for weeds.
"He wasn't much for exercise for exercise's sake," his wife, Jackie, said. "He believed in work, and he loved to work in the yard and in the garden. He would pick the beans and have me wash them so we could give them to the neighbors. And we had the most wonderful Vidalia onions.
M.T. was a farmer more than a gardener. His garden was never just for us."
TMH was a small hospital of about 200 beds when the Mustians came to town, and Mr. Mustian would do much to nurture its growth.
"We got to see a lot of things happen," Jackie said. "But M.T. was always patient centered. He wanted everything to be right for the patient."
Jackie said she was shocked to learn that TMH's new surgery center would be named in honor of her husband.
"Still, I can hardly believe it," she said. "But M.T. loved TMH.
"Make no mistake. He loved it."