Tallahassee's Very Own Incubator Houses The Future to Small Businesses
Domi Station is where entrepreneurial minds meet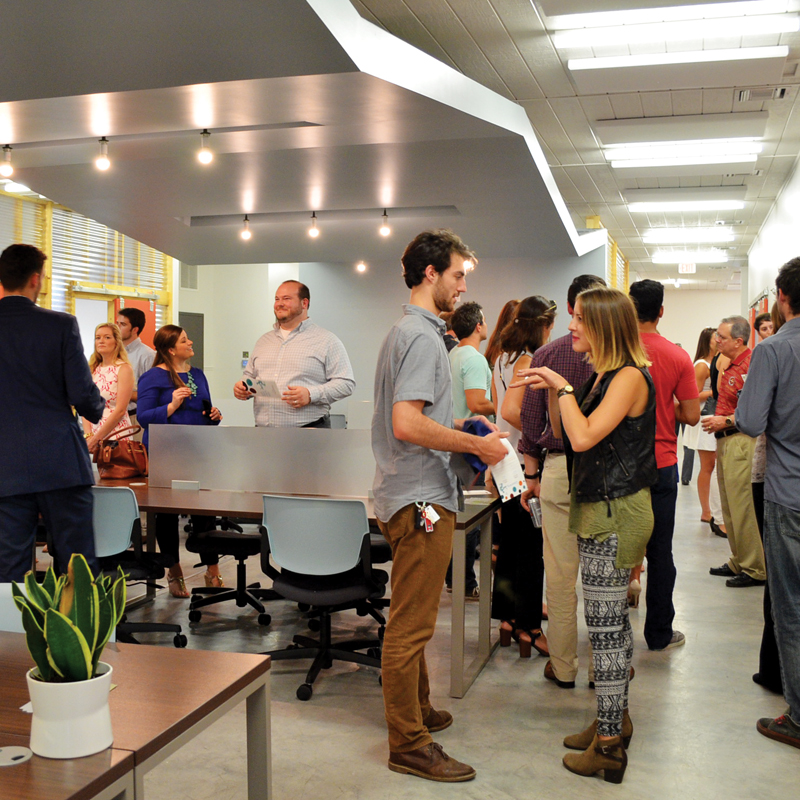 Barbara Wescott had been in the business of renting vacation homes in faraway Maine but wanted to start a business of her own. Needing legal and accounting advice — and even basic tips on how to start — she wasn't sure where to begin.
Ryan Kopinsky wanted to create a cool idea but needed a little help.
William McCluskey planned to return to Boston to kick off his startup company but then realized he'd be competing against so many others there might not be an appetite for his idea.
Today, the three are amiable companions, helping to cross-pollinate ideas while developing their own entrepreneurial aspirations at Domi Station, a converted warehouse on Railroad Avenue that is Tallahassee's new business incubator focused on early-stage startups.
The public-private incubator and co-working space, run by Domi Ventures and funded by Leon County, Florida State University and private venture capital, has only been open since April, yet it is already a home to or resource for about 35 startups, according to Lucas Lindsey, community manager. Projects range from hurricane software to streamlined shopping with Google Glass, nanotechnology and 3D printing.
---
Take a virtual tour of the Domi Station here:
Story continues below…
"Domi Station is much more than a cool work space," said County Administrator Vince Long. "It's the front door for area residents, university students and like-minded entrepreneurs to access the collective resources that exist within our community."
Matt Burke
Open less than a year, Domi Station is already home to a host of budding new businesses incorporating a wide variety of technologies.
Domi (Latin for home) Ventures was born the night Micah Widen and Jake Kiker were sitting in a pub at The Manor at Midtown. They were introduced by a mutual friend, Jay Revell, executive director of the Tallahassee Downtown Improvement Authority. Widen, whose wife was getting her doctorate at FSU, wanted to start another company. Kiker knew the county needed an incubator. They talked until 3 a.m. and incorporated two weeks later.
As Widen and Kiker were co-founding Domi Ventures along with partners John Vecchio and David Lawson, they were holding meet-ups with interested people to test the market. The county, meanwhile, was simultaneously developing its own idea for an incubator. But while the county had a place and some of the money, Domi Ventures had the know-how. Miraculously, the two joined forces. The result: Domi Station (located in a warehouse built in 1858 that had been used by the supervisor of elections) quickly became a reality.
"At first we wanted to make sure we had enough critical mass. But we even had two kids from Florida International University come up to our first meeting," said Widen, CEO of Domi Ventures.
Added Kiker, "We just got larger and larger. At first, I think it was just curiosity. It was like, 'Are you folks for real?' "
Those interested ranged in age. Wescott is 51, Kopinsky is 24. Some were students, some worked in local software companies. Some were already working on startups, some just had an idea.
After being accepted into Domi Station, they were connected to accounting, legal and market research services and, perhaps most importantly, mentors. Local businesses offered pro bono services, setting up regular business hours to meet with the budding entrepreneurs. Mentors from throughout the business and university community have given freely of their advice to those hoping to make it big in business.
Domi Station is open 24 hours a day, seven days a week. There's almost always someone working.
"It's a very collaborative atmosphere," Widen explained. "We're encouraging people to take ownership and to help grow the community."
Barbara Wescott is hoping to do just that. She has developed a program to establish a universal reward point program that small businesses could opt into to reward loyal shoppers.
"I'm confident I have a great idea, but it's just trying to put all the pieces together," she said. "I didn't know where to go, what to do. I needed help with patent advice, accounting and to talk to a mentor."
Matt Burke
Ryan Kopinsky, founder of FSU's TechNOLEgy student organization, is working on a Google Glass app.
So far, she's gotten that. Her business, called Point Catcher, will soon have a small launch in Tallahassee to see how it works and to smooth out any kinks.
Ryan Kopinsky, the founder of FSU's TechNOLEgy student organization, is a Ph.D. candidate in robotics at FSU and co-founder of Shop X. A major advocate of Google Glass, he wanted to create a cool app. He got an idea from Widen's wife but needed help developing it. He met that person, John Perkins, at a Domi event, and they worked on a shopping list app. The app (accepted by Google and dubbed App No. 52) allows a user to make a shopping list directly on Glass by voice command, with items sorted by category. It knows, for instance, that "2 percent" means milk.
"It's my first app, and it came out of a brainstorm session (hosted by Domi Ventures)," Kopinsky said. "It took us four months from the idea to the launch."
William McCluskey was headed to Boston to work on his startup, Proper Channel, when the folks at Domi Ventures convinced him to take another look at Tallahassee. He did and decided to stay after realizing there are so many startups in Boston that "people aren't hungry for your idea."
Proper Channel, he explains, is about taking the pain out of bureaucracy by being a "visual wiki" that helps explain to people things like how to get a travel visa to China or apply to college or navigate the local driver license bureau.
In his blog he explains, "Our secret is telling people exactly what they need and putting it in front of them in a simple to use format."
McCluskey said that one of his goals is to supercharge Florida, "and they're doing everything right here. It's more of a true community. You get real involvement, connection."
To be an "ideal candidate" for the incubator, a company would have two or more founders, be committed full time, have technical and business talent, be based in or plan to relocate in Tallahassee, have domain expertise and have performed competitive due diligence. If selected, the companies have four months of free co-working space, introductions to investors and a wide range of resources.
"There need to be more places like this," Kiker said. "The rising tide is what we're looking for. People can launch companies here cheaper than in Miami or Orlando. I want Tallahassee to be a viable and attractive option."
---
Help for Existing or Relocating Business
Need business help and don't know where to look?
There's a new resource in town: AERO, the Alliance of Entrepreneur Resource Organizations.
The coalition of public agencies and community nonprofit organizations has formed a website designed to answer most any question a business might have. BigBendBiz.com, funded by The Jim Moran Institute for Global Entrepreneurship at the FSU College of Business, has compiled a list of resources for anyone who wants to start a business, existing businesses that need help and businesses interested in relocating to the area.
Topics include incubators; education and training; financial resources; mentoring; networking; and operations.