Sparking Innovation by Bringing Together the Military, Entrepreneurs and Investors
Doolittle Institute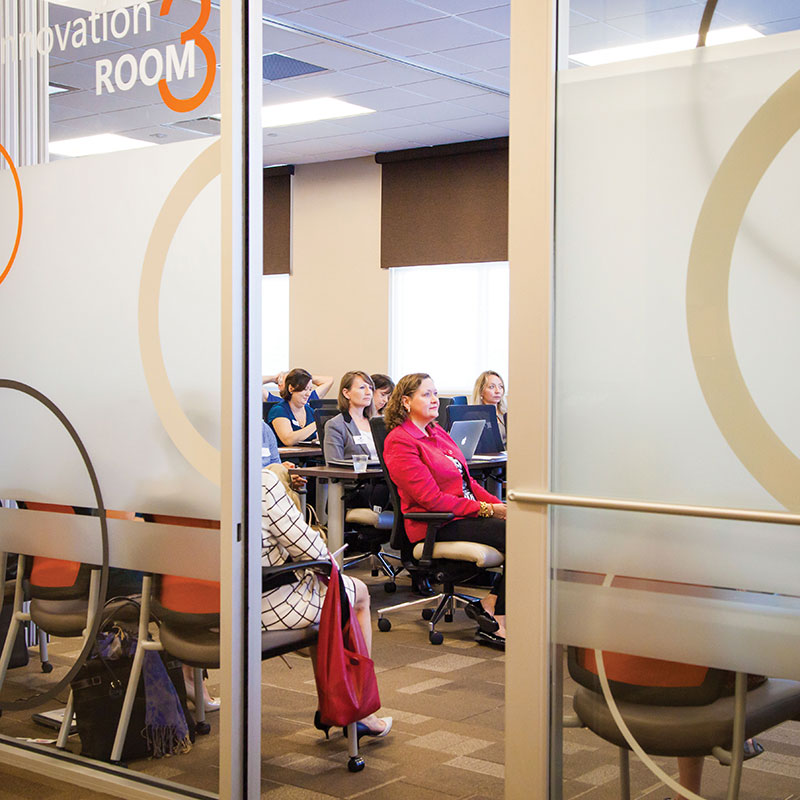 When Steve Butler began working on long-range cruise missiles, a GPS receiver for each missile cost about $250,000. So, in the 1990s, the military gave the GPS technology to companies that build fishing receivers, hoping the commercial world would improve the product and lower the cost. Today, there are GPS receivers in phones and watches with chips that cost maybe $10 — and the military indeed has its access to low-cost receivers for its missiles.
"Our newer weapons use these cheaper receivers and are very affordable," explains Steve Butler, director of the Doolittle Institute. "Sharing technology with a commercial venture that made a lot of money on it didn't hurt the government. It helped the government."
And that is exactly what the Doolittle Institute — named after legendary Air Force Gen. Jimmy Doolittle — is doing today in Florida. Not surprisingly, its facilities are located near Eglin Air Force Base in Fort Walton Beach, where most local technology companies were started by a civil servant who left the government, and near MacDill Air Force Base and the U.S. Special Operations Command in Tampa.
Just two years old, the institute is a nonprofit that contracts with the U.S. Air Force research lab at Eglin to provide a neutral facility where Air Force personnel can connect with universities, businesses, entrepreneurs and researchers "outside the gate" in hopes that commercialization of military technology will result in better and cheaper products. Its mission is to provide what Butler describes as "collider" opportunities in which "the Department of Defense collides with the commercial world and learns how people do things."
Of course, not all secrets are revealed — just those the military is comfortable sharing with the public.
"Obviously, there are technologies we can't share," says Butler, past executive director of Air Force Materiel Command at Wright-Patterson Air Force Base in Ohio. "We have to be very careful we don't violate security rules or give away technology that would give an adversary advantage over us.
"But there is also a reason in some cases to give technology away so that universities, small businesses or entrepreneurs can run further and faster with it. Those who have studied the science of science have learned that in some cases it's better to give intellectual rights to others and let them go faster than you could go on your own."
Tucked away in Fort Walton Beach's Uptown Station, the Doolittle Institute is a complex of meeting rooms used to provide classes for military and non-military personnel and "Shark Tank"-like events where researchers/inventors from the base (civilian and military) pitch their ideas and get helpful feedback from successful business leaders on the likelihood of a successful commercialization. Local angel investors are also interested in what's being pitched.
At a recent Innovation Discovery event, Butler explained to participants that "a lot of researchers are so focused on the problem, they don't see the bigger picture." And the Air Force is indeed a great place for science, "but not necessarily innovation."
Mike Miller, a civilian researcher at the Eglin lab, has already formed his own company, Solo Navigation, but wanted advice on a new idea to make driving safer through an automobile navigation system that would allow vehicle-to-vehicle communication and help prevent accidents.
"Our key focus is providing navigation data at a low cost," he said. "Even if no one else has it in their car, it still gives you very accurate data on where you are."
While Miller's idea would be welcome to many motorists and likely insurance companies, Butler later points out it could also be extremely beneficial to the military in its airplanes and cruise missiles.
While in Fort Walton Beach the focus is on collaboration, offering technical classes to the military and civilian population and providing financial support and instructors to Okaloosa's STEMM Academy, the Tampa branch of Doolittle has different areas of interest.
At Special Operations Command — which oversees Special Operations Component Commands of the Army, Air Force, Navy and Marine Corps — there is interest in improving the armor that soldiers wear to make it lightweight and even include motors that allow wearers to run faster and lift heavier weights; pursuing technology for 3D printers that can be used by troops stationed in far-flung places of the globe; and putting laser weapons on the battlefield.
"Part of our role is to connect them to universities and small-business innovators in the community that will come up with ideas faster than the traditional military bureaucracy and laboratory system," says Butler, who envisions soldiers eventually wearing armor with sensors that not only help them see better on the battlefield — including over walls and behind bushes through a satellite or unmanned aerial vehicle link — but also monitor their physical condition, including hunger, tiredness and blood pressure during battle.
"The big companies will build the systems, but the government and big companies won't always come up with the innovative ideas," he adds. "By creating these innovation institutes, we can help bring in innovators who think of new ways to do things and bring them into an environment where they can understand some of the military issues."