SOUND BYTES
NOTABLE LOCAL NEWS & HAPPENINGS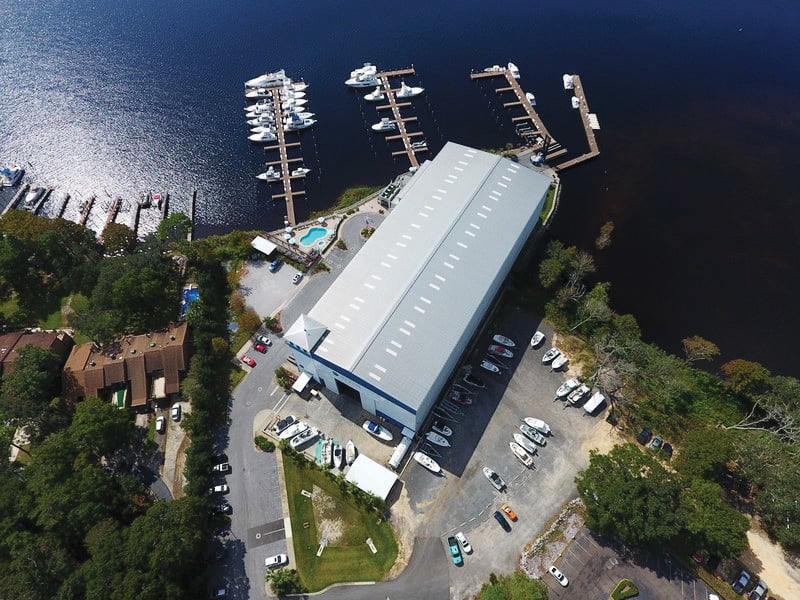 Emerald Coast // Local Happenings
Niceville Marina Complex Has New Owner
SVN Marinas has advised the owners of Emerald Coast Marine Center on the sale of the marina, located in Niceville, to Safe Harbor Marinas, a wholly owned subsidiary of publicly listed Sun Communities, Inc. (NYSE: SUI). Advising the deal for the seller were David Kendall and Mike Howell, the founding partners of SVN Marinas, a leading marine advisory practice specializing in mergers and acquisitions and business advisory services for marine properties and marine businesses throughout the United States and the Caribbean. "We congratulate the owners and management team on the sale of this best-in-class marine facility," Kendall said. "Emerald Coast Marine Center is one of the largest and most diversified marina complexes in the Florida Panhandle. The leadership team at Emerald Coast had the vision to transform the property from a regional marina into a highly profitable, world-class marina complex, which meets the demands and satisfies the recreational boating needs of their customers." The Emerald Coast Marine Center is a destination lifestyle marina. The concept of a marine center provides for a turnkey approach to boat ownership, recreation, storage and maintenance. The marina includes a hurricane-rated indoor storage facility accommodating up to 280 boats and 70 wet slips together with a leading regional boat dealership carrying premium brands, including Beneteau, Blackfin, Crownline, Crest, Crevalle, Hurricane, Key West, Monterey, Nautique, Release, Sea Pro and Solace. "David and Mike were instrumental in helping achieve the successful outcome of this transaction," said Shawn Talpey, president of Emerald Coast. "Together, they are uniquely capable to advise on both marina and marine business transactions that require both market specialization and the sophistication to negotiate complex M&A type marine business transactions." Said Howell, "David and I launched SVN Marinas to provide the transaction expertise required to successfully advise larger and more involved marina and marine transactions requiring both commercial real estate and business expertise."
CAPITAL
Local Happenings
» RJ Young, an industry-leading business technology solutions provider in the Southeast, recently opened a new office and distribution center in Tallahassee to accommodate growth in the area. The move will combine two of RJ Young's Florida offices into one, and add a new distribution center that will serve coastal Alabama and the Florida Panhandle. The new location will house 15 team members and spans 12,500 square feet. This is the company's fourth warehouse distribution center in the Southeast.
» The Tallahassee Community College Foundation announced a $200,000 gift to benefit its workforce development programs. The donor has chosen to remain anonymous. The gift will be used for 10 welding booths in the new Welding Lab that opened in January and for 35 Wakulla Workforce Scholarships for residents of Wakulla County.
Local Honors
» Capital City Bank Group announced that Will Butler, Kimberly Crowell, Bonnie Davenport and Ash Williams have joined its board of directors. Butler, the founder and principal of Real Estate InSync (REI), is an accomplished real estate project and portfolio manager with over 30 years of experience partnering with high-net-worth private, corporate and institutional clients throughout the United States on projects ranging from commercial portfolios to mixed-use facilities and residential developments. Crowell is co-founder of Kalo Companies, which owns and operates 40 Jersey Mike's Subs restaurant franchises and has another 17 stores in development in Florida, Georgia and Alabama. Davenport, the president and founding principal of BKJ, Inc. Architecture, has built a reputation as a community leader through her involvement with numerous successful projects across Florida. Recently retired, Williams is the former executive director and chief investment officer for the Florida State Board of Administration. In that capacity, he was responsible for managing over $250 billion in assets, including those of the Florida Retirement System, the fifth-largest public pension fund in the United States.
» Families across the Big Bend and South Georgia are welcoming a familiar face into their homes on weekday mornings. ABC 27 has promoted newsroom veteran Karah Bailey to Sunrise anchor. Bailey started at ABC 27 as an intern in 2016 before going full time in 2017. She is a graduate of Florida A&M University and has lived in Tallahassee for the last 20 years.
» Leon County Administrator Vincent S. Long has been named 2021 Person of the Year by Capital Outlook. Each year, Capital Outlook identifies extraordinary persons and organizations that have distinguished themselves in leadership, service and community engagement. This designation highlights Long's lifelong commitment to public service. As the CEO of county government, Long provides fiscal, strategic and operational leadership, as well as professional implementation of County Commission policies.
» Thomas Howell Ferguson P.A., CPAs, a professional accounting, assurance, tax and governmental consulting services firm headquartered in Tallahassee, has promoted Matthew Warren to a senior position in the Assurance Services Department. Warren joined the firm in September 2018 and has over three years of experience in public accounting and providing assurance services. Warren earned a bachelor's degree in accounting at Flagler College.
» Julian Dozier of Thomas Howell Ferguson P.A., CPAs has been selected one of CPA Practice Advisor's "40 Under 40" in the accounting profession. The 40 Under 40 awards spotlight the top practicing public accountants, educators and thought leaders who are leading their professions by visibly and incrementally changing the accounting profession through their exemplary leadership, innovative thinking, collaborative efforts to provide unity to the profession across generations and their community outreach, which extends the visibility of the profession outside of the workplace. Dozier has over 15 years of public accounting experience providing assurance services. He graduated from Florida State University with degrees in accounting and finance and earned a master's degree in accounting. Dozier serves on boards at the American Institute of Public Accounting and the Florida Institute of Public Accounting.
»Tallahassee Community College's Career Service Department hosted a swearing-in ceremony for new campus police chief Wesley Hardin. Hardin has more than 26 years of experience in law enforcement and supervision across diverse assignments in local, county and K-12 law enforcement agencies. He spent the last 13 years as the officer-in-charge at Gwinnett County Public Schools in Suwanee, Georgia. That school-based police department is the 13th largest in the nation with 96 uniformed police officers protecting more than 180,000 students in 143 schools. Hardin earned a bachelor's degree in criminal justice from Saint Leo University and a master's in public administration from Columbia Southern University.
New & Notable
»Tallahassee Community College announced a $250,000 grant from Bank of America to create a Medical Lab Tech Program at the TCC Ghazvini Center for Healthcare Education. The Ghazvini Center has more than 85,000 square feet of learning space devoted to emergency medical services, nursing, radiologic technology, respiratory care, pharmacy technology and surgical technologies. The center is located in the heart of Tallahassee's medical corridor and is equipped with cutting-edge technology, allowing students to strengthen and apply their skills in simulated real-time settings. The facility houses classrooms, conference rooms, a one-of-a-kind on-site library and learning commons, an accredited simulation center, a computer lab and administrative offices.
EMERALD
COAST
Local Happenings
» In the first project of its kind in Northwest Florida, Florida Power & Light Company has finished replacing overhead power lines with more reliable underground lines to continue improving service and speed storm restoration for customers in a west Pensacola neighborhood. FPL completed the undergrounding project for 131 homes in the Myrtle Grove community as part of a pilot to find cost-effective ways to put power lines underground.
» Chase Properties closed on the acquisition of The Lakes at Nottingham Apartments in Pensacola. Built in 2003, this 268-unit apartment complex was acquired off market. This transaction represents the second multifamily property Chase Properties has purchased and is the seventh asset they have acquired in their efforts to expand beyond the retail sector. While Chase Properties has been investing in retail for nearly 50 years and continues to do so, they have expanded their capabilities into multifamily and industrial asset classes.
Local Honors
» Hilton Sandestin Beach Golf Resort & Spa, a premier beachfront resort located on Florida's Gulf Coast, has announced key additions and promotions to the resort's culinary team. These additions come following the announcement of Dan Vargo's departure. Ending a distinguished tenure spanning over a decade as executive chef at Hilton Sandestin and executive chef of Seagar's Prime Steaks & Seafood, Vargo is leaving to fulfill a lifelong dream of creating his own company. Dan Tederous is Hilton Sandestin's new executive sous chef. With more than 20 years of experience, Tederous was most recently chef de cuisine at Delmonico Steakhouse in Las Vegas, Nevada, where he managed all culinary operations and developed daily specials, menus and seasonal items. Tederous also held positions as executive sous chef at Mauna Kea Resort in Waimea, Hawaii, and banquet chef at Four Seasons Hualalai in Kona, Hawaii. Lee Guidry has been promoted to banquet chef after working at Seagar's Prime Steaks & Seafood for more than four years. Thomas Mikesell will take on Guidry's previous role leading the team at Seagar's. He comes to the team with an extensive background at some of Atlanta's finest eateries. Fleetwood Covington, who has been with Hilton Sandestin since 2017, was promoted to sous chef. The new culinary team lead, Steve Withall, will be overseeing the renovation of Sandcastles Restaurant.
» The "Misty the Mermaid" campaign for The Island by Hotel RL received four statewide awards for excellence in marketing, social media and public relations. The campaign received three honors at the Florida Public Relations Association (FPRA) Golden Image awards, held in connection with the association's annual conference. The full campaign was awarded a Golden Image award in the integrated marketing category, making it the No. 1 integrated campaign in Florida. The Mermaid Tails social media video series won an award of distinction and a Judges Award in the online engagement category. Additionally, the "Misty the Mermaid" campaign was awarded a bronze Flagler award in the social media category from VISIT FLORIDA.
BAY
Local Happenings
» Courtney Hellett and Samantha Vines joined Progress Bank in their Panama City office. Hellett, Panama City assistant branch manager, began working in real estate and mortgage lending while a student at the University of South Carolina. Hellett later moved into insurance sales before transitioning to banking. She is currently attending the American Banking Association's Branch Manager Program, as well as pursuing her finance degree with a minor in business management from Capella University. Hellett is currently on the Board of Directors for the Panama City Symphony Orchestra. Vines, Panama City universal banker, has lived in Florida most of her life. She spent the first 16 years of her career in retail, working her way up from sales associate to store manager. Since 2018, Vines has worked as a teller for well-known financial institutions. She is active in the local community and works to support local food banks.
I-10
Local Happenings
» CareerSource Chipola provided NextStep at Endeavor Academy with a $50,000 grant to enable it to obtain licensed curriculum for autistic students. The Learn4Independence curriculum helps students with independent living and career readiness skills. The money comes as part of a Rural Initiatives Grant totaling $206,250 from the Florida Department of Economic Opportunity. Career Source Chipola specializes in connecting partners with individuals to pursue employment opportunities and improve the quality of the regional labor force. NextStep at Endeavor Academy is a program launched by Jackson County and Endeavor Forward Inc., a Florida-based nonprofit that supports the development and operations of an autism transition, vocational and residential program as part of an inclusive community.
Capital // Local Honors
First Commerce's Homison Elected to National Association Board
First Commerce Credit Union CEO Cecilia Homison has been elected by her peers to serve on the Credit Union National Association (CUNA) Board of Directors, representing District 3, Class B. CUNA has long been recognized as the most influential financial services trade association advocating on behalf of America's credit unions and their 120+ million members. District 3, Class B encompasses credit unions with memberships between 38,000 and 141,000 located in Florida, Georgia, Alabama, Arkansas, Louisiana, Mississippi, North Carolina, South Carolina and Tennessee. Homison was also recently appointed to CUNA's Advocacy Committee for a one-year term that began Jan. 1. The Advocacy Committee advises CUNA staff and provides policy recommendations to the board regarding advocacy issues affecting the credit union movement. "Serving on CUNA's Board of Directors and the Advocacy Committee have been long-term career goals of mine, and I consider it a privilege to serve in these capacities," Homison said. "I look forward to working with leaders across the nation to support and advance the credit union movement. I believe our industry has tremendous opportunities to continue the incredible work we do to strengthen the communities we serve." As a member of the CUNA Board, Homison has pledged to focus on four key areas:
Tenacious, targeted advocacy that protects credit union interests while positioning the industry for the future.
Strategic conversations focused on thriving in a digital and data-driven world.
Deepening alliances and collaborations that leverage diversity of thinking, talent and experiences.
Decisive leadership that facilitates open dialogue and action to attract and retain the next generation of employees and members.
"Cecilia's experience and passion for federal advocacy will bring much to CUNA as a member of its Advocacy Committee," said Patrick La Pine, CEO of the League of Southeastern Credit Unions & Affiliates. "Additionally, as an elected member of the CUNA Board of Directors, she will be a great representative of credit unions in the Southeast and help advance the mission of our national trade association."