Sound Bytes – December 2017/January 2018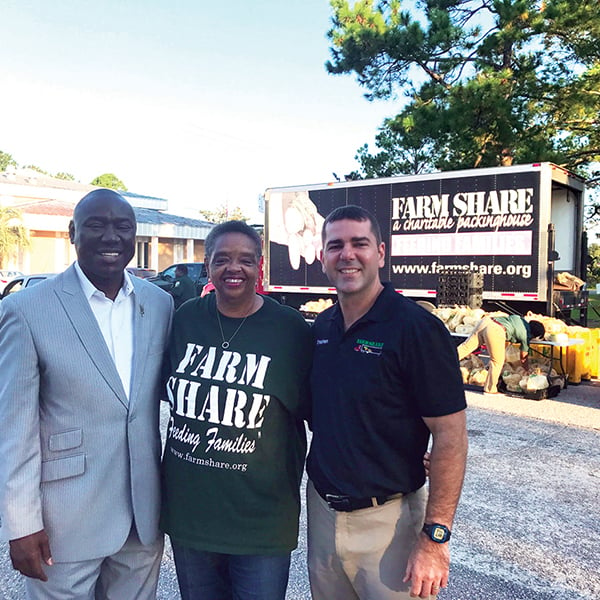 REGIONAL
» Gov. Rick Scott and the Cabinet inducted 20 individuals into the Florida Veterans' Hall of Fame on Nov. 27, including five from northwest Florida. Inductees from Tallahassee are Capt. Dale W. Doss, U.S. Navy; John P. Folsom, U.S. Navy; Col. Bruce J. Host, U.S. Air Force; and John E. Thrasher, U.S. Army. From Fort Walton Beach, 1st Sgt. Thomas S. Rice, U.S. Army, was inducted. The Hall of Fame honors military veterans who, through their works and lives during or after military service, have made significant contributions to the state of Florida through civic activities, business, public service or other pursuits. Unlike a traditional military hall of fame, this institution recognizes post-military achievements.
» Sacred Heart Health System will add Ascension to its name as part of a national effort to make it clearer and easier for patients to access the care they need and to navigate their health. Sacred Heart Health System will change its name to Ascension Sacred Heart and adopt the Ascension logo. Patients will continue to see their doctors, but those doctors will now have access to the expertise of other specialists across the state and country.
CAPITAL
APPOINTED BY THE GOVERNOR
» Gov. Rick Scott recently announced four re-appointments and six appointments to the Medicaid Pharmaceutical and Therapeutics Committee, including Dr. John Bailey, 58, of Tallahassee, reappointed through June 30, 2019. Bailey is a psychiatrist at John Bailey, D.O., LLC. He received his doctor of osteopathy from the Southeastern College of Osteopathic Medicine.
» Richard Myhre, 38, of Crawfordville; Rodney MacKinnon, 41, of Tallahassee; and Elizabeth Moya, 36, of Tallahassee, appointed by Gov. Rick Scott, served last fall on the Committee on Early Grade Success. Myhre is the Executive Director of Just Read, Florida! within the Department of Education. MacKinnon is the Executive Director of the Office of Early Learning. Moya is the Legislative Affairs Director in the Office of Early Learning.
LOCAL HAPPENINGS
» First Commerce Credit Union's Power Forward Speaker Series will feature Chip Conley, speaking about his role with hospitality industry disruptor Airbnb. Conley, entrepreneur and business rebel, is a leader at the forefront of the sharing economy. He was head of Airbnb Global Hospitality and Strategy. Past speakers have included NFL legend Conle entrepreneur Jim Kelly; Randi Zuckerberg from the Facebook startup team; Steve Wozniak, co-founder of Apple Inc.; and Barbara Corcoran of the entrepreneurial hit "Shark Tank." The event is on Jan. 31 at Ruby Diamond Concert Hall. Tickets are available at tickets.fsu.edu.
» Tallahassee-Leon County was one of five metropolitan areas in Florida selected to host showcase tours for the 8th Americas Competitiveness Exchange, or ACE 8, for 50 high-level decision-makers visiting from the Americas and other parts of the world. Also chosen for the tour in December were Gainesville/Alachua County, Orlando/Orange County, St. Augustine/St. Johns County and the Space Coast. The tour, showcasing facilities such as Leon County-Tallahassee's National High Magnetic Field Laboratory, Danfoss Turbocor and the Florida Center for Advanced Aero-Propulsion, was arranged by the U.S. Department of Commerce Economic Development Administration, the Organization of American States (OAS) and the U.S. Department of State.
» The Jim Moran Institute for Global Entrepreneurship in the Florida State University College of Business is accepting applications for its Small Business Executive Program (SBEP) Class VIII. Businesses that have been in operation for three years or more and have three or more employees are eligible to apply at jmi.fsu.edu (click on "Programs"). The application deadline is Jan. 30. The first session starts Feb. 21 and runs through May 16.
» Tallahassee-based civil-rights attorney Ben Crump hosted a debut screening of the feature film Marshall, in which he has a cameo role, as a fundraiser for minority law students at Florida State University and Florida A&M University. The movie is about a case early in the career of the late Thurgood Marshall, who became the first African American justice on the U.S. Supreme Court. Crump became known nationally by representing survivors of Trayvon Martin, killed in Sanford, Florida, in 2012 by George Zimmerman, who was acquitted on a stand-your-ground defense. The screening/fundraiser was attended by numerous attorneys, judges and criminal-justice authorities.
» Tallahassee Community College has renamed the auditorium and one of the nursing labs at the Ghazvini Center for Healthcare Education in honor of Tallahassee Memorial Healthcare. The auditorium is now called Tallahassee Memorial HealthCare Auditorium, and the nursing lab is now called Tallahassee Memorial HealthCare Nursing Lab.
LOCAL HONORS
» Leadership Tallahassee, a program of the Greater Tallahassee Chamber of Commerce, presented the 2017 Distinguished Leadership Awards in September to community members who have proven their investment in Tallahassee and its citizens. Proceeds from the event, attended by more than 400 people, went to the Youth Leadership Tallahassee program. Steve Evans, retired IBM executive, received the Lifetime Leadership award; J.R. Harding, disability leader and advocate with the State of Florida's Agency for Persons with Disabilities, received the Servant Leadership Award; Audra Pittman, executive director of the Council on Culture and Arts and the owner and founder of Suite P Creative Studio, received the Leadership Pacesetter Award; and Andy Miller, president and CEO of Seminole Boosters, received the Leader of the Year Award. The Distinguished Leadership Awards were presented by Centennial Bank and were sponsored, in large part, by Tallahassee Community College.
» Cathy Wool of Balanced Books of North Florida, LLC, has been named a 2017 Top 100 ProAdvisor by Insightful Accountant, an independent news and information source. This is Wool's fourth consecutive year making the list, which is voted on by colleagues and professionals in the accounting industry.
» Four Tallahassee lawyers are among 255 statewide who recently earned Florida Bar Board Certification. Board-certified lawyers are "evaluated for professionalism and tested for expertise." Board-certified in the 2nd Judicial Circuit are Diane G. DeWolf, DeWolf, Akerman LLP, specializing in appellate practice; Stephanie A. Johnson, Legal Services of North Florida, specializing in juvenile law; Michael L. MacNamara, The MacNamara Law Firm, specializing in criminal trial law; and Kristen Coons McRae, City of Tallahassee, specializing in city, county and local government law. Of the more than 118,000 Florida lawyers, over 5,000 have earned board certification. Florida offers 26 specialty areas for board certification, more than any other state in the nation.
» Thomas Howell Ferguson P.A. CPAs, headquartered in Tallahassee, congratulates Chandler Russell on receiving her CPA license and congratulates Tim Icardi and Jorge Rivera on passing the CPA exam. Russell, a Tallahassee native, began working for THF in October 2015 as a staff accountant in assurance services. She was promoted to senior accountant in October. Chandler is a member of the Florida Institute of Certified Public Accountants and the American Institute of Certified Public Accountants. Icardi and Rivera have passed the four parts of the CPA exam and are working on the remaining work hours to satisfy the requirement for licensure.
» Nan Baughman, a domestic violence counselor with Jefferson County Outreach, has received the President's Award at the Monticello Chamber of Commerce's Annual Dinner and Election of Officers/Directors.
» Florida State University football player Mavin Saunders was named to the 2017 Allstate AFCA Good Works Team for tutoring and mentoring children at John G. Riley Elementary School weekly for the past two years. Derrick Coles, director of Student-Athlete Development and Community Service, and Leon County Schools Superintendent Rocky Hanna joined with Allstate agent Tom Paterson to present Saunders with a trophy at a surprise celebration at the school. Allstate also donated new books and FSU football memorabilia to the school.
BEGINNINGS
» Brian Hickey, former sports marketing director at Visit Tallahassee, has been selected to direct the Florida Afterschool Network. Hickey was with Visit Tallahassee for 12 years and grew Leon County's sports programs by 90 percent. Hickey brings to his new role a strong background in economic development, event management, grant development, fundraising and other experience beneficial to FAN's school-age initiatives.
» AD1 Global, a hotel investment, acquisition and development company, has purchased the Wyndham Garden Tallahassee Capitol hotel. Also in September, AD1 purchased the Quality Inn Royale Parc Suites Orlando by Choice Hotels located in Kissimmee. "We are in the strategic acquisition mode," said President Daniel Berman. "This (Tallahassee) property like the others in our expanding portfolio appeals to the demand drivers in this market and is in a great location."
» The Tallahassee Chamber of Commerce kicked off a new fiscal year on Oct. 3 and named Heidi Otway its 2017-18 Board Chair. Otway, APR, CPRC, is vice president for public relations and media at SalterMitchell.
» A mentorship program with Jim Moran Institute students and Tallahassee Community College Veterans was launched in mid-November. A launch event, VEThursday, was brought to the public by the Jim Moran Institute for Global Entrepreneurship in the College of Business at Florida State University and was hosted by the TCC Center for Innovation. It consisted of entrepreneurial sessions, an exhibitor space and networking opportunities. The goal was to connect local veterans with entrepreneurial resources and to help build a "vetrepreneur" network in Tallahassee.
» First Florida Credit Union celebrated the groundbreaking of its new Bannerman Crossing branch, located at 3339 Breech Ridge Court. The new branch is the sixth location to open in Tallahassee and the 14th to open in the state.
EMERALD COAST
APPOINTED BY THE GOVERNOR
» Gov. Rick Scott recently announced four re-appointments and six appointments to the Medicaid Pharmaceutical and Therapeutics Committee, including Dr. Holly Neal Moreau, 45, of Miramar, who was appointed through June 30, 2019, to succeed Jill Hanson. Dr. Moreau is the director of pharmacy for Prestige Health Choice and received her doctor of pharmacy from Florida A&M University.
BEGINNINGS
» Bret Fisher, MD, of The Eye Center of North Florida was named a medical monitor for ReVision Optics, Inc. (RVO), a leader in implantable presbyopia-correcting corneal inlay technology. Dr. Fisher, one of two ophthalmologists chosen nationwide, will serve as a co-medical monitor to oversee the clinical performance of the Company's Raindrop® Near Vision Inlay, a novel corneal inlay for the surgical correction of presbyopia approved by the U.S. Food and Drug Administration (FDA) in June 2016. The Eye Center of North Florida has offices in Panama City, Panama City Beach, Chipley and Port St. Joe.
» Studer Properties is planning a $6.5 million upgrade for the nine-story building at 220 West Garden Street in downtown Pensacola, formerly known as SunTrust Tower. Developer Quint Studer said the 95,000-square-foot office building will be transformed into a place for community discussions and dialogue, hosting expert speakers on issues important to Pensacola, and creating an open public space for citizens to meet and enjoy downtown.
» White-Wilson Medical Center now offers ophthalmology care at its new White-Wilson Ophthalmology Clinic in Fort Walton Beach and welcomed Dr. Andrew Mohammed, Scott Zastrow, Pa-C, and Jennifer Wilson, ARNP, to its team of health-care providers.
» Foundations Medical Center celebrated the opening of its Destin office with a ribbon-cutting on Oct. 10. The center is a comprehensive medical practice that uses traditional and alternative approaches to promote health, prevent disease and help patients manage chronic illness.
» Sacred Heart Rehabilitation Center in Panama City Beach held an open house and invited the public to tour its new, larger facility and learn about its comprehensive adult and pediatric rehabilitation programs.
» Newman-Dailey Resort Properties welcomes Debbie Wooley to its real estate team. Wooley has been buying, selling and investing in real estate for the last 35 years and is a member of the National Association of REALTORS®, Florida Association of REALTORS®, Alabama Association of REALTORS®, Emerald Coast Association of REALTORS®, and Birmingham Association of REALTORS®.
LOCAL HONORS
» Fort Walton Beach Medical Center was recently recognized by the American Heart Association/American Stroke Association for applying scientific guidelines to stroke care. This earned the medical center a place in the AHA/ASA's roster of hospitals recognized for achievement in the Get With The Guidelines®–Stroke health-care quality program.
» Former Escambia County Attorney and bond-finance attorney Richard Lott, who played a significant role in growth in the Panhandle, recently retired from the firm Bryant Miller Olive after a distinguished career. Lott represented cities, counties, school boards and other public agencies as a bond-finance attorney throughout the Panhandle for more than 35 years. He helped create millions of dollars of bond-financed deals for projects ranging from construction of Pensacola's City Hall to public schools from Apalachicola to Destin. His work on Strand vs Escambia County, argued before the Florida Supreme Court, established that counties are authorized to accomplish tax-increment-type financing under their home-rule powers. Today, there are more than 200 Tax Increment Financing districts through Florida.
LOCAL HAPPENINGS
» Destin Commons presented a $3,500 donation to Children in Crisis (CIC) from funds generated through its "Coins for a Cause" program and the Smoke on the Coast event. Destin Commons Marketing Director Heather Ruiz presented the donation to CIC President and CEO Ken Hair, CIC Development Director Allie Noah and CIC Volunteer and Events Director Laura Moore. Children in Crisis will use the funds to feed, clothe, care for and give a home to more than 100 children this year.
» Over 900 volunteers donated hours of service valued at $81,720 for United Way of Okaloosa-Walton Counties' 24th Annual Days of Caring. The United Way coordinators organized teams and projects for five days of community service in Fort Walton Beach, DeFuniak Springs, Niceville, Crestview and Destin/South Walton. Rick Owen, president/CEO of the Okaloosa-Walton United Way, praised the volunteers as "benevolent, community-focused folks."
» Emerald Coast Theatre Company (ECTC) received a $16,500 donation from St. Joe Community Foundation in support of the ECTC's 2017-18 season and the ECTC Theatre for Young Audiences program, showcasing professional actors in shows selected for children.
» This fall, Gulfarium's C.A.R.E. Center released seven rehabilitated sea turtles at Langdon Beach in Fort Pickens at a special event attended by an estimated 350 locals and tourists. Released were four juvenile green sea turtles and three loggerhead sea turtles. Five of the seven were unintentionally hooked by fisherman at Navarre Beach Fishing Pier.
» Visit Pensacola has announced that Pensacola is slated as an official host port for the Tall Ships Challenge Gulf Coast 2018, set to take place April 12-16. This is the first time in history Tall Ships America will bring the races and port festivals to the Gulf of Mexico.
Bay
HAPPENINGS
» A Superior Air Conditioning Company launched a supply drive for hurricane victims in Puerto Rico. They partnered with Sponsors of Hope and Good Samaritan Shipping Ministries to fill shipping containers full of supplies. A Superior Air Conditioning General Manager Payton Davidson said, "This project is close to home for me. … I have family living in Puerto Rico and it has been challenging to get them any of the supplies they need."
» The Panama City Commission has hired GAC Contractors to renovate the former Trustmark building on Harrison Avenue to serve as the city's new city hall. Completion is expected in May.
FORGOTTEN COAST
APPOINTED BY THE GOVERNOR
» Gov. Rick Scott recently announced one re-appointment and two appointments to the Florida Violent Crime and Drug Control Council, including Franklin County Sheriff. A.J. "Tony" Smith, 58, of Apalachicola. Smith, who received his bachelor's degree from Barry University, succeeds retired Sheriff Ben Johnson and is appointed through June 30, 2019.
BEGINNINGS
» Saul Rodriguez, MD, has joined the team of hospitalist physicians at Sacred Heart Hospital on the Gulf in Port St. Joe. Dr. Rodriguez comes to Sacred Heart Hospital on the Gulf with more than 20 years of medical experience in internal and geriatric medicine.
I-10
LOCAL HONORS
» The Holmes County Chamber of Commerce awarded Holiday Restaurant in downtown Bonifay with the 2017 "Business of the Year" award. The award was presented at the chamber's annual fundraiser banquet, held this year at Sage Field Farm in Bonifay.
LOCAL HAPPENINGS
» The Bonifay Kiwanis Club recently donated $1,000 to Holmes County High School's Project Graduation.
—Compiled by Kim Harris Thacker