SoMo Walls
Redevelopment project will provide added arts venue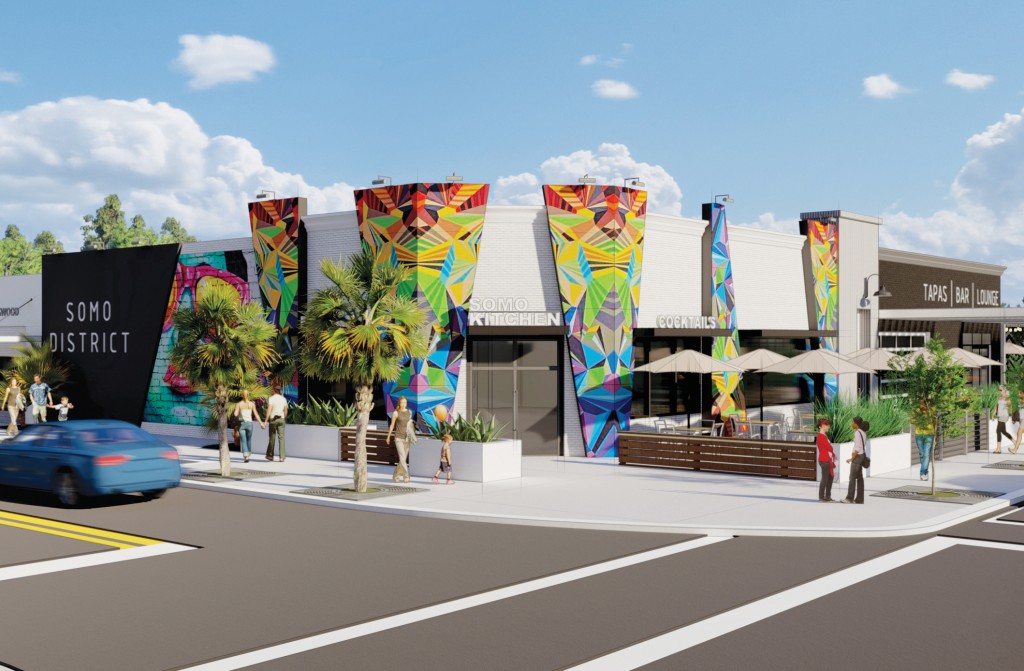 The revitalization of the South Monroe Street area has taken a number of twists and turns over the years, and the coronavirus pandemic shutdown slowed things a bit, but SoMo won't back down.
The bars and restaurants that led the south-side revival a few years ago were shuttered for months as part of the state's effort to curb the spread of COVID-ı9. But, adversity begets creativity.
"Proof (brewery) did a really good job of getting very creative with its drive-up business," area businessman Jake Kiker said. "Now that it has reopened, you see the parking lot is slammed on Thursdays, Fridays and Saturdays."
Just weeks before the lockdown, Lucky Goat coffee added a fourth Tallahassee location in the old Graphateria building on South Adams Street across from Happy Motoring. A plan for Catalina Café to partner with Red Eye Coffee and create a roasting and training facility there didn't work out, so the two companies parted ways, and Catalina teamed up with Lucky Goat instead.
However, the biggest pivot in SoMo redevelopment wasn't the result of the pandemic but of Hurricane Michael. Plans for Cascade Gardens — a proposed residential/retail mixed-use development — were shelved after the Category 5 storm hit the Florida Panhandle and drove up construction costs.
Instead, the 2-plus-acre space on the east side of Monroe, between Oakland Avenue and Harrison Street, is slated to become SoMo Walls, a commercial space with public art panels. SoMo Walls was inspired by Miami's Wynwood Walls, a former warehouse district that is now an outdoor display of graffiti and street art.
Developer Demirel International, with offices in Marianna, will renovate the building currently housing Bahn Thai restaurant and The New You fitness studio. A metal building on the property will be removed and a new, roughly 5,000-square-foot building will be constructed along with an outdoor gallery.
According to the SoMo Walls website, "Our goal is to add a much-needed mixture of local-centric, family-oriented retail stores and food options" for people visiting "the walls," which will be rotating public art panels. It also says 80 percent of the available spaces have already been reserved by local businesses. SoMo Walls' Facebook page says Bahn Thai is among them.
"By repurposing existing buildings, the project will maintain that same urban feel that SoMo is known for," said Kiker, who represents Demirel.
The "walls" will be ı0-foot-tall panels of varying widths. In addition to providing another art venue for Tallahassee, SoMo Walls will create jobs and increase the property tax base.
The Center for Economic Forecasting and Analysis at Florida State University, in partnership with the Tallahassee-Leon County Office of Economic Vitality, prepared an economic impact analysis of SoMo Walls. In the construction phase alone, it is estimated to create 63 jobs, more than $ı.8 million in income or wages and $ı5.2 million in economic output. Once operational, it is projected to create 67 jobs, $ı.ı million in income or wages and $5.2 million in sales and revenue annually.
The Tallahassee Community Redevelopment Agency estimates SoMo Walls will generate an additional $706,000 in property tax revenues.
In June, the CRA approved $560,000 in construction grant funds, an estimated ı2 percent of the total project costs, as well as $2ı6,000 to move the electric and data utilities underground.
One aspect of the project the CRA particularly liked was the developer's commitment to "keep it ı00 percent local." The South Monroe Walls Facebook page gives a shout-out to Conn Architects and Southern Standard Construction for being part of the team, and to local activist Christic Henry for "planning and executing a proactive community engagement plan and public benefits framework." That framework includes a "Community Benefit Agreement" to provide opportunities for job training and minority participation in the project.
The City of Tallahassee, Leon County and the CRA currently have a goal of ı0.5 percent minority contractors in construction projects that receive public funding. SoMo Walls set its goal at 35 percent and is working with the city-county Office of Economic Vitality, Florida A&M University Small Business Development Center and the Big Bend Minority Chamber of Commerce to make sure minority contractors have the information they need to bid competitively. Once the project moves forward, developers will reach out to minority and disadvantaged businesses for opportunities associated with construction of the project.
Payment of the CRA grants will be made annually over five years, subject to compliance with the terms of the agreement.
The $5 million project is scheduled for completion in 2021, if everything proceeds as planned.
"This is the largest for-profit commercial redevelopment project south of the railroad tracks," Kiker said. "It's not on the scale of the North American Properties project (at Cascades Park), but it has significant impact."