Small Coffee Connoisseur Takes it to The Big Leagues
Having Deja Brew?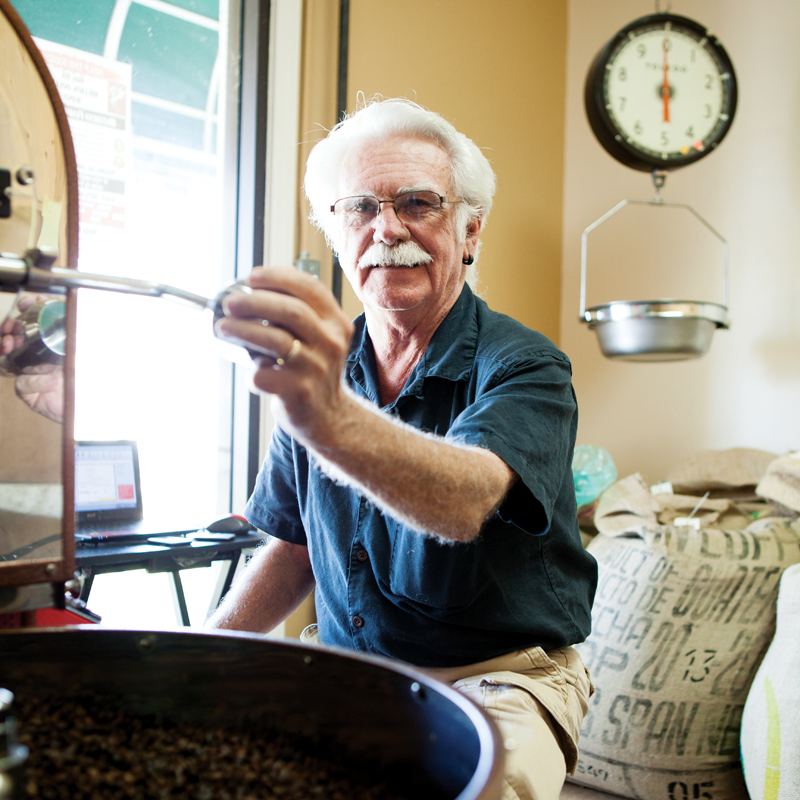 Passion is a matter of principle for business professor turned entrepreneur and farmer Jerry Williams. A retired faculty member at Gulf Coast State College, Williams, 68, is the co-founder of Deja Brew Coffee Shop as well as Roasters Edge Coffee Roastery, both headquartered in a cozy shop steps away from the coastline of Panama City Beach.
A longtime coffee connoisseur, Williams said his latest undertaking sprouted from pure demand — a recipe for success, he'll tell you, needed in any sound business venture.
"People kept asking us to open a shop," said Williams, "so that's what we did."
Locals got a taste of the Williamses' brew a decade ago, when he and wife Monique, 56, began roasting their own coffee beans recreationally. Following a successful debut at an office party, requests for the stuff started pouring in.
"I got back to my office, and within a half-hour I had four people who stuck their heads in the door asking if they could buy my coffee," Jerry Williams recalled.
For a few years, the couple took to launching a small-scale roasting operation from their garage. It didn't take long, though, for demand to overtake their supply. The next logical step for the duo was a storefront, and family and friends were invited to get in on the action.
Today, Monique's sister, Linda Cantlebary of Tifton, Georgia, is a partner on the roastery side of things. She often sells their product at her local farmer's market.
When it came time to select a location for the shop, though, there was never any doubt. Panama City Beach was home, and Deja Brew Coffee Shop officially opened its doors on April 25, 2013.
"I've lived in Panama City since 1973," shared Williams. "It's home to me. I've watched a lot of things grow. I've watched coffee shops come and go for various reasons, but mostly because they didn't have very good coffee."
According to Williams, there's a simple cure to the problem that's plagued his predecessors. The fix, he says, is always in the beans.
"You have to start off with whole-bean coffee," he said. "The fresher you can get it, the better it's going to be."
True gourmets, the Williamses invested in land in one of Costa Rica's most fertile regions — the Orosi Valley — where they purchased their second home. Shortly afterward, they began farming their own coffee beans with the help of local workers. When conditions and circumstances permit, you can find those very same beans in their storefront (or, conveniently, online).
"Costa Rica has eight distinct growing regions," Williams said. "Even though it's one country, it's kind of like eight different countries."
A favorite retreat for them, in 2014 the couple celebrated their 19th wedding anniversary at the farm. And, coincidentally, at an international coffee conference.
"Costa Rica is just beautiful," Monique Williams said. "And we've learned the whole process of coffee. From the farm to the cup. That's one of our favorite phrases, 'From our farm to your cup.' "
Logistically, all the beans at Deja Brew can't come from the Williams farm. To cater to a variety of palates, and to protect the quality of their farmland from overharvesting, they roast and stock the beans of several countries. When shopping the globe, they concentrate on freshness and quality, or the "inherent characteristics" of the bean. So far, their dedication has paid off. Now, seven days a week, patrons can enjoy coffee varieties hailing all the way from Guatemala to Kenya, each boasting its own unique flavor.
Wherever the beans originate, they're always roasted on-site. And that's a promise.
"I spent 40 years looking for a good cup of coffee, and I didn't find it until I started roasting my own beans," Williams said with a laugh.
With an emphasis on quality ingredients and customer service, as well as nearly three decades of experience as a business educator, Williams' shop is taking off. The former educator admits, however, that in some ways at least, his days of being a professor didn't fully prepare him for the reality of the business world. Trying to establish a local, as opposed to tourist-based, clientele has been one of the shop's primary challenges.
But according to Williams, that's nothing a little word of mouth, consistency and local advertising can't fix.
"I guess I didn't believe myself when I was teaching about how long it takes to get to break-even in profitability," Williams winced. "Those rules and guidelines I gave out when I was teaching seemingly are holding up."