Shooting for Big
Wewa Films quickly finds niche, gains traction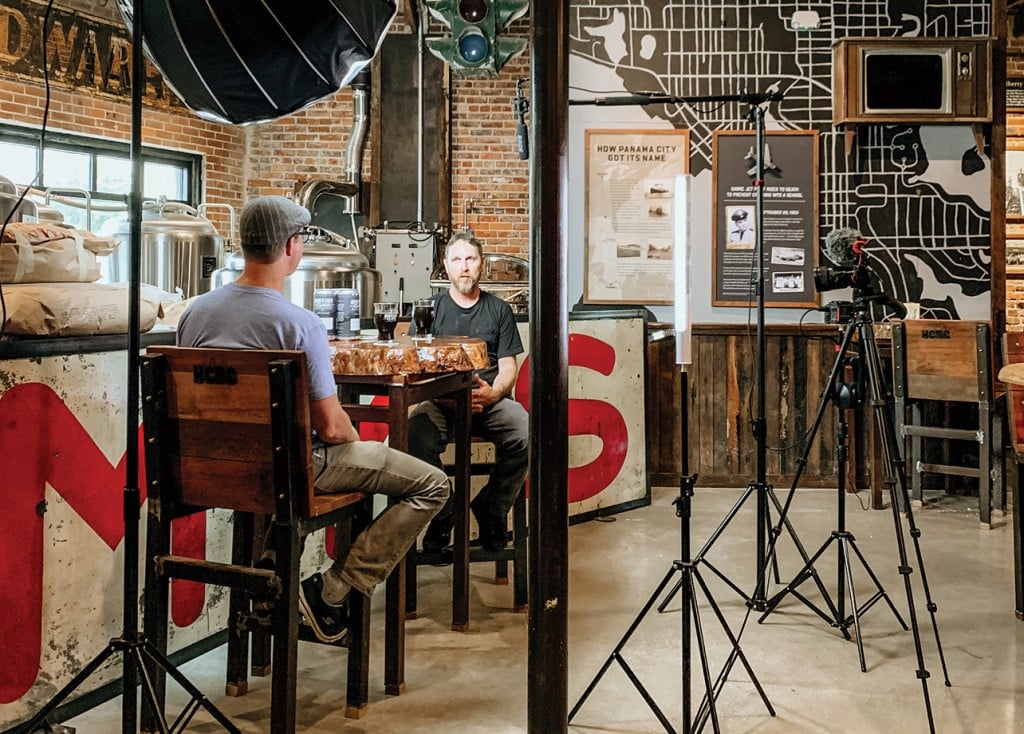 It is hard to know what most network television content producers in LA would make of "Wewa."
Chances are slight that they would know that those two syllables, sounding like something a donkey might bray, are short for a small town in Gulf County, Florida.
That matters little to Kevin Elliott, an emerging documentarian who co-founded Wewa Films with Courtney Gaskin, the lady behind the cameras.
"It's easy to say, fun to say, memorable," Elliott said of Wewa. "And, it's hard to find a short website url that's available."
Wewa Films, formally established in January, has ramped up quickly. In particular, its "docuseries" about artists and artisans in and around Panama City has attracted significant attention.
"We put out two episodes and the phone started ringing," Elliott said.
A producer who generates content for Netflix and HGTV found Wewa Films on Facebook. That producer — what were the chances — grew up in Southport, in north Bay County, and may actually know about Wewa.
"She told us that she loved the quality of the work we are doing and didn't know that anyone in our area could do stuff like ours," Elliott said at a break in the filming of a trailer for a proposed TV show about a Gulf County homebuilder who also keeps bees. A day earlier, Elliott and Gaskin had worked on a pitch involving a South Walton County real estate company.
The producer had encouraged Elliott to send her trailers — especially if related to real estate, building and women in those businesses — because big West Coast production houses were closing due to the COVID-ı9 pandemic, and Wewa Films was capable of doing its own production work.
Career Change
Elliott was 36 and running his own property management businesses when he started to look for ways to get in out of the heat. He enrolled in the graduate communication program at FSU Panama City after a professor at the school, Dr. Stan Lindsey, assured him that his master's degree would lead to a good job in Bay County. (Lindsey and Elliott hit it off well; both hold degrees in theology.)
Today, in addition to launching a business, Elliott does communication work for Applied Research Associates in Panama City and teaches as an adjunct at FSU PC. He met Gaskin, who he describes as a "genius videographer," when she was a student in his public speaking class.
She friended him on Facebook, and Elliott saw on her page video she had taken at a Mumford & Sons concert.
"It looked so good that I first thought it was a professional promo video for the band," Elliott said. "But it was just a young woman playing with her camera. I pulled her aside at the next class and told her, 'I don't know what you plan to do with your life, but you have an extraordinary gift for this medium.' "
Following Gaskin's graduation, Elliott discovered and was impressed by her work as a wedding photographer. They worked together on a public service announcement for an initiative called Alignment Bay County, which strives in part to sync up public school curricula with the needs of employers. More projects ensued, and Gaskin and Elliott then decided to make their partnership official.
Gaskin lives in Wewahitchka and married the mayor's son. Elliott lives with his family in the Sandy Creek area in eastern Bay County.
The docuseries, called CRAFT, is representative of a commitment by Elliott and Gaskin to telling "heartwarming, life-affirming stories about people who are doing well and succeeding. People want to see that. We prefer unscripted productions versus manufactured drama. We want to celebrate people and what they create."
After Hurricane Michael, Gaskin and Elliott strategized about how they wanted to present and market Wewa Films.
"I had a lot of artist friends mowing grass, and the idea for CRAFT hit me," Elliott said. "I love it when people tell me they know how to make fly rods or stained glass windows. I will sit and listen to them talk about their passion all day long. We drop in on people's lives and make them feel safe; we're not here to do the Kardashians."
At this writing, Wewa Films, according to Elliott, has $ı70,000 worth of work in the cue. It has done work for clients, including marketing firms; an environmental advocacy organization, Safe Water for Walton; and the Gulf Coast Children's Advocacy Center.
Complementary Skills
Elliott elaborated on his "great creative partnership" with Gaskin.
"I do all the scriptwriting, and she does all the visual stuff," he said. "I handle the scheduling and the interviews, and that way, I can turn her loose, and she shoots what she sees and cuts it. We are both very musical; we pick tracks and bounce them off one another."
Together, Elliott and Gaskin want to be much more than the next local videography company.
"Everything we produce should look like a painting in motion," Elliott said. "I will watch movies like Pride & Prejudice several times just because they are a beautiful things to look at. We want our work to have a cinematic look and feel.
"We're shooting for big. We want to travel the world, producing great stories."
Elliott believes world-class talent exists everywhere even as equality of opportunity does not.
He's working to overcome that.