Rowland Publishing Inc. Secures 'Best Niche Media Company' award
Niche Media recognized Rowland Publishing as a "Best Niche Media Company" as part of its annual Nichee Awards competition.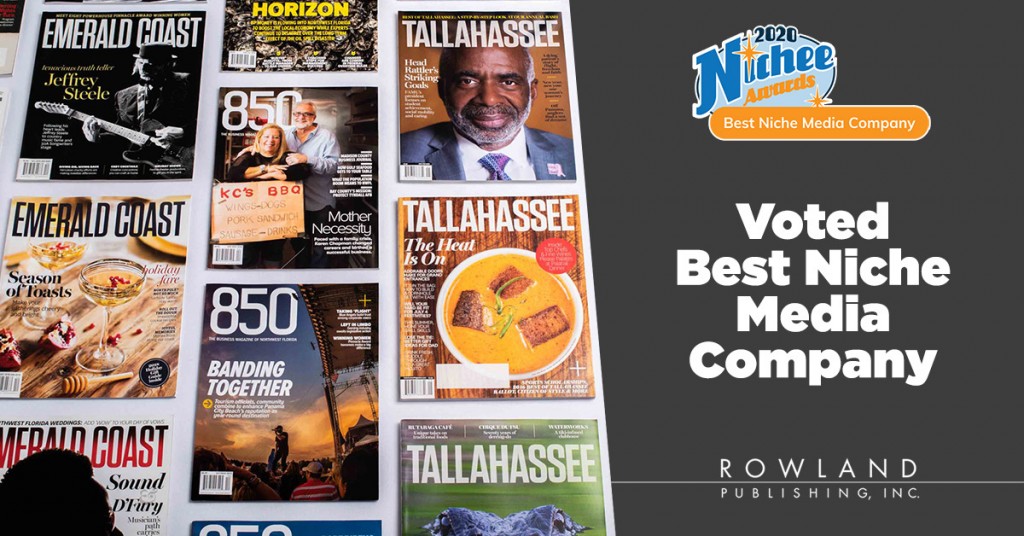 Kristi Dougherty, general manager of Niche Events, joined by Ryan Dohrn, the founder of Brain Swell Media, announced the awards during a virtual celebration.
Sixty-eight publishers combined to submit 140 competition entries in 26 categories this year, a record for the Nichee Awards. The S.I. Newhouse School of Public Communication at Syracuse University supplied judges. 
Dohrn, in announcing Rowland Publishing's award, cited the company's culture and its community connections.
"The heart of Rowland Publishing's success," Dohrn said, "is its core values for its team and its community support for its region."
Dohrn enumerated Rowland's core values, which emphasize dependability, maintenance of a growth mindset, flexibility, courteousness, compassion and positivity. He noted, too, Rowland's productivity as a publisher of six lifestyle magazines and more than 30 custom publishing products.
"We were up against some remarkable publishers across the country, and we are honored to share this national award with our staff and clients and the region we serve," said McKenzie Burleigh, Rowland Publishing's vice president for corporate development.
"At Rowland Publishing, we aim to inform, inspire and support the people and communities we touch," Burleigh said. "It was gratifying to receive feedback from the judges, who cited our core values and the generosity of our outreach efforts."
Rowland was among three entrants nationwide that was recognized as a "Best Niche Media Company." The others were MiniCo Publishing of Phoenix, which serves the self-storage industry, and VegNews, a Santa Cruz, California-based publisher that targets vegetarians.
Niche Media, based in Sacramento, California, is a consultant whose mission is to help publishers generate more revenue via print, digital and event platforms.