Ribbon Cutting Ceremony Held for New SageSure Insurance Managers Office
New office to support company's growth and expanding presence in Tallahassee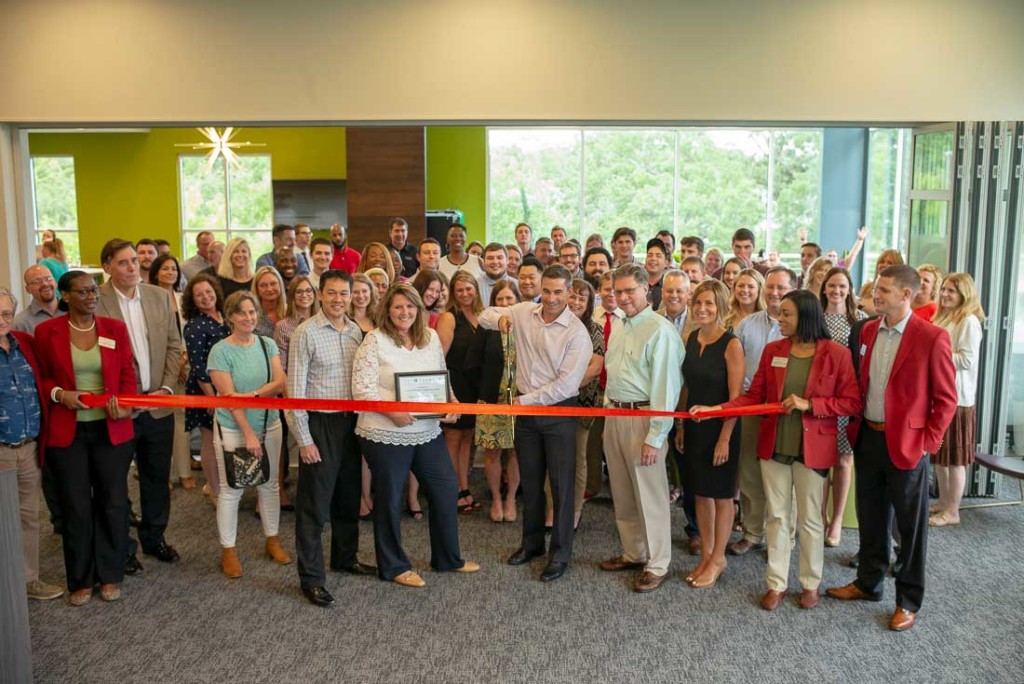 TALLAHASSEE, FL — SageSure Insurance Managers, a subsidiary of Insight Catastrophe Group, held a ribbon-cutting ceremony on Thursday, August 9, to celebrate the grand opening of its new Tallahassee office.
SageSure opened its first Tallahassee office in 2007 with just two employees. After outgrowing five offices over the course of 10 years, they have found their permanent home that will accommodate up to 165 employees.
SageSure has grown 30 percent each year for three years in a row in both written premium and number of employees. The Tallahassee office is its largest location and home to the company's customer care team, answering more than 200,000 calls per year.
Under the creative guidance of Perdue, Inc. and The Dodstone Group, and construction by Mad Dog Construction, the 20,000-square-foot "resimercial" space was designed to make employees feel at home and inspired to collaborate.
The office features several collaboration areas with innovative technology to facilitate teamwork not only within the office, but also with the nearly 200 other team members across the country. The space was designed with employee health and wellness in mind, featuring an onsite gym and complimentary healthy snacks.
In alignment with the company's promise to always be there for its customers and partners, the space also includes a generator that enables the customer care team to operate for up to five days without power.
Terrence McLean, CEO and co-founder of SageSure, knows firsthand the benefits of doing business in Tallahassee.
"We selected Tallahassee as the first office outside of our headquarters back in 2007 because I knew it was a great place to grow a business," McLean said. "With the fastest-growing economy per capita in the state and top talent from the local universities, we're in an ideal city to help us continue to grow."
In addition to Tallahassee, Insight Catastrophe Group and SageSure Insurance Managers have offices in Jersey City, NJ; Mount Laurel, NJ; Houston, TX; Cincinnati, OH and Cheshire, CT.
About SageSure Insurance Managers
SageSure Insurance Managers is the largest independent residential property managing general underwriter in the United States. SageSure develops competitively priced property insurance products for its highly rated carrier partners and distributes these products through a growing network of insurance agents and brokers.
SageSure offers 35 products in 14 states, managing nearly all operations for 180,000 customers. For more information, visit SageSure.com.