Responding to the Pandemic
Panama City Beach officials commit to heeding governor's executive order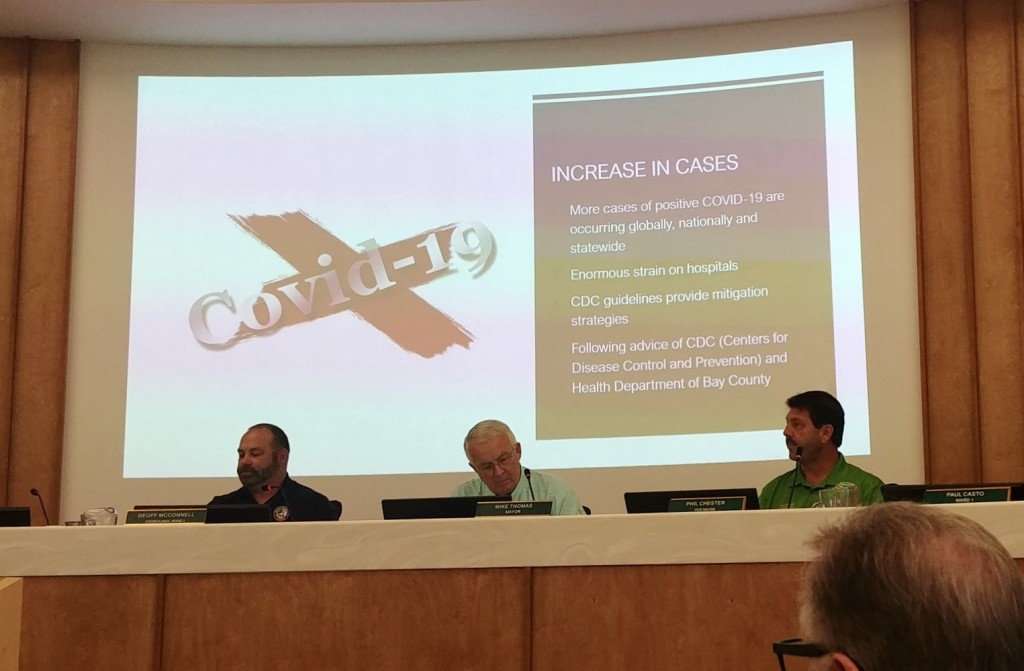 Some called upon the City Council to be sure to put public health concerns ahead of business interests. Others as adamantly admonished officials not to destroy the local economy by yielding to what they see as hysterical fears.
All who arrived on Tuesday for an emergency meeting at Panama City Beach City Hall were unsettled by a threat no more visible than a Category 5 wind, but potentially as disruptive. All were acutely aware of the force that uniformly separated chairs in the City Council room at what was deemed a safe social distance.
Too, they were aware that, just a day earlier, leaders in Seaside, Florida, had decided to close that community's commercial district, effective March 21, and to close beach access points immediately.
Mayor Mike Thomas gaveled the meeting to order and looked toward the city clerk who read the first name on a list of people who had signed a comment card, indicating a desire to speak. Each would be given up to three minutes.
Stephanie Colson, wearing a mask and gloves, approached a microphone at a podium facing the council's dais. She identified herself as a "middle-class local who was born and raised here, not an official, not a business owner, not an investor, just a local."
She said she is fearful about what may happen in weeks ahead.
"The spread of the coronavirus is climbing," Colson said. "The incubation period can last up to 14 days. Simply washing your hands doesn't do the trick. Tourists can spend their whole vacation spreading the virus without showing symptoms. We are at risk as we continue to welcome people from all over the country to our beaches."
Colson criticized tourism officials for encouraging Spring Break visitation in the midst of a pandemic.
"We must put the urge to maximize profits aside and think about our friends and families. Let's be smart about this and play it safe," she said.
Richard Whitsitt, a CPA who lives in Panama City, said he suffers with Stage 4 heart failure and asbestosis, has survived the flu before and expects to do so again. Job loss due to the coronavirus, he said, would devastate the large percentage of workers who are without savings to draw upon.
"Most workers tighten their belts on the day before payday in hopes that they can make it through," Whitsitt said. "Most businesses don't have the resources to survive for more than two weeks' float before they have to go under. …. There is no insurance to cover losses due to mass hysteria, which is what we are going through.
"If you follow the suggestions of the federal bureaucrats who have no ties to reality, you are going to kill the local economy based just on the possibility that this China virus might show up in Panama City Beach."
City Manager Tony O'Rourke called upon an infectious disease specialist, Dr. Dale Bone, whose practice is in Panama City, to address the council.
"As of yet, I have not seen a case of coronavirus," Bone said. "There is a second infectious disease doctor here in town and, as of an hour ago, we have done 12 tests."
Of the 12, one tested positive — for a virus that causes the common cold.
Development of a coronavirus vaccine will require 12 to 18 months, Bone said, explaining that only an early Phase 1 trial involving 25 subjects is currently underway.
"This virus may be another hurricane coming through or it may be a rain shower," Bone said. "But people have become emotional — not crazy — and they are reacting instead of responding. We hope and pray that you as city leaders will respond, and we will see what happens."
The City Council did respond, passing a resolution recommended by O'Rourke. That resolution contains an action plan consistent with Gov. Ron DeSantis's executive order pertaining to the pandemic. Additionally, it rescinded permits that the city had issued for events, including the Seabreeze Jazz Festival and Thunder Beach, planned through April 30, and gave the city manager $25,000 in discretionary funding authority to deal with the virus.
The governor's order …
Ordered bars and nightclubs closed for 30 days.
Established that gatherings on beaches shall not exceed 30 persons.
Limited customer entry to restaurants to 50 percent of capacity.
Regarding that white ribbon of sand that serves Panama City Beach and other Emerald Coast communities as a life-giving aorta, Thomas said, "I will never vote to close the sand. Personally, if I lived in a lot of other places, I'd like to spend time here and smell this air. I'm not trying to get people to come down, but I'm not going to tell them they can't either."
Councilman Paul Casto agreed with the mayor, but Councilman Geoff McConnell wasn't prepared to say "never."
"I wouldn't vote today for a beach closure," McConnell said, "but I'm not going to say that I would never vote for it, depending on how far this thing grows."
Pastor Ramon Duvall of the Beachside Fellowship Church sought to calm the waters.
Standing before city officials and IN GOD WE TRUST, as it appears in block letters above their seats, the pastor recited Jeremiah 29: 11 …
"For I know the plans I have for you," declares the Lord, "plans to prosper you and not to harm you, plans to give you hope and a future."