Rare Birds
There aren't many female pilots. Two businesswomen hope to change that.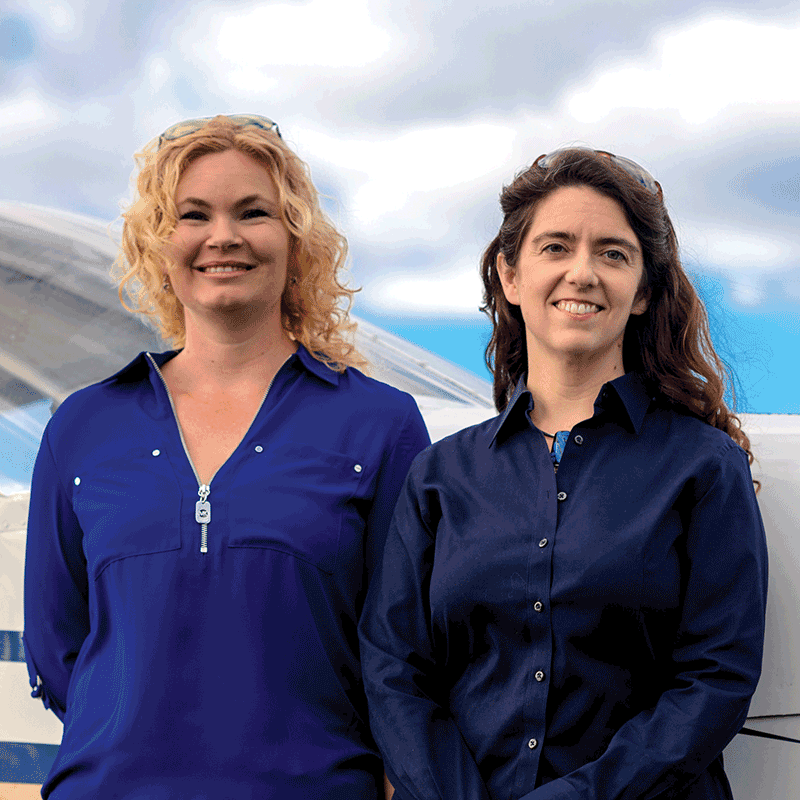 Women have made great strides in a variety of careers and industries, but there is still a gender gap when it comes to female aviators. The simple truth is, it's unusual to find a female pilot, even in this day and age.
According to the Federal Aviation Administration's U.S. Civil Airmen Statistics, the total number of pilots in the United States stood at 590,039 in 2015. Of that number, only 39,287 were women. That's 6.6 percent of the overall population — which, by the way, has been on a downward trend since 2010. To break it down further, there were only 11,339 female private pilots in a population of 170,718. There are even fewer commercial women pilots; of 101,164 commercial pilots, only 6,587 are women.
Faith Drewry, co-founder of FL Aviation Center in Tallahassee, is well aware of the situation and wants to do something about it.
"In the last 75 years, women have gone from being a tiny percentage of careers like doctors and lawyers to nearly half of those professions," Drewry said. "Aviation has not changed in the same way. And so it sounds a little trite to say, but the fact is that there aren't more women pilots because there aren't more women pilots."
There has been a big push over the past five or six years to raise awareness of women in aviation through specific events, Drewry said, and while those initiatives are great, she thinks a longer view needs to be taken. She and business partner Lacey Smith want to reach out to the kids who haven't decided on a career path and who haven't realized that it's not something every woman does. And even though female aviation pioneers are important historical figures worthy of celebration, she thinks today's women need to see more of their contemporaries making a real, viable, everyday career in aviation.
"I think that promoting historical figures, in a sense, sensationalizes them. And that doesn't therefore set them up as a role model," Drewry said. "It sets them up as groundbreakers. And I think that you have to see more real people. I think the young girls have to see more real people — to think that it is actually feasible."
So what can be done to recruit more women into flying? Drewry said she and Smith are going to start a special podcast program to get the message out to a larger audience.
"I feel like if we're going to make a difference, we need to be a voice for women everywhere," she said.
Drewry said it's not uncommon to draw quizzical looks from men unaccustomed to female general aviation pilots. She remembers having such an encounter as a student pilot at an airport in New York City, of all places.
"I had been signed off to solo, and I was in a major metropolitan area," she said. "You wouldn't think it would be that weird. I showed up, and I got my little airplane and I hauled it out of the hangar, and the line guy looks at me and he said, 'What are you doing?' and I was like, 'I'm taking the airplane out.' 'Why?' 'Because I'm going to go fly it.' 'Really? I've never seen a woman do that before.' To him, it wasn't like you can't do that (because) you're a woman, but he'd never seen this before. I just thought that was the funniest thing."
The same thing happened again not too long ago, Smith said.
"We went to Savannah a couple of years ago and the line guy, we pull up and he's chalking the airplane, staring at us, and we open the door and he's like, 'Well, I've never seen that before.' And we're like, 'Something wrong with the airplane?' And he's like, 'Two women in an airplane.' Because he couldn't figure out who the pilot was. Bizarre," she said.
Even though Smith and Drewry tend to laugh about their experiences with such clueless guys, other women may be more sensitive to it and even feel differently enough to reconsider flying. Experiences like that could be preventing more women from becoming pilots, so showing support is essential.
"I think, in a lot of ways though, we had each other, so we kind of laughed about it and went on our merry way," Smith said. "But if you're the only one and continually deal with this, it's tiresome. It becomes a nuisance. But it's definitely getting better."
It helps that the aviation community as a whole is full of nurturing and supportive people, Drewry said. Everyone is welcome to join the family. At FL Aviation Center, especially, you won't have to jump through hoops to approach the hobby or the people in it.
"When we started the business, our driving mission was to create that supportive community, and to make it obvious from the beginning that it was supportive," she said. "Aviation is 100 percent a supportive community."