Randi Zuckerberg Rocks on Social Media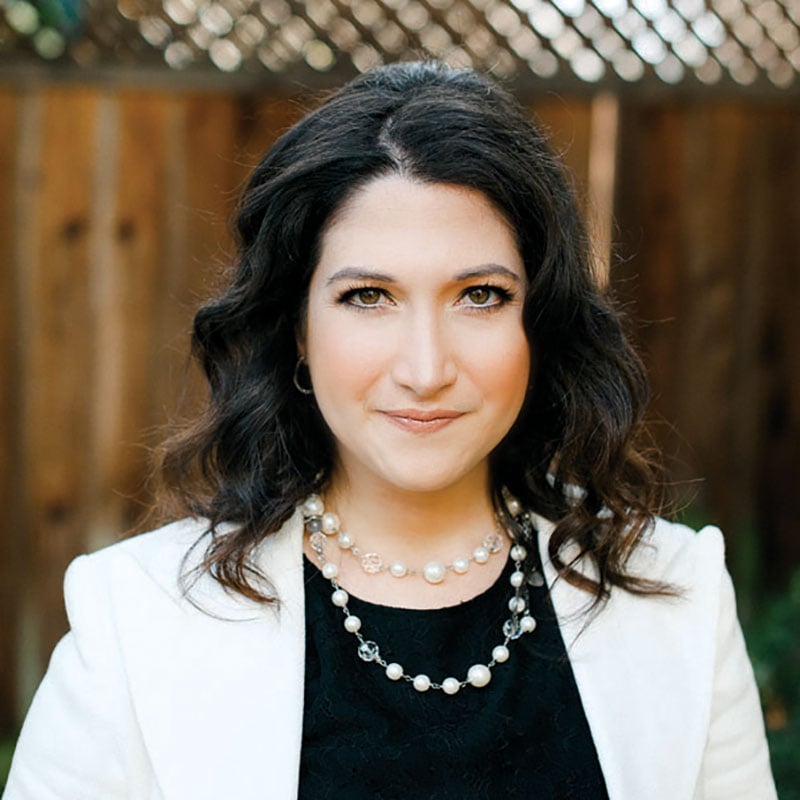 Randi Zuckerberg is founder and CEO of Zuckerberg Media. She created and ran the marketing programs for her brother Mark's company, Facebook.
Courtesy of First Commerce Credit Union
Growing up a die-hard New Yorker, Randi Zuckerberg could not imagine a situation that would take her away from her home — much less to California. But that's where she spent a decade, helping her brother launch and market Facebook.
Today, Zuckerberg, 33, runs her own social media company, Zuckerberg Media, giving advice to high profile clients such as PayPal, Conde Nast and Cirque du Soleil on how to best market themselves in the digital age. She is an angel investor, especially helping other female entrepreneurs, plays in a band, has written a book about her personal journey through the frontlines of Facebook and even starred in Rock of Ages on Broadway for a 42-show run.
"There have been so many forks in the road in my life. If you had told me I would spend a decade of my life living in the suburbs of California and working at a tech company, I would have laughed in your face," she said. "But life is very funny. I still believe in luck, but a big element of luck is having your eyes open and not being stuck in your ways."
On Nov. 4 Zuckerberg will be sharing some of her social media know-how with Tallahassee as the next speaker in the Power Forward Series co-presented by First Commerce Credit Union and the Florida State University College of Business. 850 Magazine is proud to be among the sponsors of the event, and Editor Linda Kleindienst had a chat with Zuckerberg to get a preview of the message she plans to deliver.
Business and Social Media
I host a radio show on SiriusXM (Dot Complicated) trying to help businesses adopt the latest trends. It's about graduating from Social Media 101 to the next level where you are engaging more customers and bringing in substantial new business.
All companies need to view themselves as media companies, even if you're a mom and pop, a pizza shop, a nail salon, a wedding planner. You need to think about whether you're sharing interesting content, thinking a month ahead.
Businesses need to understand by using social media they have now become a global business and anyone can access them. So, are they sharing content that is acceptable to people who speak other languages? I often encourage them to share photos a lot more because photos don't need a translation.
I also really encourage businesses to go look at their last 10 posts and see how many of them were strictly promotional. If all of your posts are about 10 percent discounts or "Come to our sale," no one is going to be engaged with that. You need to find a better balance. Social media is about having valuable content and adding to the discussion.
Social Media Versus Website
If you manage your social media well, if you don't mind being part of the dialogue and make your social media site good and current, you can get by in this day and age without having a website.
Coming Changes in Social Media
We're now at the point where almost all content online is via mobile, so what does that mean for business? Think about how customers are engaging. The new generation of consumers likes to share things more than buy. They don't buy cars, they prefer experiences over material objects. So these are things businesses need to understand if they are going to be successful. It really is a very new world out there.
Facebook
I knew that I was part of something that was really going to change the world and change how we communicate. That was very clear in the early days seeing how college students used it. What's interesting is how Facebook has become a utility, like email. I see stories today about how Facebook is not cool and all the young people are switching to Snapchat. We never set out to be cool. We set out to be a utility that you need in your life. Seeing that 1 billion people in the world, across all age groups and ethnicities, are using Facebook shows me that they really have accomplished that goal.
Best Advice
Don't let the good stuff go to your head, and don't let the bad stuff go to your heart.