Raising Glasses and Profiles
Pub toasts unsung heroes of Panama City's past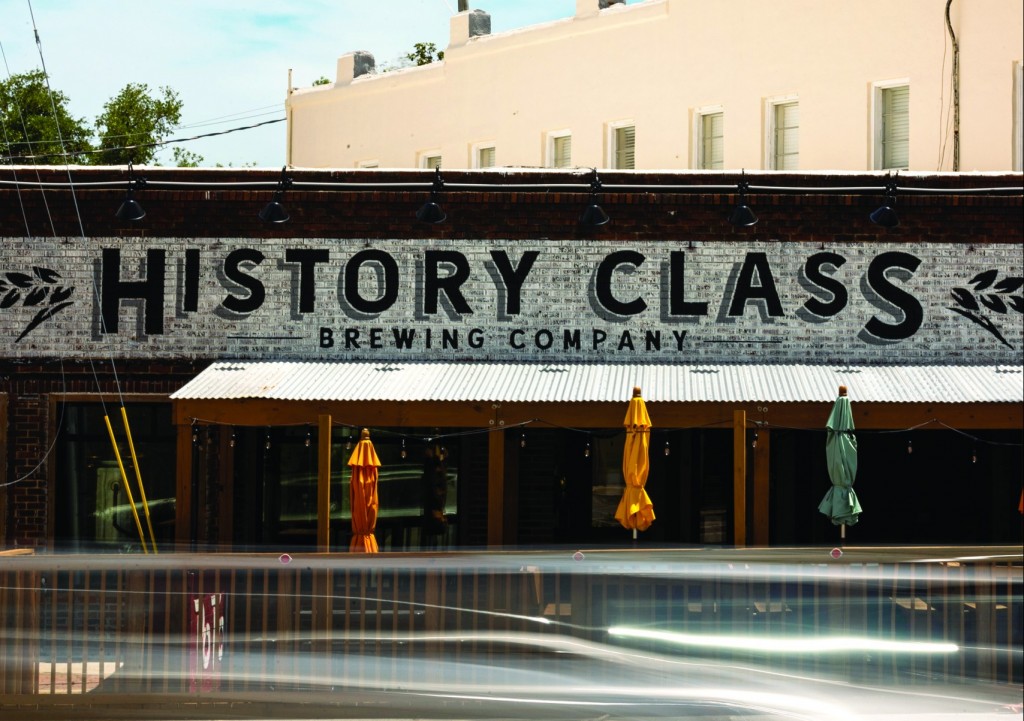 At a safe remove from tourist attractions, resorts and souvenir shops exists a quiet place where Panama City locals kick back, savor craft beers and immerse themselves in the past.
Keeping It Weird stickers dot many downtown Panama City storefronts; the theme is reflected in public art, including a mural of a cobra with various artists each contributing a part of the snake. Locally owned coffee shops, restaurants and bars are reinventing the historic district. At least, that is the goal of entrepreneurs Allan Branch and Tim Whaler, who co-own a brewpub called History Class. 
Branch was raised in Panama City and moved away for college to study graphic design and play football. After college, he wound up in software development, where he and his partners built LessAccounting.com — a "better than QuickBooks" app. After selling that software, he dabbled in many ventures. 
"I'm a serial hobbyist," Branch said. He's done some brewing, built sailboats and is always looking for his next adventure. 
Tim Whaler went to high school with Branch and also moved away for a short time but was drawn back to his hometown. He is licensed with the American Institute of Certified Planners and has a background in city planning, regional zoning districts and grant writing. And though a brewmaster now, he began brewing as a hobby in his garage. 
"I was the worst homebrewer on the planet," he said and held no delusions that anyone would buy his beer. "I was like, 'Humor me and taste this.' " In the beginning, he started with minimal equipment and nothing more than a desire to brew decent beer. 
Branch and Whaler had not spoken since high school but ran into one another and found that they shared passions for beer and Panama City. They recruited Dan Magner — who was homecoming king in high school and had a background in the culinary arts — to run their day-to-day operations as house manager, and the rest, as they say, is history.
Together, they wanted to find a way to revitalize Panama City after Hurricane Michael devastated the city. History Class became one way they could give back to the community. 
"This is their bar," Branch said, referring to the locals.
Stepping through the front door feels like stepping into the past. All the decor carries weight with the locals. Out-of-towners might not recognize the Marie's Hotel sign on the wall behind the bar, but it has meaning to Panama Citians. It, like much of the early 20th century, black-and-white photos, was donated to the bar. After Hurricane Michael ripped through the Panhandle, Branch and Whaler dug through the rubble and found mementos from their neighbors. 
"People just brought us stuff," Branch said. Even the tables are made of gym flooring taken from the high school. The wall divider was made from broken basketball goals. Many of their seats came from church pews. 
The founders believe that history is the great equalizer and brings people of all ages together, and they wanted to make a local museum for people in their community to share ales and tales.
"The stories are so timeless," Branch said of the local people they highlight. "And our beers tell their stories." 
Whaler enjoys crafting beers that aren't "made with marshmallows or cereal," and feels that many brewpubs create novel and flagship beers for marketing purposes. To maintain the integrity of each brew and to honor each story the right way, he avoids such gimmickry. 
Branch added, "If Officer Wilson's beer had cereal in it and marshmallows in it, we couldn't serve that for ı0 years and that would be disrespectful to the story. We want to create things that are timeless."
Officer James Calvin "J.C." Wilson was the first African American to become a police officer in Panama City and served for 22 years. Prior to joining the police, he had served in the Army in ı942 and studied law at Florida A&M. He was a champion of the African American community in Panama City, long before the civil rights movement.
Wilson and other unsung heroes are the sort of local "everyday people" Whaler and Branch want to remember. 
"We aren't Gettysburg. There aren't bullets in the ground," Branch said, but there are still people who have been significant to the town. Pub regulars supply stories and more good reasons to celebrate Panama City history with a good ale or craft beer. 
Beyond the brewpub, Branch and Whaler have a desire to revive the historic district and reinvent downtown Panama City. 
Whaler wants to explore "what needs to happen downtown to set off — not really a renaissance — but to get it on the right track for redevelopment." 
One way Branch and Whaler do that is with their Pouring Love campaign. They donate 25 cents to local charities for every beer they sell.
In such a way, raising a glass to the past means rebuilding Panama City, one mug at a time.