Quint Studer is The Man With a Vision
Quint Studer wants to make Pensacola the best it can be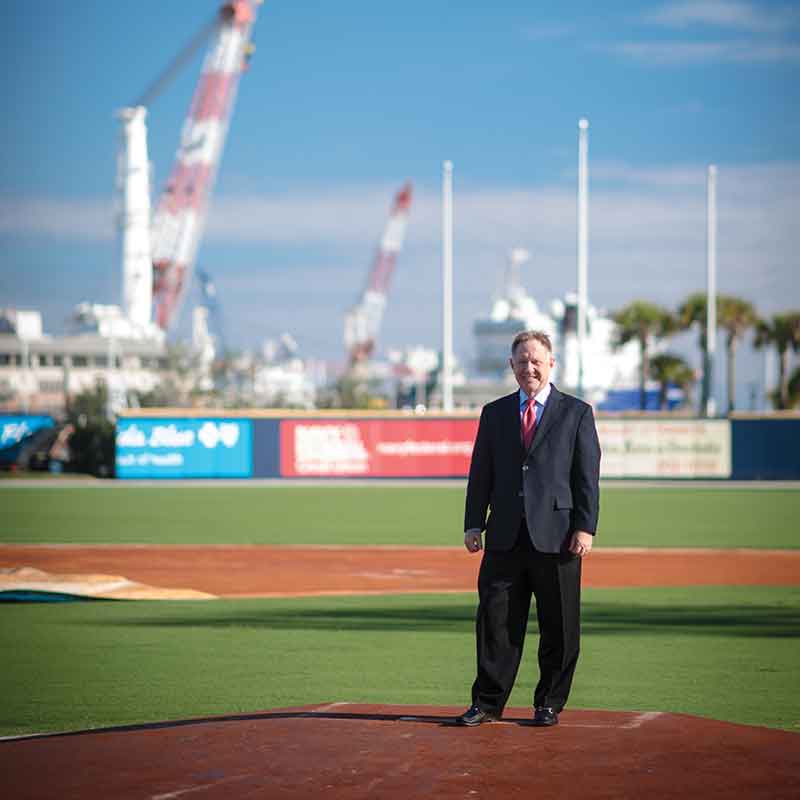 Less than a decade ago, the corner of Palafox and Main in downtown Pensacola was home to two vacant buildings and two overgrown lots. Today the corners are filled with bustling businesses that employ about 150 people. Once empty storefronts up and down the two major thoroughfares — as well as side streets — are filling up with small businesses. And the people once again are coming downtown … in ever growing numbers.
It's a sweet scene for Quint Studer, who remembers well the feeling of desolation as he walked the streets of downtown not too long ago. Those who did venture into the area were treated to a noxious smelling sewage treatment plant and there was little, if anything, to do. Even the waterfront was inaccessible.
"It was very marginal to do business because there weren't a lot of people," he says. The solution, he and others decided, was to build something to draw attention and traffic to the area.
Today there is a baseball stadium, a maritime park that provides access to the water, novelty shops, cafés, bars and more. And, Studer adds, "they're fighting to find empty spots in downtown."
Dedicated to 'Home'
He's been called a Carpet Bagger and an "out of towner" by some who have called into question his dedication to improving his adopted city. But Quint Studer says he pays that no nevermind. "I get asked why I'm investing in Pensacola. People should be pleased," he says. His philosophy is simple: "I believe everyone has the responsibility to make where they live the best it can be."
In Studer's first career, he taught special needs children for 10 years. Then, because of his own battle with and treatment for alcoholism, he began a new career working at a facility that treated drug and alcohol addiction before going into the hospital business, where he excelled at bringing excellence to the facilities under his supervision. He earned renown in the health care industry when, as COO of financially strapped Holy Cross Hospital in Chicago, his work brought patient satisfaction from 3 to 73 percent in six months and improved the hospital's financial outlook at the same time.
Studer came to Pensacola in 1996 to serve as president of Baptist Hospital, and while there he started The Studer Group — a part-time endeavor designed to help health care organizations improve clinical outcomes and profits. By 2000, his consulting company had turned into his full-time passion and job. After starting out with three employees, today it boasts more than 270.
He could have left Pensacola — after all, his sinuses feel a lot better when he is out of town — but he made a promise to his family to stay in one place until his son graduated from high school.
"We had moved several times. By the time my son was in second grade he was in his third school," Studer recalls. "After we moved to Pensacola, we noticed a bald spot on his head. His adjustment had been so hard that his hair was falling out. We couldn't do that again."
By the time his son graduated high school, however, the company had grown and employees who worked there had deep roots in the community, not to mention extended family in the area. If the company moved, those people would have to move or leave. In the end, he decided he didn't want to disrupt so many lives. He stayed and put his effort into making Pensacola the best it can be.
A motivational speaker and author, as Studer travelled across the country he kept questioning why Pensacola didn't have a vibrant downtown like so many of the places he visited. To bring people into Pensacola, he knew that there would have to be something to do, including places to shop, eat and work. Studer and his wife, Rishy, were ready to put their money into helping make improvements.
Baseball Calls
One of the three essential ingredients for helping turn a town around is an angel investor, someone willing to invest who isn't hung up on the return on investment, says Studer.
"There are people with money that say, 'I can die with this money, or I can leave it to my kids and watch them fight over it. Or, I can do something now with my money and enjoy watching people benefit.' " After a pause, he continues, "I told (Pensacola attorney) Fred Levin that my goal is to die like Mickey Rooney. He died with $27,000."
Although as a kid he was a White Sox fan, Studer grew up on the side of town where he had to watch the Chicago Cubs play on TV. And he readily admits he knew nothing about minor league baseball when he learned a team was up for sale. But "they were almost giving it away," and he bought it. What better way, he reasoned, to bring people to the middle of Pensacola?
First he had to come up with $500,000 to get the Pensacola property rights (which the Mobile team owned) and then another $2 million to build the stadium and maritime park. Another problem was that the team was independent and it was hard to find other teams to play. A growing number of independent teams were becoming affiliated with major league teams and joining the minor leagues. Needing other teams to play, the Blue Wahoos became a Class Double-A affiliate of the Cincinnati Reds.
"It's been a journey," Studer says with a smile. "It's like you get on a highway and can't get over. The next thing, you're building a stadium."
But that effort, he proudly points out, helped attract golf star Bubba Watson, two time Masters Champion and Pensacola native, back home. In January 2015, Watson bought a minority interest in the team. At the time Watson said, "I wish Pensacola had a team like this when I was growing up. There's something special about pulling for the hometown team. It's great that Quint and Rishy were willing to let me be a part of it."
For his part, Studer is also hoping that Watson's national prominence will help bring more attention to the region. "Together we will continue to create great experiences for all ages, make lifelong memories for our fans, be a super place to work and now, with Bubba's leadership, we will gain a national and international awareness for the Blue Wahoos and Northwest Florida."
Meanwhile, the team continues to set attendance records — hitting a million fans in late spring of 2015 — even while it can't boast a winning record. Partly because of its bayfront location, but also because of the family atmosphere and the enthusiasm of its employees, the park has consistently ranked as a top minor league fan experience. In 2015, minor league fans voted it the "Best Seat in the House," and it came in second best of the nation's 160 minor league parks.
"It's increased community pride and helped with the economy," Studer says. "When visiting teams come here, we fill more than 2,000 hotel rooms."
Building Blocks
Making changes in a community, Studer says, requires being comfortable with discomfort — because surely some pushback is coming. But one of the benefits of not having made his money in Pensacola is that he doesn't have a long history of relationships and has remained fairly independent.
"We use our own money and we're not beholden to anyone financially," he explains. "And that's put us in a unique light."
Besides the park/stadium project he has worked on with local government, he has been involved with purchasing a downtown office building and is currently working on an apartment complex designed to provide affordable housing in the downtown area for people who work there.
"You need places for people to eat and shop and work. On the residential front, we're still trying to catch up," he says of the 260-unit complex he is working on. "But it's complicated to build in Pensacola because it's expensive."
He freely admits he doesn't want to be a property developer. He wants to instead be active as and remembered as a community developer.
"I don't go into this stuff to make money. I want to make a better community. That's my return on investment," he says.
At the Studer Community Institute, the focus is on making life in the community better through distribution of information, leadership development, entrepreneurial assistance and workshops on emerging issues. A "dashboard" has been set up so that the public can monitor key economic and social indexes, allowing them to compare Greater Pensacola to communities of similar size in areas such as high school graduation and household income. The point is to get citizens more engaged with what's happening in their backyard.
To boost entrepreneurism in the community, the Studers last year committed $1 million for the new Center for Entrepreneurship at the University of West Florida, which will be housed in the College of Business and focus on creating a culture of entrepreneurial thinking. Much of the Center's activity will be centered in downtown Pensacola.
"This is the most excited I have been about any project that Rishy and I have been involved in," Studer said on the day of the annoucement. "In the long-term history of Pensacola, when they look back at monumental days, I think that this will be one of them."
What's Next
Ask Quint Studer what he wants to be doing 10 years from now and he jokingly replies, "I hope I'm still alive."
When in college, his aspiration was to retire by 55. "My dad retired at 60 and mom was 56. They moved to Florida and I thought there was nothing better than that," Studer recalls. Born in 1951, however, he's already missed that opportunity.
On a more serious note, he wants to be very involved in the Center for Entrepreneurship, hoping to pass on to students what he has learned along the way in his business career. After all, his "hobby" is mentoring.
Studer readily admits that he and Rishy are always coming up with ideas, and they don't expect that to stop.
"I can't turn it off. I'd like to but I can't. Your brain is always working," he says with a laugh. "I wake up in the middle of the night thinking."
Admitting his drive comes partly from a fear of letting people down, Studer works an average of 16 to 17 hours day, dubbing it "binge working." He gets a lot of questions about how he can maintain a life balance with the work he does. But he counters, "If you enjoy what you are doing and it's working, who's to criticize?"
His next push is for the community to better prepare the young (from birth to 3 years of age) to enter and succeed at school. In great part that focus is designed to make sure local schools are graduating the educated and skilled workforce needed by local employers.
"In Escambia County, our high school graduation rate is 66 percent. And only 66 percent of our students are kindergarten ready. That's really bad," Studer says. "The state of Florida is 81 percent."
If more students don't get help to graduate, he reasons, it's going to hurt the economy in the workplace.
"People will never move to Pensacola because it's in a central location," he explains. "The only way you'll grow is by telling companies that you've got a good workforce. If you don't help more kids graduate, it's going to catch up with you in the workforce."
In 10 years, he hopes "to be celebrating because more kids are ready for kindergarten, graduation rates are up and our wages are some of the best in the country." To him, that will be a sign of success.
"I've never considered success as financial success, what you can own. I think success is measured by who you can touch, what you can impact. People who are successful never declare victory," says Studer, who learned early to overcome his partial deafness and speech impediment. "My biggest thrill is seeing somebody else be successful."