Proffitt PR Celebrates 5 Years
A Vision Fulfilled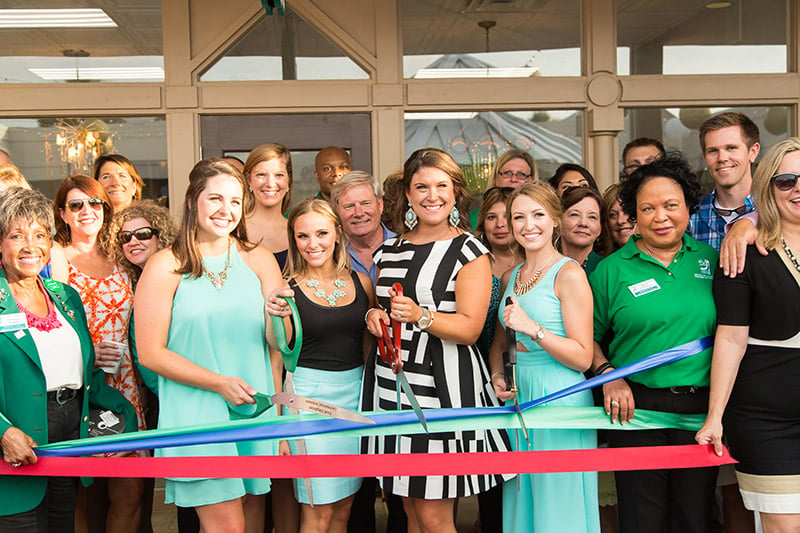 Five years ago, the Proffitt PR firm was no more tangible than the steam rising from the coffee cups at a table where Jessica Proffitt Bracken first shared her vision for a new public relations firm with a few close colleagues.
Much has been manifested since then.
Today, Proffitt PR has more than 25 clients of record from throughout the Emerald Coast region. In May, Bracken and her associates hosted a grand opening at Proffitt PR's location at The Market Shops in Miramar Beach. A crowd of 300 joined in a celebration of the results of five years of hard work.
"In 2011, when I decided to venture out on my own, I hoped that we would be here one day," Bracken said. "I started by attending every networking event on the Emerald Coast that I could, and now we've helped over 100 local, national and international brands achieve the recognition and social media presence they needed."
Representatives of the Walton Area Chamber of Commerce, the Destin Chamber of Commerce and the Greater Fort Walton Beach Chamber of Commerce were on hand for the celebration, which featured cocktails, beer and snacks supplied by Proffitt PR clients and friends including Brotula's Seafood House & Steamer, Jim 'N Nick's, Marlin Grill, Sunset Bay Café, Signature Catering of 30A, Grayton Beer Company and Chaste 850.
In keeping with the firm's mission of making all of its clients "look good," the first 100 attendees were given Proffitt PR selfie sticks. The event also featured live music by Rock The House, a photobooth by Epic Photo Co. (formerly Facetime Photobooth), and giveaways by Frill Seekers Gifts.
Bracken announced that Chelsea Blaich, who started at Proffitt PR in 2014 as digital media and public relations coordinator, had been promoted to marketing manager. Bre Bailey, marketing assistant, and Nicki Sibley, marketing coordinator, round out the staff at Proffitt PR.
Proffitt PR is a boutique consulting firm specializing in public relations, strategic marketing, event planning, social media, advertising, community relations, creative services, branding and identity, digital marketing, sponsorships and more. The company has worked with and represented over 100 local, national and international brands in varied industries.
In 2015, Proffitt PR was voted Best Event Planning Firm and Best Public Relations/Advertising Firm by the readers of Emerald Coast Magazine. Readers of the Northwest Florida Daily News voted it the Finest Public Relations and Ad Agency in the region.
"I would not be here without my team and without the support that we continue to get from the community for every initiative that we take on," Bracken said. "We have a passion for what we do, we work hard, and we truly deliver a custom approach to public relations, advertising, social media management and events."
For more information, visit www.proffittpr.com.
​