Sound Bytes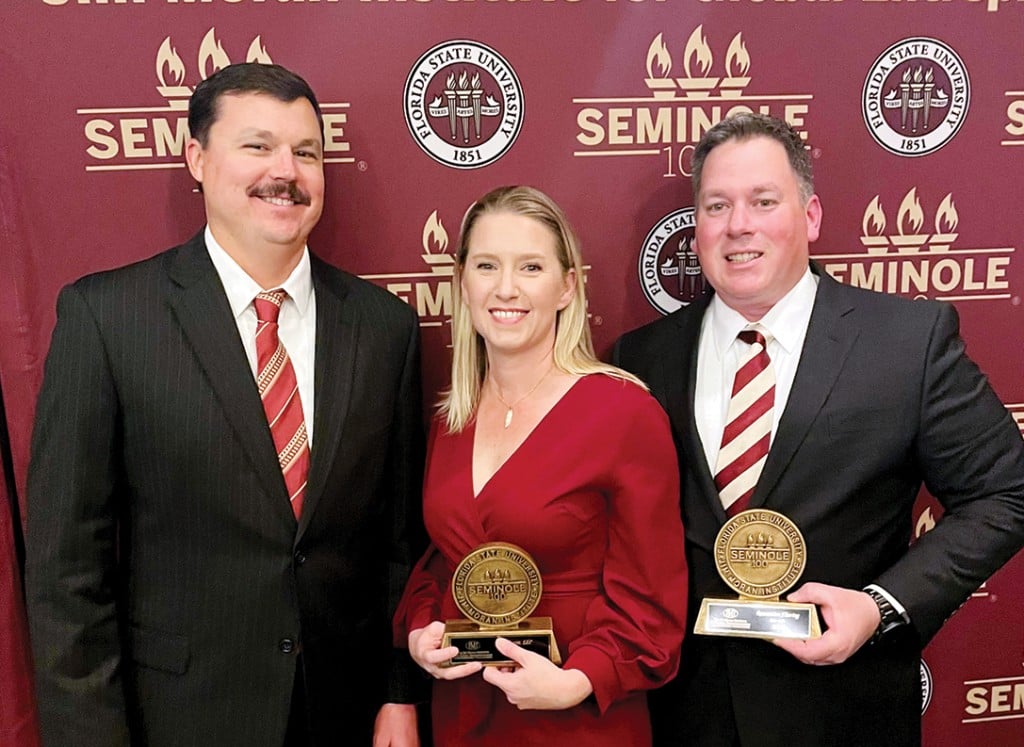 Bay // Local Happenings
Flooring Companies Make Prestigious FSU List
The Jim Moran Institute for Global Entrepreneurship at the Florida State University College of Business congratulated Crissie and Mike Anderson, the owners of two Miramar Beach companies that are among 2022 Seminole 100 honorees. The distinction is reserved for enterprises that are among the fastest-growing businesses in the state and are owned by FSU alumni. "We are so honored to be selected for this award," said Crissie Anderson, the owner of Floorzz, which was ranked No. 3 on the list of some of the most innovative and profitable businesses in Florida. Renovation Flooring, owned by Mike Anderson, ranked 66th. Mike graduated in 2003 from Florida State University Panama City with a bachelor's degree in criminology/criminal justice. He was one of the first FSU PC students to complete the school's Underwater Crime Scene Investigation program. Crissie Anderson graduated in 2005 with a master's degree in criminology. She and Mike met when both were taking underwater crime scene classes. Both credit FSU PC with teaching them critical thinking skills and how to work in a team environment. "The Criminal Justice program at FSU led me to apply new ways of thinking to everyday problems, create modern solutions and strive to change industries to be more effective and efficient," Crissie said. Both Crissie and Mike believe that the adoption of core values is foundational to a successful business. For Floorzz and Renovation Flooring, those values include honesty, efficiency, integrity and generosity. "We value family and believe it drives our company's success," Crissie said. "We strive to make work a fun, enjoyable environment and encourage physical, spiritual and mental wellness among employees. One of the key values for us is education, so we continually educate ourselves in all aspects of our job and use it to improve the lives of our employees and customers."
CAPITAL
Local Happenings
» Capital City Bank recognized four members of its Tallahassee bank operations team who recently received officer promotions: Lee Ann Newton was promoted to transactional risk and fraud prevention officer, Cindy Rawls to vice president of online banking and support, Zeynep Solak to assistant vice president of project management and Beverly Spath to vice president of central document imaging. Newton joined the Capital City Bank team in 2019 after compiling 14 years of banking management experience. Newton implements the fraud detection, prevention and response function of the bank. Rawls is a long-tenured associate with more than 35 years of service with Capital City Bank. She oversees day-to-day operations for the Electronic Banking Services department. Solak joined Capital City Bank in 2021. She directs a three-person team of in-house project managers. A Capital City associate since 2011, Spath has more than 35 years of experience serving in operations management roles at community banks throughout Florida. She directs all activities and standards related to document imaging and retention operations. Additionally, Capital City Bank announced the promotions of Daniel Petronio as corporate banking manager, Myles Bradley as specialty lending manager and Chris Wilson as treasury management and institutional banking manager. All three associates have regional management roles in the Corporate Banking division.
» Former Florida Chief Deputy Attorney General Patricia "Trish" Conners has joined the Tallahassee office of Stearns Weaver Miller as a shareholder in the Antitrust, Competition & Consumer Protection Group. Conners is a nationally renowned litigator and creative legal strategist with expertise in antitrust and competition law. For 36 years, she served seven attorneys general in various senior executive positions in the Florida Attorney General's Office, including as chief deputy.
Local Honors
» Tallahassee Community College has been recognized as a Gold Award recipient in the Military Friendly Schools Awards program. Since 2003, Military Friendly Schools Awards have been given to colleges and universities that have leading practices, outcomes and effective programs specifically for student veterans. Retention, graduation, job placement, repayment, persistence and loan default rates are all used to determine an institution's veteran success rates. Over 1,800 schools participated in the 2022–23 evaluation, and 665 schools earned awards designations in Gold, Silver and Bronze categories. Only 282 schools, including TCC, were selected for the Gold award status.
» Local Dunkin' franchise network Rajan Partners presented a $25,000 grant to a Tallahassee-based foundation, Hang Tough, to help fulfill their vision of building a community for families dealing with childhood illness or special needs. The grant stems from Rajan Partners' in-store fundraiser that took place in February. As part of the program, guests were invited to donate $1 to the Hang Tough Foundation at participating Dunkin' restaurants throughout Tallahassee. The entire grant will go toward Hang Tough Foundation's 10 programs and services that are provided at no cost to Hang Tough Hero families.
» Achieving the Dream (ATD) has awarded Tallahassee Community College the prestigious Leah Meyer Austin Award, the highest distinction a college in the ATD network can earn. The award is bestowed to one college annually that employs a holistic approach to reducing equity gaps between student groups and increasing success for all. The award recognizes institutional strength, aligned policies and procedures, a student-focused culture and notable increases in student outcomes. This year's award was accompanied by a $25,000 prize.
» Stearns Weaver Miller announced that their government and administrative law practice has received a Tier 1 designation in the Tallahassee metropolitan from U.S. News – Best Lawyers in its Best Law Firms rankings for 2022. Best Lawyers is one of the few legal ranking publications to rank the administrative/regulatory practice area. The firm is one of less than 10 ranked Tier 1 in Tallahassee for administrative/regulatory law and one of less than 20 in all of Florida. Additionally, group chair and shareholder Gigi Rollini, shareholder Glenn Burhans Jr. and shareholder Vinette Godelia were ranked in the Best Lawyers in America 2022 for administrative/regulatory law.
» Stearns Weaver Miller announced that Denay Brown has joined the firm's Tallahassee office as a shareholder in the real estate department. Denay routinely advises clients on the entire spectrum of real estate transactions, including acquisition, disposition, lending and financing, construction and leasing of real property. She has extensive experience identifying and resolving title and title insurance-related issues and advising clients in complex real estate transactions.
EMERALD
COAST
New & Notable
» The Santa Rosa Golf & Beach Club has announced that its membership is full. While other experiences, including beachfront dining at Vue on 30A are still available, the golf club and beach club are now limited to members. The decision to take the club private followed months of internal discussion, financial modeling and additional outside expertise. The change ensures that members have ready access to a beautifully redesigned golf course along with elevated service throughout the club.
Local Happenings
» ASM Global, a premier venue management and services company, has appointed Jeffrey Alan Sharp as general manager of the Saenger Theatre, located in Pensacola. Sharp has associate degrees in aviation flight technology and business management and a bachelor's degree in human resources management from the University of West Florida. Sharp is also a United States Army veteran of the Gulf War. His background also includes restaurant management and commercial building management. He started with the Saenger in 2015 as a part-time maintenance technician, was promoted to maintenance supervisor, then operations manager and ultimately general manager.
» For the second year in a row, the Andrews Institute for Orthopaedics & Sports Medicine provided local sports medicine coverage for the Sun Belt Conference Men's and Women's Basketball Championships held March 2–7 at the Pensacola Bay Center. The continuum of care at the Andrews Institute utilizes the skills and training of surgeons, non-surgical sports medicine specialists, and physical, occupational and speech therapists at locations across Northwest Florida.
Bay
Local Happenings
» Visit Panama City Beach has announced Publix Super Markets as the title sponsor of the outdoor fields facility at the Panama City Beach Sports Complex. With this partnership, the sports tourism and community recreation venue will be re-christened "Publix Sports Park" at Panama City Beach. Publix Sports Park is a $41 million, state-of-the-art facility that includes nine turf fields, four natural grass fields, dedicated tournament buildings, two championship fields with seating for up to 1,500 spectators and more than 1,000 parking spots. The complex hosts soccer, lacrosse, rugby, football, baseball, softball and other youth and elite amateur sporting events.
Local Honors
» As part of the Starbucks Foundation's Neighborhood Grants program, Big Brothers Big Sisters of Northwest Florida (BBBSNWFL) was selected to receive a $2,000 grant. The award was thanks to a nomination made by a Starbucks employee who recognized the value of the work of BBBSNWFL. Funds from the grant will be used to support BBBSNWFL's mentoring programs from Pensacola to Panama City.
Capital // Local Honors
Best Practices Applauded
» Leon County recognized Proof Brewing Company with gold-level status through the SustainaBiz program. SustainaBiz salutes local businesses for implementing sustainable practices in the areas of energy, water, waste management, community and staff involvement, and the local economy. Founded in 2012, Proof Brewing has made substantial efforts in implementing sustainable business practices, such as recycling 500,000 pounds of grain each year and donating it to local farmers who use it to feed their livestock. Beyond these efforts, Proof Brewing became the first craft brewer in Florida to use Earthly Lab's CO2 recapture system, called CiCi, to recycle carbon produced during the brewing process.