Preparing a Workforce
Santa Rosa students start learning key skills in the early grades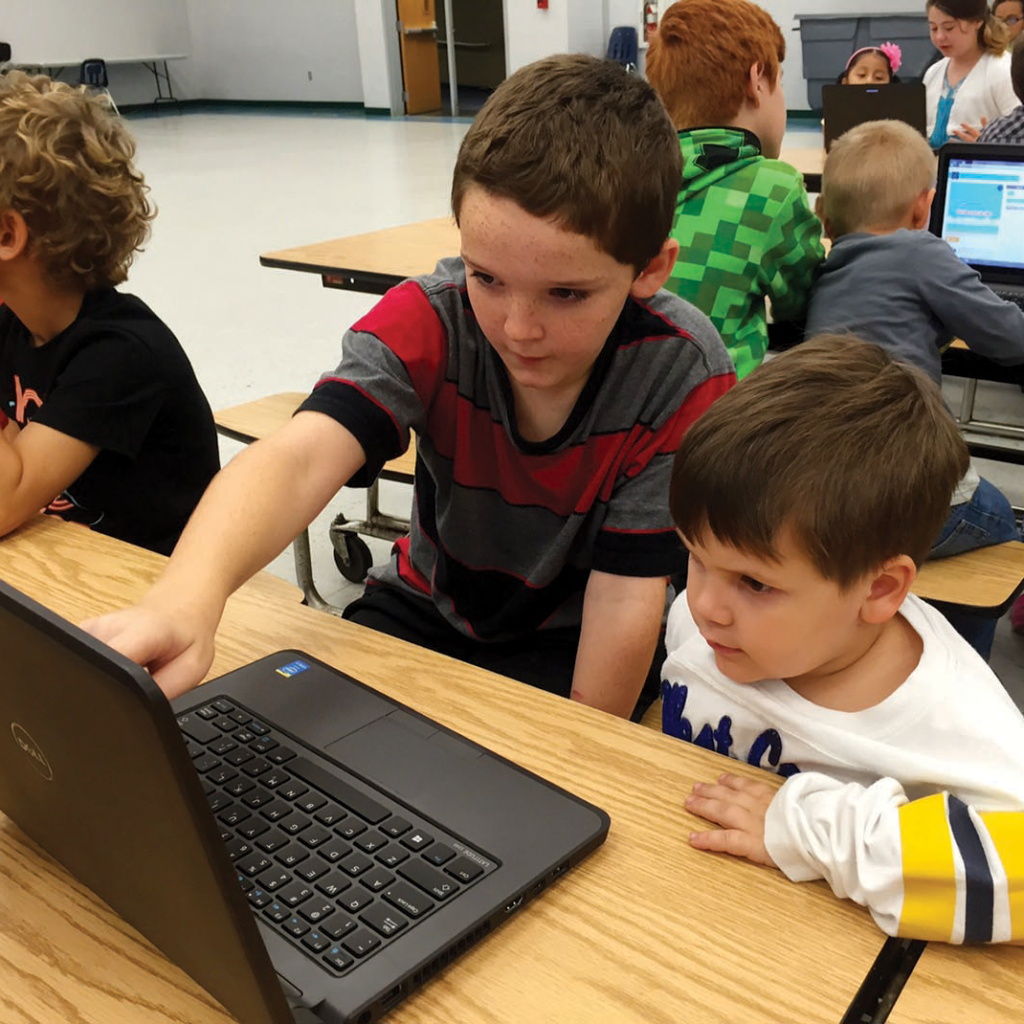 A talented workforce is essential when trying to attract new business to a region. To provide that, Santa Rosa County's public schools, among the best in the state of Florida, start preparing their students early to get jobs in the region's targeted industries. And that's giving economic development efforts a big shot in the arm.
Elementary school students are learning critical thinking skills. From middle school through high school, students have access to a variety of special training opportunities that range from biotech and aerospace to entrepreneurship, advanced manufacturing and the culinary arts, each one the focus of one of the career academies scattered around the county. And eighth-graders can pursue a certification in Microsoft programs, which demonstrates they have the knowledge of a variety of programs, including Word and PowerPoint, that will help them be successful in a later career.
Santa Rosa's career academies align with nationally recognized industry certifications, which help make students more competitive in college or the workplace following graduation. And studies show that career-academy students perform better in high school and are more likely to continue into postsecondary education.
"One of the top predictors of the workforce talent you can provide — including what skill sets your population can bring to the table to attract site selectors and CEOs looking at your area — is the graduation rate," says Santa Rosa County Commissioner Rob Williamson. "We are one of the state's best-performing school districts with one of the highest graduation rates."
At Pace High School, the academy's focus is teaching the basics of how to become an entrepreneur, including accounting, niche marketing, protection of patents and trademarks.
Students even get lessons in how to find investors.
"It's crazy the interest the kids have in starting their own business. It's gotten a lot of buzz in the community," says Charlin Knight, director of workforce education for the school system, which has received an "A" grade from the state for 11 years running. Knight is responsible for the district's 47 secondary and 15 postsecondary programs (at the technical center) that prepare students for jobs.
"We had to cap the entrepreneurship program because so many were interested," Knight says. "We had 28 students involved and 20 ideas that developed. Now we're trying to find money for those businesses."
At Jay High School, students can enroll in the cybersecurity academy, which is only a year old. There is an academy focusing on agribusiness at Central School in Milton and a digital design program at Milton High School, where students are using a 3D printer to print their designs.
Some of the career academies are a direct response to the worker needs expressed by local businesses. There are currently 2,800 students enrolled in the academies. In 2015, 524 seniors graduated with nationally recognized industry certifications in a range of fields.
In another effort to better prepare students to enter the workforce, the district has a program dubbed STEAM, which stands for science, technology, engineering, arts and math.
"STEAM represents a paradigm shift from traditional education philosophy, based on standardized test scores, to a modern ideal which focuses on valuing the learning process as much as the results," according to Deron Cameron, who was principal at the first STEAM-certified school and now works on curriculum.
"In essence, we dare our students to be wrong, to try multiple ideas, listen to alternate opinions and create a knowledge base that is applicable to real life as opposed to simply an exam."
Knight calls the STEAM effort an "incredible partnership" that has helped the school district teach students 21st-century skills, including an emphasis on critical thinking.
"There's a lot of value in introducing artistic and creative skills," she says. "We have the program in all 20 elementary schools, two middle schools and one high school. When I go to the schools, I am absolutely amazed. I've seen elementary school students in the early grades working on gravity and energy projects, kids working together in teams to put together their own circuit boards so they could get a propeller to spin or a light to come on. They were programming robots in one classroom. They work in teams, with each team having a leader and each member having a role and the teacher facilitating."
Ask the teachers what they think of it and they say it is more than gratifying to see students enjoying their studies.
"The lightbulb has seemed to brighten, showing students they can be anything. Science and computer programming is viewed as fun now, as they beg to 'code,' " says Kristi Martin, a fifth-grade teacher at Berryhill Elementary.
Joy Bunning, a second-grade teacher at Holly Navarre Primary, is amazed at how her class has responded, saying, "I have watched them grow from shy, reserved students into confident, independent learners ready to take on any challenge!"
Jen Netro, another teacher at Holley Navarre Primary, said she has watched her students grow into problem-solvers and self-learners, always asking questions to further their thinking.
"One of my students is very active and struggles with focusing on a task at hand. At the beginning of the year this student came in needing a Progress Monitoring Plan based on last year's scores," Netro says. "After implementing the STEAM model into my classroom, it was obvious to me this child had such an in-depth thought process. It allowed me to assess his content knowledge in a setting that was more comfortable for him. He is now in the final testing stages for the gifted program. I've never participated in a conference where a parent was signing off on a PMP and permission to test for gifted. It has certainly opened my eyes."