Pivoting Toward Sports
Visit Panama City Beach is changing the narrative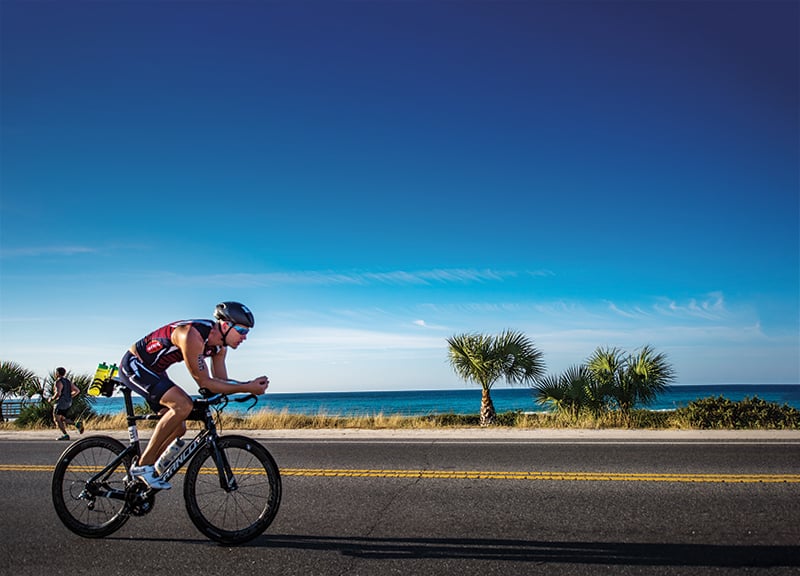 The tourism promotion agency Visit Panama City Beach is investing in sports parks and encouraging Bay County communities to supply complementary services.
Residents, businesses and visitors to the area all benefit from the investment in sports tourism and the infrastructure needed to make the events and tournaments possible.
Sports tourism in Panama City Beach took off when the first swimmers in the 1999 Ironman Triathlon hit the water.
"Ironman was — and still is today — our Super Bowl of sports, because it will bring in athletes from almost all 50 states and 60 countries around the world," said Richard Sanders, vice president of sports marketing and special events at Visit Panama City Beach (VPCB). "It was the Ironman Triathlon that really put us on the map, and we've just grown from there."
Today, Panama City Beach boasts the longest continuously running Ironman in North America and the only full Ironman in Florida.
"When we started, this thing took off real quick," Sanders said. "The first year saw 4,000 room nights, and the place went crazy. In the second year, we did 10,000 room nights, and today we're doing close to 150,000 room nights."
Sanders has worked with VPCB for 25 years, first as a consultant and for the last 11 years as a full-time employee creating sports and special events for the community.
"As fast as sports tourism took off, we needed to plan for what the future should look like," Sanders said.
In 2008, Sanders brought in a consultant who recommended an indoor sports facility and also identified a need for more athletic fields — with rectangular athletic fields as the priority.
This 10-year project opened in 2018 as the Publix Sports Park on Chip Seal Parkway. The park boasts 13 configurable fields, nine synthetic turf fields and two championship fields.
"My first week, in 2015, we started working on the Publix Complex," said Chris O'Brien, the director of sports and special events at VPCB.
As of this writing, Sanders is transitioning to semi-retirement, handing off the future of sports and special events to O'Brien.
"When we did our research and our consultation, we looked at the pros and cons of different areas and surrounding counties," Sanders said. "We had some inventory that could meet certain types of events, but we didn't have the championship quality — venues or inventory — that was needed in our mission of bringing in business through sports."
Frank Brown Park was the first sports complex in Panama City Beach.
Frank Brown Park is home to baseball, t-ball and soccer fields; basketball, volleyball and tennis courts; walking and biking trails; and a state-of-the-art children's playground that encourages sensory play. The Panama City Beach Aquatic Center at the park includes a 50-meter Olympic pool; a separate 5,000-square-foot splash park and kid's pool are available for family play.
"Frank Brown Park was built in 1978 by the city," Sanders said. "They thought about the future of sports tourism and how that could fit into Panama City Beach and what we're all about. There was a vision to take us forward."
The population in the area has been growing over time. VPCB works in private-public partnerships to anticipate and meet the needs of the growing community.
"Just like when we did our report in 2008, they were doing the same thing back then," Sanders explained. "They saw the need for the community to have additional facilities and made that investment to revamp Frank Brown Park. The way they capitalize on that investment and bring more heads in beds is with tournaments."
Those tournaments, which attract teams from throughout the country, result in room nights and other types of spending of benefit to the community.
"Once the events do well, the coordinators book that same date the next year," O'Brien said.
About 80% of events recur.
"We now have several years of established business at Frank Brown Park," Sanders added. "The Publix Sports Park brings in new business that complements, but does not compete, with the successful business at Frank Brown Park."
VPCB averages 40–45 events a year, while also hosting local leagues and practices by high school teams.
"Because the Publix Sports Park uses turf, we can keep it busy and not worry about wear and tear on grass," O'Brien said. "We've made improvements recently including a netting system, sound system, photo areas and added streaming cameras so relatives can watch if they aren't able to come in person."
Now, VPCB is working with architects and sponsors to plan a flexible multipurpose indoor sports complex.
"We're going to have over 100,000 square feet of indoor space," O'Brien said. "It won't just be like a gym — it's going to have meeting and work spaces."
The building also will be equipped with a hardened fiber optic connection for speed and security and will serve as an emergency shelter.
Esports is a new area of interest for VPCB. Electronic sports are soaring in popularity with video games like Dota 2, Call of Duty, League of Legends and more. Tournaments draw large crowds and award cash prizes totaling millions of dollars. Last year, PlayerUnknown's Battlegrounds boasted a prize pool of $4.5 million.
"This building will also be able to have concerts up to 2,500 people," Sanders added.
Sanders believes in cooperating with surrounding cities, including Panama City, which is working to determine how best to replace the hurricane-ravaged Marina Civic Center. Sanders intends that the indoor facility on the beach complement the new civic center.
The new indoor complex is expected to open in December 2025 and will add to Panama City Beach's already robust sports tourism industry.
According to O'Brien, direct and indirect spending related to sports tourism totaled $130 million last year.
"Even bigger cities don't have what we have," O'Brien said. "Our population grows from about 15,000 people to maybe 60,000 during the summer months. There're 16,000 rooms in the hotels, and they fill up."
"Hotels are being built because of the sports parks," Sanders agreed. "When Pier Park was built, most activities moved to the west end. With the Publix Sports Park, we're rejuvenating the east end again."
Sanders' years with VPCB are changing the narrative. No longer is it spring break; he says it is now spring season.
Florida communities that relied on spring break for tourism faced the challenges that come with youthful energy and first freedoms. Where other spring break tourism communities took 10 years to pivot toward other tourist activities, Panama City Beach recovered financially in only three years.
"Today, we can say that sports is in the DNA of what Panama City is all about," Sanders said.