On the Cutting Edge
Tallahassee's Syn-Tech Systems serves clients worldwide with its fuel management technology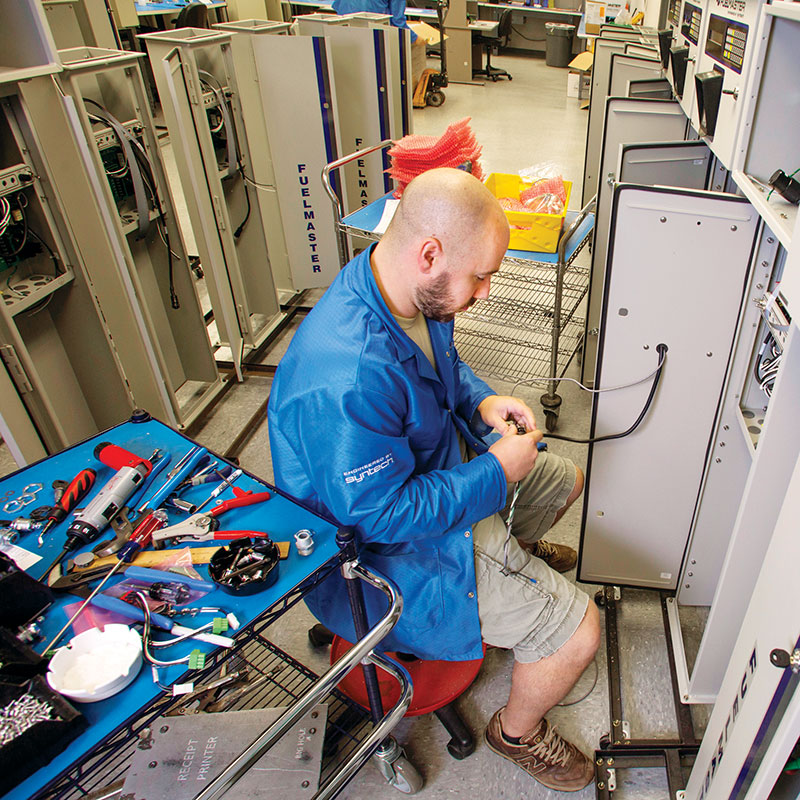 When you go to the gas station, chances are you pull up to the pump, push a few buttons and wait for the fuel to flow. You likely take that whole process for granted. Unless you're Douglas Dunlap.
The 67-year-old Tallahassee native and Florida State University alumnus heads a multimillion-dollar company called Syn-Tech Systems that provides the software that makes the pumps work at thousands of fueling stations worldwide, mostly for government agencies, the military and some private-sector businesses.
"We don't make the gas pump itself," said Dunlap, president and CEO of the Tallahassee engineering and manufacturing company. "We design and build specialized computers that control the gas pump."
And those computers are "very sophisticated," he added.
Dunlap grabs a small green computer board loaded with gizmos.
"It takes 25,000 lines of computer code for this small piece of hardware," he said. "In every line of computer code that's written, there is an opportunity for error. There are 25,000 potential problems. Every line has to be right."
Syn-Tech, with a yearly revenue of about $36 million, has been getting it right for more than three decades. The company produces a fuel management system serving nearly 6,000 clients worldwide, operating 2.6 million vehicles on a daily basis.
The firm's clients include the City of Tallahassee, Leon County and the Leon County Sheriff's Office; private-sector companies such as The Boeing Company, Ford Motor Company and McLane Trucking; and 29 state departments of transportation, including Florida's.
Syn-Tech also provides fueling services to the entire U.S. Department of Defense at 650 locations around the globe for ground fuels and aircraft fueling operations at all Air Force bases. And the firm is a contractor with the Department of Homeland Security, along the nation's southern border.
While its reach is worldwide, Syn-Tech is not a household name in Tallahassee — except to business insiders and government officials who know the importance of having a major engineering and manufacturing firm in the region.
In February, Syn-Tech was the second company featured in the new monthly "Made in Tally" campaign created by the Economic Development Council of Tallahassee/Leon County. The award was designed to highlight local companies selling products globally.
"Syn-Tech is a hidden gem on the south side of Tallahassee," said Ben Pingree, the council's executive vice president, who also noted the firm's "diverse talent ranges from production assembly all the way to design and engineering."
Added Dunlap, "We have a much greater local impact than you would expect from a 185-person company."
Syn-Tech has a multimillion-dollar contract with TeligentEMS, a Havana, Florida, circuit board supplier, for instance. And the firm has a sizeable payroll. The average wage at Syn-Tech is about $67,000, compared to $41,111, the annual average wage in 2014 for all industries in Leon County (including the private sector and government), according to the Florida Department of Economic Opportunity. The 2014 average annual wage for private-sector industries in Leon County was $38,175.
Of Syn-Tech's 185 employees, 59 are engineers who work on the quiet second floor of the building, dreaming up, researching and developing new concepts and products. The company designs, manufactures, markets and services its Fuel Master unit and hundreds of related products.
Syn-Tech has garnered local accolades from the Greater Tallahassee Chamber of Commerce, which named it Technology & Innovation Business of the Year in 2014 and Manufacturing Business of the Year in 2012.
The company was also recognized as one of Florida's Best Companies to work for in the August 2010 issue of Florida Trend magazine.
Syn-Tech's roots stretch back to 1970, when it was the Wayne Colony Company specializing in defense contracts. The firm built the ammunition loader for the Air Force's A-10 planes.
When Dunlap and David Oglesby took over the company in 1989, about 80 percent of the firm's business stemmed from military contracts for mechanical munitions handling equipment — ammunition loaders, bomb loaders and munitions processing, primarily for the Air Force, Dunlap said.
Now, only about 5 percent of Syn-Tech's business involves manufacturing munitions and loading equipment. The company doesn't manufacture bullets or explosives.
"We don't handle those devices (weapons). They're not here, and we don't want them here," he said.
The company now devotes 95 percent of its work to computer fueling technology. Its work for the military may be a small share of the business, but it's a lucrative one.
The company was recently awarded a $1.015 million contract to build the Air Force 25MM ammunitions processor.
Syn-Tech built the primary system "to load the A-10 with 30 millimeter rounds," said Dunlap, pointing to one of those large brass rounds, used as a doorstop in his office on Tallahassee's Four Points Way. Photos of the A-10, nicknamed the Warthog or Hog, hang on the wall.
The craft's primary built-in weapon is the 30 mm GAU-8/A AvengerGatling-type cannon, considered one of the most powerful aircraft cannons ever flown. The gun is loaded by Syn-Tech's linked tube carrier GFU-7/E 30 mm ammunition loading assembly cart. The A-10 was used in combat during the Gulf War in 1991 and later was used during battles in Iraq and Afghanistan.
Syn-Tech hasn't developed new munitions loaders in years. Building this type of equipment requires extreme vigilance.
"There are a lot of safety concerns," Dunlap said. "It's a long process to get that equipment qualified."
He described one incident 20 years ago when a subcontractor built a defective brake for a bomb loader.
"It was designed to lift a 2,000-pound bomb six or seven feet in the air to be attached to the aircraft," he said. "When the part failed, a back-up brake kept the bomb from dropping to the ground so it didn't fall. We had to bring in metallurgical experts to understand why it was much weaker than it should have been. The subcontractor who built that part didn't heat treat it correctly.
"We got it fixed. I'm pretty sure he was fired."
Syn-Tech also received a recent $10.3 million grant from U.S. Customs and Border Protection for its auto fleet, covering most of the southwest border from California to Texas.
"The Border Patrol has 20,000 vehicles patrolling the border that have to be fueled and refueled," Dunlap said.
Syn-Tech creates cards that allow Border Patrol officers to fill up their car at commercial and Homeland Security stations.
"It used to be that nobody made those two work together," he said.
The company also offers software that helps agencies keep track in real time of fuel use and costs.
"We're very rapidly becoming a sophisticated software company," Dunlap said. "The entire field has become so complex. The Department of Defense wants real-time systems worldwide. Fueling transactions in Japan now show up in Washington instantaneously."
Syn-Tech uses the latest technology to create several key systems. There's the software that resides in the office; the hardware that's inside the pump; the firmware — computer code written to go in the hardware; and the secure communications between all of the components, Dunlap said.
Syn-Tech "has done an excellent job" providing a system for refueling services, said John Pompey, director of fleet management for Leon County. The firm installed a device that automatically records mileage, type of fuel used and gallons.
"It helps us keep track," he said. Plus, he likes the idea that the firm is locally owned.
Dunlap chose Tallahassee as a base for Syn-Tech because "I'm a native and this is where I want to be."
His two sons and daughter work at the firm. Oglesby's two sons also work there.
Dunlap's background is in business, but his father and grandfather were both professional engineers.
"It's ironic in a way that I come from a family of engineers," he said. "And I ended up going to business school and owning a company with 59 engineers.
"My dad didn't get to see this. I wish he could have. It's one of those interesting twists and turns that life brings you."
Dunlap and Oglesby have close ties with Tallahassee. They both graduated from FSU with degrees in business administration, in 1973 and 1972, respectively.
Syn-Tech donated $500,000 to the College of Business' building, Legacy Hall, two years ago. But Syn-Tech's support goes beyond financial contributions. Dunlap has also provided input in curriculum and insight into what's needed in the engineering world.
"Doug is always on point in terms of what's going on in the industry," said Braketta Ritzenthaler, assistant dean of the Florida A&M University-Florida State University College of Engineering. "He provides that global perspective.
"Unlike many of the companies who recruit students and go away, Doug has given so much of his time and effort to the university," Ritzenthaler said.
Syn-Tech has tapped graduates from the engineering college and other Florida universities, but Dunlap said finding local experienced engineers is difficult.
"Obviously with the FAMU-FSU engineering school, that is a source of engineering and technical talent. That's definitely an asset and on the pro side" of being based in Tallahassee, Dunlap said.
"On the other hand, what we really want and what we really need are experienced engineers. For the most part, we're looking for people with 10 or 15 years' experience. They need to hit the ground running."
Dunlap said the economic base and talent base is not yet strong enough to fill all those needs.
"We have to recruit outside, definitely a con," he said.
In his engineering staff, fewer than 20 percent are from the Tallahassee area. Of the rest of the employees, about 60 percent to 70 percent are from surrounding areas in Northwest Florida.
Ritzenthaler said while there are opportunities with government, there aren't a lot of private industries hiring skilled engineers in the area.
"That pool of talent with more than 10 years' experience has moved away, and Tallahassee is trying hard to attract them back," she said.
Demand for that talent is expected to keep growing at Syn-Tech.
"We've vastly increased our software capabilities, making us a much stronger company technologically," Dunlap said. "We're right on the cutting edge."