Northwest Florida's Ports See a Bright Future on the World Stage
A Rising Tide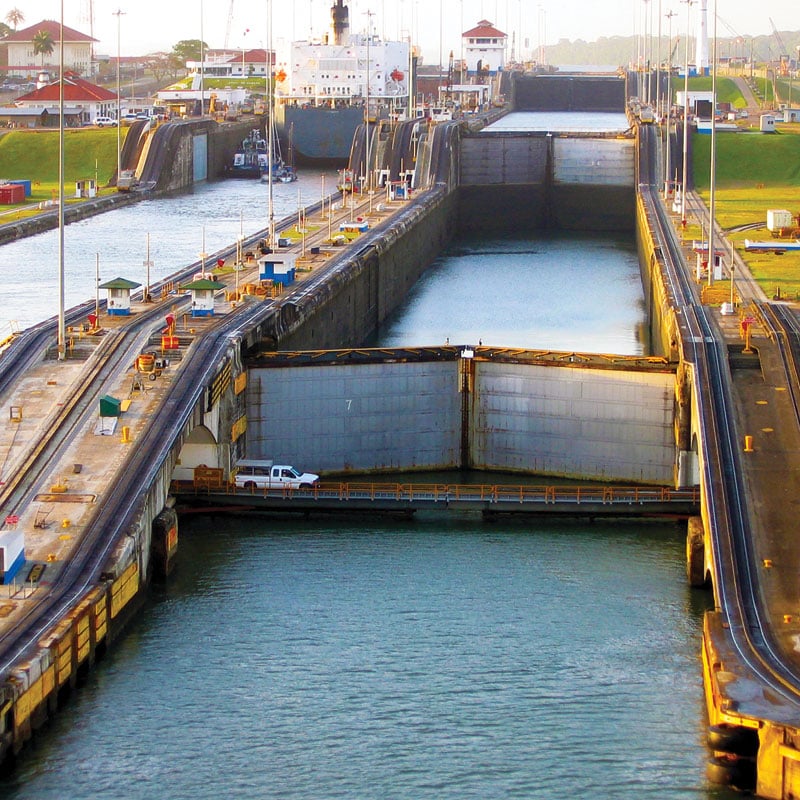 There's an old saying that goes: "A rising tide lifts all boats." And as a wider Panama Canal opens its locks for the world's mega-ships, Northwest Florida's local ports — Port Panama City, Port of Pensacola and Port St. Joe — are taking stock of what that means for their business, as well as the economic health of the region they serve.
"I feel very strongly that what Florida ports need to be focused on is using our assets to attract industry to the state," said Wayne Stubbs, executive director of Port Panama City. "It's great to handle a lot of cargo, but if you fail to translate all that cargo into high paying manufacturing jobs in the state, then you're not getting the largest advantage from your ports."
The three ports are located in some of the more rural areas of the state that need all the economic advantages they can muster, according to Doug Wheeler, president and CEO of the Florida Ports Council.
"The impact of our Florida Panhandle ports on the economic health of their communities cannot be overstated," Wheeler said. "They are already providing much-needed jobs and have the potential to see significant increases as the Central and Latin America markets continue to grow."
While ports along the Gulf Coast are looking to advance the economy of their home regions, they live in a global market. And the billion-dollar expansion of the Panama Canal is set to satisfy the increasing demand of world maritime trade. The massive project involves the construction of a third lane of traffic that will allow the passage of large Post-Panamax vessels, which will double the Canal's capacity and have an important impact in world maritime trade. The expansion was 62 percent complete in August. Only time will tell how this change will affect the ports of Northwest Florida as larger ports on the Gulf Coast and East Coast jockey for position, but they stand ready to take advantage of whatever opportunities float their way.
Port Panama City
Located in St. Andrews Bay, Port Panama City is easily the busiest of the three and annually handles 1.7 million tons of cargo valued at $3 billion. Imported commodities such as aluminum ingots, copper plates and wire, steel pipe, plates and coils fill the warehouses, and tons of wood pellets from Green Circle Bio Energy's Cottondale plant await shipment every week to European ports.
Stubbs said the port has worked very hard over the past 10 or 12 years to diversify and grow its cargo base because cargo activity shrank in the 1990s — a combination of the shifting of cargo from break bulk ports on the Gulf Coast to East Coast container ports and a decline in export markets for forest products.
The Panama City Port Authority is focused on two priorities: supporting industrial development in Bay County and developing modern seaport facilities to promote trade. But the latter has been hurt by the shifting economy.
"By the year 2000, port activities were actually down to 300,000 to 400,000 tons a year in cargo, and 60 ships a year coming and going, and that's just not sustainable. So we made a concerted effort to turn this port around and grow our cargo activity to become a sustainable port and have the funds to keep reinvesting in facilities," he said. "That's been successful for us. We made a number of key investments. We dredged the port deeper in 2003, from 32 feet to 36 feet, and that made us a lot more attractive to new customers, particularly in the copper trade."
The dredging opened the door for getting the wood pellet export business from Green Circle. The port authority also invested $60 million in facilities over the past 10 years. That's paid off in terms of helping to attract and retain some key customers, among them a container operator that moved from New Orleans in the wake of Hurricane Katrina. Since 2005, Panama City has also developed the most active container trade business with Mexico of any U.S. port.
It doesn't end there, as pallets of copper plating fill the warehouses. The copper import business was something Panama City's port really focused on winning from places like New Orleans and Mobile.
"We were successful in building partnerships with key shippers in that trade," he said. "We became, over time, the most active port in the country for handling imported copper. That really boosted the value of the cargo we were handling because copper is so valuable. When we went into the copper business, we went from handling $800 million to $900 million worth of cargo to almost $3 billion worth of cargo. It put us on the map."
The container trade tonnage has also steadily increased over time. In 2001, the port handled 400,000 tons and in 2013 it was looking at 1.7 million tons. Over the next three or four years they hope to push the overall tonnage to at least 2.3 million tons a year.
The investments in the port were made possible as the state became more aggressive in offering significant financial aid through matching grants over the past decade.
"Over the last three years, since Gov. Rick Scott's been in office, the support from the state has grown — to the range of $250 million in the last year in matching grants for ports around the state," Stubbs said.
Another project in development is the Port Panama City Intermodal Distribution Center about 15 miles north of town. A 150,000-square-foot warehouse was recently built for transferring dry and liquid bulk products between rail and trucks. Rail sidings have been added, and work continues to improve the 250-acre site with the hope that new manufacturing can be brought to the area. Actually, it's larger than that, because an additional 50-acre site is being prepared for use.
The governor in August announced the $1.9 million distribution center project would get a $900,000 grant from the Florida Department of Transportation.
"I'm committed to ensuring that our transportation projects create more job opportunities for Florida families," said Scott, a big advocate of Florida's ports.
Meanwhile, the port continues to support the industries that exist on site, which include long-time tenants like Berg Steel Pipe (a major employer in Bay County that makes large-diameter steel pipe) and newcomer Oceaneering International Inc., which arrived at the port in 2004. Oceaneering invested about $50 million in facilities when it first set up business and just committed to spend another $15 million on more capital projects, Stubbs said. Oceaneering makes large-scale underwater cable systems called umbilicals.
Port of Pensacola
Located in historic (and strategic) Pensacola Bay, this port has its sights set high. Its top strategic priority is to become the most diverse port of its size by incorporating cargo, non-cargo commercial maritime, marine-related manufacturing and assembly, and other business opportunities. Currently, it's more a service-oriented port, and tonnage isn't the primary metric used to determine success.
"When we talk tonnage stats and that sort of thing, we're a little different animal than other ports that you might visit. And that business is as a support base for the vessels that work out in the U.S. oil and gas industry in the U.S. Gulf of Mexico," said Clyde Mathis, longtime port director until his resignation in Novemeber.
The main business partner engaging in that service is Offshore Inland Marine, which specializes in project mobilization and de-mobilization, topside repair and maintenance services to offshore oil and gas exploration and production fleets, including supply boats, pipe layers and construction vessels, dive support vessels and tankers.
"There's a lot more happening finally again in the Gulf, so we expect their business to increase," Mathis said. "They have a long term lease with us here at the port."
Aside from providing support for service vessels, the port also does a booming business exporting locally produced wind turbine nacelles for GE Wind.
"General Electric has an assembly facility here in Escambia County where they assemble the nacelle, which is the generator unit of a wind turbine," Mathis said. "They have had a huge project in Brazil, which they've been exporting to for the past year or so. Just this year to date they have loaded 359 units, had 14 vessel calls and there's about 100 or so units on port now waiting to be exported."
The port also works with GE Energy to handle the storage and transportation of portable generator units that can power upwards of 42,000 homes in the event of emergencies such as natural disasters. The units are essentially rolling power plants in the form of four separate trailer-mounted components that, when fully assembled and connected, can power a small city. The port's responsibility is to keep these units maintained and ready for deployment around the world. And while that's certainly important, it means the port functions in a different capacity than other cargo-bearing shipping facilities.
"Both GE operations involve very large pieces of equipment but they don't weigh very much, and Offshore Inland doesn't move any cargo at all," said Amy Miller, who took over the port director's post on Nov. 20. "So when we measure our success, it's the number of vessel dockage days that is important to us, because that is where we generate our revenue. When we look at GE, we look at the number of units. They're actually billed on a per-unit basis. So that's how we measure our success, more so than looking at the number of tons of cargo."
However, the port still does a healthy bit of export in the form of lumber products that are shipped to the Caribbean. All types of wood products, such as plywood, fence board, posts, timber poles and rolls of paper ship out of Port Pensacola, along with some steel products. But lumber is the primary commodity, and Sapphira Shipping of Savannah, Ga., has been a port customer for close to a year now, its business growing each month.
"I think they're at 24,000 tons total that they've exported," Mathis said. "And the principals have many, many years of experience in Caribbean trade, so they're very savvy with what they're doing and their results have proven that as well."
That's not the only type of cargo, though. CEMEX moves bulk cement products for local construction and road building projects, Martin Marietta Aggregates imports aggregate rock from the Bahamas, which also goes toward local construction, and the port has been successful in exporting gondola rail cars to Columbia for the Columbian coal trade.
A Blank Slate in Port St. Joe
The old port on the shore of historic St. Joseph Bay, once a formidable actor on the maritime stage, has been inactive for many years. Just about all signs of industrial usage have been demolished since The St. Joe Paper Company's paper mill was closed down and demolished. Two chemical plants were also shut down and razed. A short-line railroad (the AN Railway, owned by St. Joe) that serviced the industries here was left intact but has been unused for more than a decade. Out in the bay, the shipping channel and turning basin that once saw steamships and freighters from all over the world is idle and needs maintenance; specifically, dredging.
Two new business opportunities being sought by today's St. Joe Company, which still owns property around the port, have opened the door to a resurgence of the port's viability, although it will require the old port to be renovated and reopened.
State Rep. Halsey Beshears thinks such a project has tremendous opportunity, not only for Port St. Joe but Gulf County and Northwest Florida.
"This is an infrastructure investment that will change the landscape of North Florida. The business it will bring, the jobs and the growth potential are all huge," he said. "We are working jointly with the port board on how we can assist them moving forward. Whatever red tape we can cut so they can move forward expeditiously is our first priority."
In May, St. Joe announced it had signed a letter of intent with Green Circle Bio Energy Inc., which ships wood pellets overseas in a brisk renewable energy business with Europe. Green Circle is interested in leasing a site from St. Joe along the railway to develop a new wood pellet plant. Green Circle already operates the world's second-largest wood pellet plant in Cottondale, but that plant sends its product to Port Panama City by the Bay Line Railroad. The new plant would use the AN Railway to ship its product via the port at Port St. Joe.
The second opportunity was announced in June with the signing of second letter of intent, this time with Enova Energy Group, a full-service, clean energy development company that is interested in expanding its own wood pellet plants in the Southeastern United States. Like Green Circle, Enova needs a functioning railway and port to get its product to market. St. Joe officials say that dredging the port's shipping channel, and repairing the AN Railway's bridge over the Apalachicola River, is necessary prior to starting any shipping activities.
"Adequate infrastructure is paramount to bringing new business and jobs to Northwest Florida," said Park Brady, St. Joe CEO. "The prospective rail improvements on the AN Railway are critical to open doors for economic development for the port of Port St. Joe and surrounding areas."
Jorge Gonzalez, the company's senior vice president, said the rail itself is in great shape but a series of bridges — namely, the bridge over the Apalachicola River — need repair. The Florida Department of Transportation and the railway operator, Genesee & Wyoming, have been working to secure a rail grant to do the repairs. The state will provide 75 percent of the $5 million cost and St. Joe Company and G&W will pay the remaining 25 percent. As of August the grant hadn't yet been released, but the company is anxious to get the project rolling so it can help give the port a new lease on life and boost the regional economy.
"Anything we do in Port St. Joe, we want it to be a net add," Gonzalez said. "Neither ourselves nor the Port Authority want to take away from any other port. We think the three ports in Northwest Florida need to work together, so that's an important point. We're not taking one wood chip from an existing port."
Port St. Joe Port Authority officials are excited about the possibility of having a working port again and are working with The St. Joe Company and whoever else they can get in their corner to get things turned around by 2014, the earliest deadline called for in the agreements with the two wood pellet companies.
"We have a cooperative, collaborative relationship with The St. Joe Company, which is committed to developing the port here," said Port Director Tommy Pitts.
Combined, the Port Authority and St. Joe Company have about a 300-acre footprint to work with, plus 5,000 additional St. Joe acres right next door that are prime for development of port support activities, like trucking and transfer facilities. But that's for future projects. Right now the company and the port authority have other pressing matters.
The immediate focus is on the permitting process for dredging the channels to the proper depths, restoring the rail and getting the port ready to serve the cargo needs.
"We're now under the gun to hit the ground running," said Pitts. "The ship channel is a public asset. So that falls under the Port Authority's responsibility to restore it to depths that they need to move the wood pellets."
And we are talking a lot of pellets. Enova wants to move one million metric tons a year, and Green Circle wants to ship 150,000 tons a year.
In order to do any of the necessary studies and actual work, they have to find the money. And right now no rock is being left unturned in that search.
"There's not going to be one silver bullet that takes care of the needs. It will have to be a collection. It's not going to be done on a federal level alone," said U.S. Rep. Steve Southerland, who sits on the House Committee on Transportation and Infrastructure and is an ally to the region's ports.
Right now, the state is providing $750,000, which will be matched by The St. Joe Company to the tune of $250,000, for dredging studies that will determine the type of sediment engineers will have to deal with and where it can be disposed. That will help determine the overall dredging cost. Officials think it could be in the $20 million to $25 million range.
If that's the case, it's clear that one pot of money isn't going to get the job done. Port Authority Commissioner Leonard Costin said that Restore Act funds could provide money, as well as the Florida Seaport Transportation and Economic Development Program and/or the State Infrastructure Bank, just to name a few. Southerland said the Restore Act, passed by Congress in 2012 to distribute penalties collected in wake of the Deep Water Horizon oil spill, could be a vital source.
"I think the Restore Act is an important component and another tool we can use to get the job done," he said. "That's a significant piece of legislation. I think the stars are aligning. I think it's going to be great for jobs and great for the economy of the state, especially in Florida's 2nd congressional district."
One thing is clear. The port has had its share of boom days and bust during its 180-year history. It's lost much industry in just the past 20 years alone.
"With the decline of the real estate market and the Great Recession, that was a real blow to really the only thing we had left, because the manufacturing industries had gone away," Pitts said. "We've been in a recession here (in Port St. Joe) for 25 years."
While the town has a prospering tourism market, Pitts said the town has lost important well-paying jobs.
"We find ourselves with all our industrial assets gone again. The paper mill is gone. The box plant is gone. The Arizona Chemical Plant is gone. Premier Chemical gone. Demolition has taken place on all these. We had a bulk terminal, it's shut down," he said. "And because there are no rail customers, the rail service has been discontinued. And that is vital to our economic recovery efforts, to restore the rail and certainly the port as well, so we see, again, the port and rail as the best opportunity to recover the economy in this region."
St. Joe's Gonzalez said the redevelopment is one of his company's highest priorities. Not only will it raise up the community, it should brighten local property values as well.
"We believe redevelopment can be an economic engine that will bring jobs and economic activity not only to Port St. Joe, but to the entire region," he said. "We also believe that the effort to develop the port needs to be a community-wide effort to include not only the Port Authority but the entire community."
The good news is that Port St. Joe has an abundance of public works infrastructure, including water, power, gas lines and wastewater treatment.
"We have all those infrastructure items that are needed to quickly get back to where we were," Costin said. "We're a blank slate now. We're starting over. And I see the port being bigger and better, and more far-reaching, than ever in the past."
Mega-Ships and Feeder Vessels
The ports of Northwest Florida are all a part of a global economy, and if there is one single most important development going on today, it is the $5.3 billion expansion of the Panama Canal. The expansion will allow the Canal to accommodate the passage of "Post-Panamax" ships, mega-vessels that are bigger than most anything afloat. They can carry up to 12,000 20-foot containers, even though they primarily carry 40-footers. They're 900 feet long, 22 containers wide and stand 160 feet out of the water. They need between 48 and 50 feet of water to operate in, and dredging to that depth is problematic.
"It's a very expensive proposition for most ports to try and deepen their channels to those depths," Stubbs said. "But Miami is doing it. They have funding from the state, and they had the easiest route to get it done. They have a short entrance and it's all sandy material, and it was easier for them to do it than most ports. Most ports are river ports and very expensive to dredge that deep and very expensive to maintain it that deep."
So how will this new ship traffic impact the ports in Northwest Florida? Officials say none of these massive ships will ever be within sight of our local ports; rather, smaller "feeder" ships just might come our way.
"It's similar to wide bodied airplanes landing in Atlanta and regional jets flying on down to Panama City. A similar concept," Stubbs said. "A hub and spoke system will grow based on the larger ships coming through the Panama Canal. So in terms of the ports in Northwest Florida, the long-term prospect of the impact of the Panama Canal might be that we see more opportunity to handle feeder vessels, which would be smaller."
That assessment was shared by Port of Pensacola's Clyde Mathis.
"Pensacola is never going to be your big container handling port, but we might be able to get in with the feeder service concept," Mathis said. "That will be probably the only thing that any of your three Northwest Florida ports are going to participate in."
Stubbs said that ports like Tampa, Mobile and Houston might be able to accommodate large feeder vessels holding 3,000 to 4,000 20-foot containers. Port Panama City would be limited to feeder ships in the 2,000 TEU (Twenty-foot Equivalent Unit) range.
"That'd be about the limit that we could handle here," he said. "But our focus is really not on that. Our focus is on trying to attract more regional carriers serving Central America, Columbia and Mexico.
"I think our location is going to become more and more appealing to carriers that need to keep their vessels in the Gulf. I also think that we can keep our costs significantly lower than most major ports, because we're not forced to make these huge investments associated with handling the larger ships."
Meanwhile, the three ports have a big cheering section in Washington. Southerland said Florida enjoys the largest delegation on the House Committee on Transportation and Infrastructure, and it is currently working on a significant piece of legislation called the Water Resources Reform and Development Act (WRRDA),
"This legislation will make major reforms to increase transparency, accountability and Congressional oversight in reviewing and prioritizing future water resources development activities," said Committee Chairman Bill Shuster.
The WRRDA is a reauthorization bill that is typically addressed every five years, Southerland said. Sometimes it takes much longer, which means it doesn't keep up with changes in the real world.
"Chairman Shuster is attempting to make the WRRDA bill something that's authorized every two years, because things change quickly in the world of business," he said. "For us to have a (WRRDA bill authorized every two years) I think benefits the Florida ports in particular."