Meet the 2016 Pinnacle Winners
These 10 women have soared in their personal and professional lives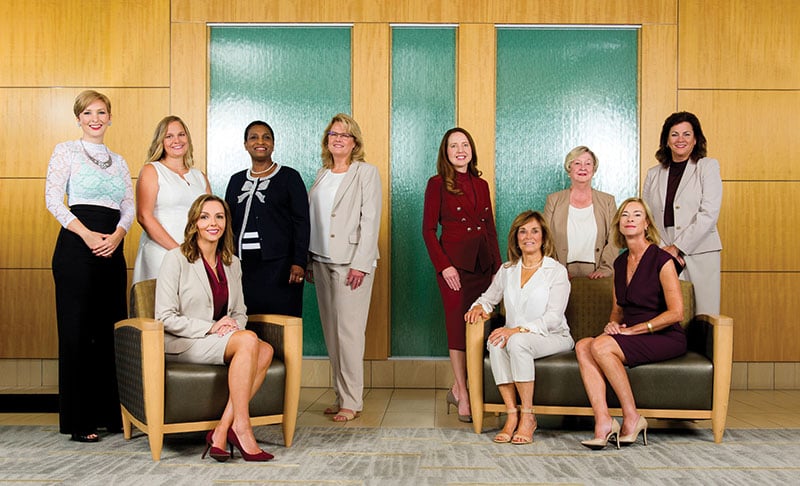 850 Magazine is proud to present the 2016 winners of the Pinnacle Award, an honor designed to shine the spotlight on women in our region who have set high standards for themselves and exceeded them, and who are a moving force in the business world and their communities.
This year, we are pleased to recognize a wide variety of professional women from the 850 region whose talents range from the law to journalism to entrepreneurism. These are the A-listers, with A-plus personalities and drive. Their drive to succeed began at an early age and perseverance has led them to where they are today, making our region a better place for us all.
We asked our readers to nominate women they felt deserved this honor. From the names submitted, please meet the Pinnacle Award winners
for 2016.
Tana Kendrick
It didn't take long for Tana Kendrick to develop her business and technological acumen. She was about 13 when she started tinkering with technology. She worked on the website for Apalachicola High School, where she started digging into the various aspects of technology and website development. There she met her future husband. He was more tech-savvy and she was more creative, a good partnership that would one day develop into a marriage and a business.
"We decided we were the perfect pair for this kind of business," says Kendrick, 29, owner and creative director at 2K Web Group. "Together we were the whole package."
Many of their clients are people they grew up with and around. A good number are customers who Kendrick once served at a local restaurant when she was about 14 years old.
"I looked much older. They didn't ask me how old I was, and I didn't volunteer," she remembers of her first job. "I really enjoyed working, and a lot of the people I met there I know now, and they come into my office and we work on their website. People like the fact they can look at us and talk about their needs."
Clients include county governments, including Washington and Jefferson counties, and local programs and individuals in Franklin County.
The 2K Web Group was formed in 2007. At first, older family members were not so confident in the couple's ability to make a go of the business because of their youth.
"We were told that, being young, it was not the best thing to do, that we should go to work for the state and get a regular paycheck," Kendrick says. "After a couple of years, everyone shut up."
Her advice to young women starting out on a career path is that they do not have to go into debt with student loans to be successful. "If you possess the skills needed and have the desire, you can pave your path and be successful," she says. "Make a plan, and when you run into a wall (and you will) and you can't find a solution, make one."
Kimberly Pickett Shoaf
Working at her grandmother's gas station in Simmons Bayou, just outside of Port St. Joe, taught Kimberly Shoaf a lot of lessons. She ran the cash register, stocked shelves, greeted people and learned how to use an oil dipstick.
"I don't believe I was a shy person," says Shoaf, 32. "I enjoy talking, so I talked to customers as they came into the store and really got to know them. I believe this was where my love for working and dealing with the public came from. I knew I wanted to work in the tourism field and help share the love of the area with others."
And Shoaf is doing just that as president of the Mexico Beach Community Development Council in nearby Bay County. She has been in the job for a little over six years and says there is not a day where she wakes up and dreads going to work. It can be hectic at times, she admits, but she calls it a "good challenge and good chaos. I get to promote a pretty amazing destination." As a native of the area, she says she enjoys sharing tips and local knowledge with visitors.
Growth in the town of about 1,200 residents has been slow, steady and controlled. There are no high-rises, no traffic light and no chain restaurants — but plenty of Southern hospitality. That's just how Shoaf likes it.
"It sounds kind of Mayberry-ish," she says. "But it's a nice place to come and visit."
What advice would she give to a young woman starting her career?
"Don't think that just because a job opportunity is not in the standard mold that you're not worthy of it," she counsels. "Take chances and go after what your heart is telling you to. Your dream career could be right under your nose."
Nicole Barefield
A 34-year veteran of the media industry, Nicole Barefield took the reins as publisher of the Washington County News and the Holmes County Times-Advertiser nearly 10 years ago. Although she still lives in Panama City, she commutes daily and considers her newspaper markets — Chipley and Bonifay — her home.
Starting her career in a male-dominated field, Barefield, 55, had to learn early on how to win support from those she didn't supervise, getting them to follow her lead on projects and initiatives. To do that, she worked to build trust with the more experienced longtime managers and department heads.
Her interest in journalism began early, probably not surprising since her paternal grandparents worked for a newspaper, as did her great-grandfather.
"There was some definite genetic influence. I was always someone who wanted to write, and I was a voracious reader," Barefield recalls. On her senior wish list in high school, she predicted that someday she would become editor of Time magazine. But while she entered the field on the news side, she moved into developing promotions and special products, and that morphed into marketing. She became marketing director at The (Panama City) News Herald.
As have others in her field, Barefield has worked to cope with a changing industry heavily affected by the strides made in technology and changing readership habits.
"It's all about providing the news and information that's relevant to the audience and finding the ways they want to be reached," she says. "You have to be adaptive. If not, we won't be around long."
Barefield's passion for the industry remains strong, leading her to urge young women to seek opportunities for which they have a passion or true interest.
"Whatever you do, do it to the best of your ability," she counsels. "You may fail, you will make mistakes and hopefully you will learn. Regardless, when you do your best, you will develop and be recognized for your expertise and abilities."
Ashley B. Rogers
"Professing" is a word that Ashley Rogers says best describes her personal and professional life.
"It's a word we use in my church to describe a person who expresses a belief in our doctrine and commits to living in a manner consistent with that belief," she explains. "I think 'professing' in a professional sense is similar. To say that I am a lawyer means that I am committed, at all times, to living a life of service to others."
Rogers, 38, an attorney and shareholder with Chesser and Barr in Crestview, learned pretty early who she was and what direction she'd likely take. Being selected as "Good Citizen for the State of Georgia" by the Daughters of the American Revolution as a high school senior "made me think more about civic responsibility. That's really where my desire for the law comes naturally."
As an 18-year-old freshman at the University of Georgia, she worked for a local law firm where she learned how to be a better lawyer, team player and employer.
"I vacuumed the staircase, hauled away the recycling and cleaned the restrooms," she remembers. "But I also learned how to conduct discovery, perform title searches, interview witnesses and assist at trial."
Her petite 5-foot-4-inch frame and Southern accent at first blush surprised some of her early clients. With a laugh, she says, "People don't expect a zealous advocate to come in a package that looks and sounds like me."
Now specializing in business and real estate litigation, Rogers says she was once a wallflower, but her aunt encouraged her to lose her inhibitions and not be so worried about what others may think. Her advice to young women today is to "be you and no one else. Even though I excelled academically, for some reason I felt insecure about my Southern accent and growing up in a rural community. Today, I prize and embrace those characteristics."
Becca Hardin
Recently named one of the top 50 economic developers in the United States, Becca Hardin has been on the ground floor of helping to bring some major projects to the areas where she has worked. But she didn't start out as an economic developer. Her first job was as a television weekend anchor and reporter, covering politics, the Georgia Legislature and crime.
"It was a great learning experience," she now says. "But in a market the size of Columbus (Georgia), you don't make much money." Still, she adds, she learned valuable lessons that included meeting deadlines and building trust and credibility with community leaders.
Hardin, 51, ended up in economic development completely by chance, eventually helping Georgia to bring Kia to the Peach State and getting five suppliers for the auto manufacturer to locate in Columbus.
"I went to Seoul four times, and there were intense negotiations," she recalls. "There was a language and cultural barrier, and it was an anomaly for them to work with a female in a decision-making role. I had to work to earn credibility, but we got the deal together."
Nearly two years ago, she moved south to become president of the Bay County Economic Development Alliance, replacing her friend and mentor, Neal Wade. Hardin spent the first year focused on bringing aviation, logistics, distribution and manufacturing jobs to the county. Now she is focused on "singles and doubles," trying to lure small to medium-size companies that will bring up to 100 jobs to the area. And she wants to make sure the community understands what the Economic Development Alliance does and how it needs to be able to operate in a competitive global marketplace.
"We need to show our return on investment," she says. "We're one of the only types of agencies that can do that. We can show dollar for dollar what it takes to get a business here."
Gayle F. Oberst
A tireless advocate for Bay County, Gayle Oberst earlier this year left her post as mayor of Panama City Beach after a 10-year run. During her time in office — the first woman to serve as mayor — she led her city through historic growth, a major economic downturn, the BP oil spill and its aftermath, and a string of spring break controversies.
When she entered the local political arena in 2000, Panama City Beach had a population of about 4,500, most of them business owners. Residents who wanted a stronger voice in their government approached her to run for the city council.
"All people knew was that I was this woman and I was a retiree, and what did I know about tourism and running a resort town?" Oberst remembers. In all honesty, she admits, she had never thought about politics.
Oberst's first career was at Troy University, where she served in a succession of high administrative posts, including vice president for finance and administration. The best advice she ever received? "You can be anything you want to be … it just takes work." Her work ethic was inspired by her mother and grandmother, both hardworking small-business owners.
Oberst, 72, wanted to go to work when she was about 14 because her older friends were able to work, earning money to buy themselves clothes. When her mother turned down the request, saying she was too young, "I pitched a fit," Oberst recalls. After her mother relented and she did get the weekend job, she quickly regretted it.
"Talk about terrible. I worked 8 to 8 and made $3.72 after taxes," she says. She wanted to quit. "My mother said, 'Oh no, there is no quitting.' She made me work a whole year."
Debbie Calder
Banking wasn't her first choice when Debbie Calder started on her career path.
"I went to school and studied business, but at that time of my life I thought it was pretty boring," she remembers.
Instead, she set her sights on becoming a flight paramedic. That career choice, however, was short-circuited when she was diagnosed with severe motion sickness while riding in the back of an ambulance with patients.
That's when Calder, 56, turned her attention to banking and credit unions. Today she is the executive vice president of Pensacola operations for Navy Federal Credit Union — the largest credit union in the world, with 6 million members and $76 billion in assets. And she is overseeing an expansion of the credit union's presence in Northwest Florida — going from 850 employees in 2007 to 5,100 today, with plans to reach 10,000 by 2020.
"I don't think a lot of people plan on what their careers will be. Hopefully they will find something they love doing," she says now.
Calder's first job was as a Ponderosa Steak House cashier.
"That's when I learned I have the attention span of a gnat, so I volunteered to cook, run orders, make salads," she recalls. "It made my job a lot more interesting." And her advice to other young women starting out is to be willing to do things outside of their comfort zone.
"Do your best in every job, and don't anticipate that you will have barriers," she says. "If you do have barriers, think of them as great opportunities to learn from."
The best advice she ever received came from her dad, a career Army officer she says was her role model as she embarked on her career. When she was a teenager, he said simply: "Make sure your brain is in gear before you engage your mouth."
Rishy Studer
When she was a high school sophomore, Rishy Studer's typing instructor recommended her for a clerical position with a downtown Chicago furniture store, where she also operated a plug-in switchboard and learned how to run a manual freight elevator.
"At the age of 16, I learned the importance of being on time, working hard, accuracy in billing and the value of coffee," she says. "I think I grew up from being a 16-year-old to someone who was work-ready. I also learned the importance of being part of a 'work family' at each job."
Studer came to Pensacola in 1996, when her husband, Quint, became president of Baptist Hospital. And the two have since been inextricably entwined with the growth and increased prosperity in the region. She helped him start The Studer Group, a consulting company for health care organizations, and soon was actively involved in the drive to build a downtown baseball stadium and attract a minor league team to the city.
"We started to do more investments in downtown, and I decided that's where I should spend my time," she says. At the stadium, she ran concessions and a gift shop and learned how to make T-shirts by screen printing them and then selling them for only $5 to help keep stadium outings affordable for families.
Then she turned her sights to a couple of buildings at Palafox and Olive streets that had been hit hard by Hurricane Ivan.
"We didn't feel those two corners should represent what Pensacola should be," explains Studer, 66. "We had to come up with something to do with them."
That was the beginning of Bodacious Olive and a coffee shop, which was recently named the best in town. The Studers are also starting construction of 250 apartments in the downtown area.
Her advice now to young women is: "Believe in yourself. You can do it. And enjoy what you do."
Linda Bond Edwards
The idea of changing careers was no real challenge for Linda Bond Edwards. After working in the corporate world for more than 10 years, she decided to go to law school at age 35.
"I learned that a start is just that, a start," she says. "Where you end up may not be where you start. Another wise woman told me not to get stuck on start."
Today, she is an attorney and partner at the law firm of Rumberger, Kirk and Caldwell. But right out of college, her first job was doing shift work in a Sylvania manufacturing plant that made flash cubes for cameras.
"I saw a job advertised for a production supervisor," Edwards, 59, remembers. "When you don't have a job, that sounds super. I needed a job and I took it."
In less that two years, she was recruited for an associate development program for GTE telecommunications. She took it and traveled throughout the country to spend time with different units and learn about the company. In the early 1990s, however, she decided it was time for some personal development and considered going for an MBA. It was during a meeting when she had an "aha" moment in which she realized an MBA would be incremental, but law school would be a drastic change.
"Going to law school was always in my spirit to do, but I didn't know how it would fit into my life," says Edwards. She was accepted into Florida State University's law school, sold her Connecticut home in four days and then said to herself, "Lord, you're really serious about this."
As an African-American woman, she has experienced discrimination.
"But I decided I can't be bothered by what people think my limitations might be," she says. "It's in your head, but you just push through it."
Her advice to young women today? "Be prayerful. Get to know who you are and do not set limits on where you want to go, but trust God to lead you to your purposeful place."
Saralyn Grass
Becoming a beer maven wasn't really in Saralyn Grass' original career plan. But that she is, as co-founder of Grasslands Brewing Company, which has become a bright light in the development of Gaines Street and the expanding circle of local breweries in Tallahassee.
Grass, 34, simply adhered to the best advice she ever received: You'll always regret what you didn't do rather than what you did.
Her passion has been working to ensure that children's programs are doing what they are meant to do (she has a doctorate of education in education policy and program evaluation), but while she and her husband, Gabe, were pursuing their doctorates at Florida State University, he announced that he would like to start home-brewing beer. Not too long after, he wanted to open a brewery.
"It was his passion, and I helped as much as I could," she says while admitting that starting a small business was more difficult than they had expected. Planning for the brewery began in 2012. In August 2015, Grasslands started producing its own brew.
"It's worked out to be a partnership," she says. "Things are going well, and we will be distributing to restaurants and bars in the Tallahassee area in November. It really has been a dream come true. And it's great to have opportunities to help others. Our passion is trying to improve the community, and it's nice to have this venue to help do that."
Now that the business is taking off, Grass, who is the Help Me Grow FL Statewide Coordinator at the Children's Forum Inc., is turning back to children's issues again and the couple's 16-year-old adopted daughter, who she met through the Guardian Ad Litem program.
Her advice to a young woman starting out in her career today? "I would tell her never to give up on herself and to never get down on herself for making a mistake or changing her mind. If your heart is in the right place and you are doing the best you can, things will always work out."