Mark Folmar Has Been in The Tallahassee Pawn Business Since 1978
A local business that is growing beyond the capital city.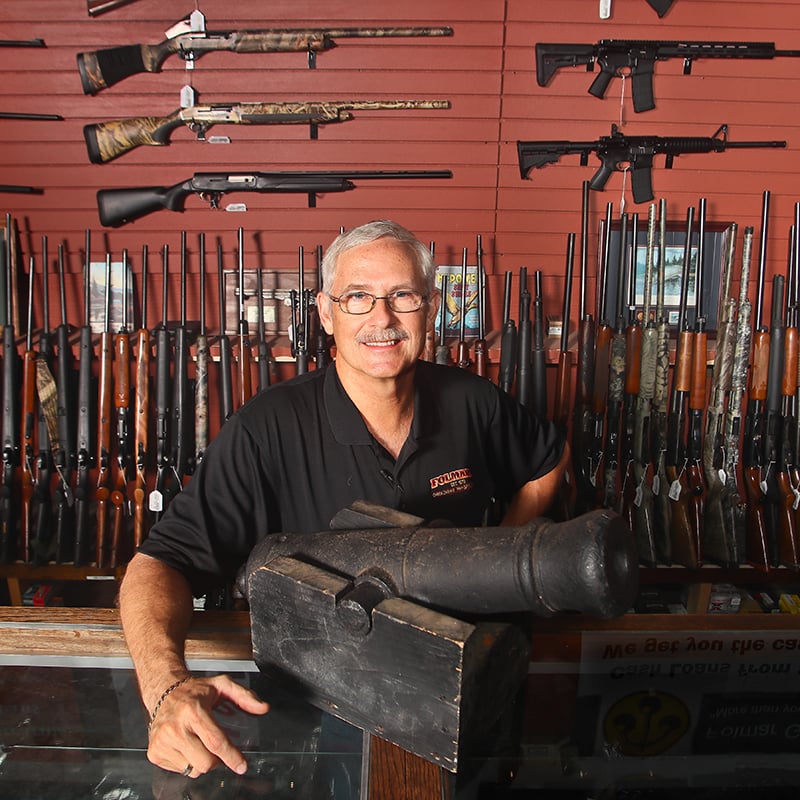 Mark Folmar arrived at the slogan "More Than You Might Expect" when he was shooting a TV commercial 10 years ago.
He had just moved Folmar's Gun and Pawn to its current location on North Monroe Street.
By design, the store was laid out differently than other pawn shops, with separate entrances for pawning and retail, and merchandise sectioned off into "departments" — a gun room, a jewelry room, a display room for musical instruments and electronics.
"We tried to cater a little bit more to women. We wanted people to know that you're safe to shop here," Folmar remembered.
Like other pawnbrokers, Folmar often finds himself refuting the stereotype that pawn shops deal in stolen merchandise, and he wanted the retail area to look like any other sales floor.
With departments, customers who wanted to buy a gun could shop in the gun room, and those who didn't like guns could avoid them.
A customer came up with the line. "I heard somebody say, 'I wasn't expecting this when I came in.' I just threw it out there," Folmar said.
Today, Folmar's Gun and Pawn operates two locations with retail sales of about $2.5 million per year.
A second store, opened in 2017 on Capital Circle Southeast, inspired the slogan: "Twice as Much as You Might Expect." The stores typically carry between 10,000 to 12,000 items, everything barcoded.
About 15 employees work at Folmar's, including several family members.
An interesting business
After graduating from Leon High School, Folmar traveled to Colorado to study gunsmithing, then returned to Tallahassee to open a gun repair shop in 1975.
He didn't like the seasonal nature of the work, which tends to gear up right before the start of hunting season and then drop off.
A roommate, Mike Norman, had opened a pawn shop, and in 1978, Folmar invested some of the money he made gunsmithing to generate a year-round income in pawns.
Pawns are loans with interest that use personal property as collateral, such as gold and jewelry, coins, firearms, electronics, musical instruments, or as Folmar explained, "manufactured goods that retain value."
You'll never see many of these items on display at the store or online at Folmar's website. He estimated that about 70 to 80 percent of the merchandise pawned to him is later redeemed.
Many pawn stores also buy used items for resale, Folmar said. "A lot of people have lost their jobs, or they are unemployed and underemployed.
People have had to make do with less. They say, 'I'd just as soon sell this.' " If jewelry or other metal (such as grandma's flatware) won't fetch a good price, Folmar sells it to a smelter.
Folmar's also cashes $10 million in checks per year — large checks for people who need the money immediately and smaller checks for households without bank accounts.
Folmar is still a gunsmith and handles all the gun repair work at the store.
But now he does more work on jewelry than on guns, he said, a trade in which he is mostly self-educated, apart from time spent observing Lester Moon work at Moon's Jewelers.
"I watched Lester do jewelry repair," he said. "I'd take a ring made of scrap gold and cut it in half, then solder it back together again. I'd practice until I was good enough to do it to your ring."
The store makes money reselling repaired items. "Everything we do, I thought, if I can fix it myself, do it myself, I'll make money," Folmar said.
"In the old days, when TVs had tubes, I'd go to Radio Shack and buy a new tube to fix one. I can repad musical instruments. I bought a flute from Goodwill for $79. It was bent, but I fixed it and now it's worth $400. I spent 45 minutes."
The old rule used to be that pawn economies were local. Not anymore. Folmar's has sold items on eBay "almost as long as eBay has been around" and now also sells on Buya.com.
Folmar remembered the first item he sold online.
"I bought an accordion for $40. It looked to me to be in playable shape, and I remember thinking it would be worth $100. I sold it for $1,200 on eBay to somebody in polka country in the Dakotas."
Unlike pawn shops that sell items "as is," Folmar's offers a seven day money back and 30 day exchange guarantee on everything, with a few exceptions.
Folmar believes that this guarantee helps him build a reputation. Unlike the version of the pawn business presented on Pawn Stars, employees at Folmar's don't negotiate on price.
"This is something it took me a long time to truly understand: There are business practices that are good because they're good. One of them is standing behind the products you sell and giving people value for their money. People will deal with you over and over again," Folmar said.
Folmar believes that every pawn shop in Tallahassee has great buys — not just his store — because the business model of pawning depends on an agreed-upon value.
"If people get used to shopping in pawn shops, they'll find their money will go further, and that they can do more of the things they want to do with their money."