Many Northwest Florida Businesses Are Bringing Pets into the Office
Going to the Dogs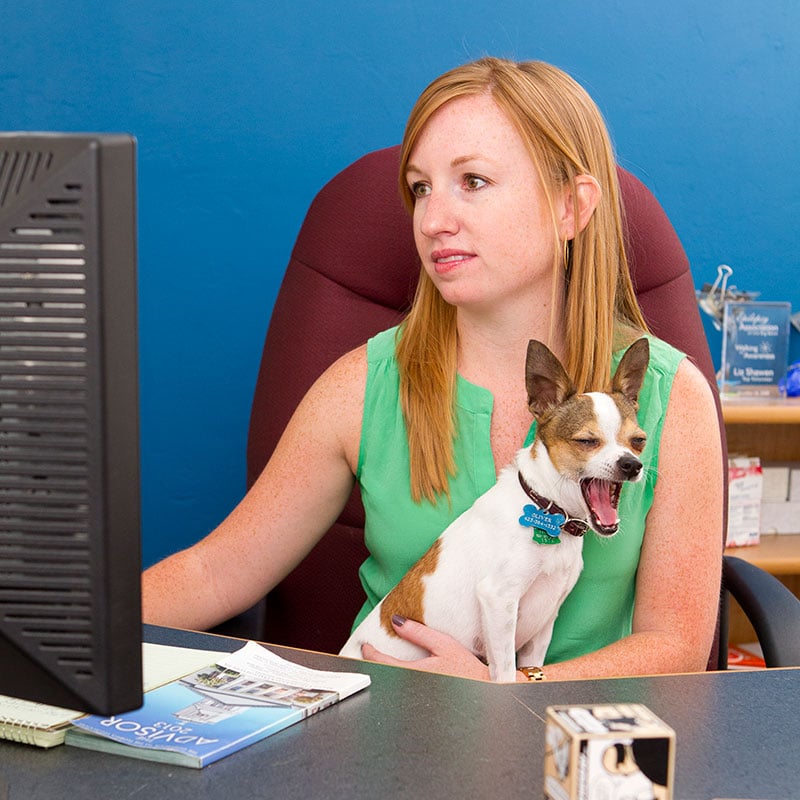 The numbers are in, and there's little argument: When done correctly, a pet-friendly workplace is home to happier employees.
A 2012 study from the Virginia Commonwealth University found that employees who bring their dogs to work produced lower levels of cortisol, a hormone that causes stress. This morale boost increases productivity and can affect workplace culture for the better.
The university's study examined a retail business called Replacements Ltd., which employs approximately 450 people, with 20 or 30 dogs on the company premises each day. During one week in the company setting, participants provided surveys and saliva samples to measure their stress levels throughout the workday.
Although in the morning (based on results from saliva samples) stress levels were all even, "during the course of the workday, self-reported stress declined for employees with their dogs present and increased for non-pet owners and dog owners who did not bring their dogs to work. The team noted that stress significantly rose during the day when owners left their dogs at home compared to days they brought them to work."
In addition to stress relief, dogs can facilitate camaraderie and communication in office settings. This is the case at Moore Communications Group in Tallahassee, where Fridays are not only "casual Friday" and "flex Friday," but also a pet-friendly office day. Two or three dogs come in every week, but the highest in one week was seven. The company's president, Terrie Ard, explained that having dogs in the office was a natural step.
"We understand that dogs are often an extension of the family. For some people, they are the kids. As part of being a family-friendly business we find it important to allow our team members to bring their pets in, and we see that there are benefits widespread throughout the company. It creates conversation, camaraderie, and I know that it reduces stress."
For as long as she can remember, the office has been pet-friendly. It started with an office cat named Moorey, then another named Baxter, and about seven years ago the company opened its doors to dogs. Director Liz Shawen explained that the company's pet-friendly policies allowed her to get a puppy upon moving out to her own place — a decision she is not sure she could have made otherwise. When her puppy was young, Shawen greatly valued being able to bring him in every day. Holding her now-five-pound Chihuahua, Oliver, in her lap, she explained:
"I don't know that I would have gotten Oliver if it hadn't been so easy for me to bring him in because he was only eight weeks old. He was so little. I would bring him in and it would make me feel better; if I had to work a little late with a meeting he was already there with me, and I could just let him out. So it certainly made potty training and socializing and all of those things much easier."
Of course, not everyone in the office is a dog lover, and with dogs come certain hesitations. Skeptics will point to hygiene concerns and liabilities. But Moore Vice President Jim Hunt pointed out that, on both ends, it's all about being responsible.
"Everyone's been very respectful — both of people that bring their dogs and respectful of other employees who might not be that enamored with dogs," he said. Everyone makes sure to take the dogs out regularly, which prevents accidents inside, and in the case of bigger dogs — like his large (albeit incredibly docile) mixed-breed pooch Maddie, it's all about being conscientious; whenever she is outside his office, Maddie is on a leash to make sure anyone skittish around larger dogs is comfortable. Mindfulness of both the dog and the goings-on at work are crucial.
"If the dog's anxious or something's going on, you're not going to bring them to work. If I knew there was something big going on at the office — an event or a group of people — I'm not going to complicate the issue whether it's dog day or not. Bottom line, it's a place of business, and you want everyone to be comfortable," he explained.
Along the Emerald Coast, many businesses are pet-friendly, including Davis Properties of Northwest Florida in Santa Rosa Beach. In addition to allowing employees to bring in their pets, owner and broker Larry Davis explained that the company has also tried to "become the pit stop along the bike path at 30A" for dogs and their owners; they've even installed a dog-friendly water fountain to refresh both owner and pet on those hot summer days.
Davis said the pet-friendly policy was well-received at the office, where about three employees now bring their pets. He emphasized that the policy's success is largely assisted by how well behaved the dogs are. But in that area, pet-friendly is no new concept.
"[The businesses] are all pet-friendly here," he said. "The area's all pretty laid back — it's a reflection of that."
As for the dogs, Davis added that of course they "absolutely love it," and have a great effect on customer relations. Just as they relieve stress for employees, the dogs at Davis Properties put customers at ease from the beginning.
"It's disarming," said Davis. "It makes them feel comfortable."
Crystal Roberts, owner of Endzone Apparel in Destin, sees a similar effect on customers in the store when they meet Layla, her four-year-old Great Pyrenees mix.
"It just makes people happy to come in," she said, adding that Layla is a great ice-breaker with customers, allowing her to talk to them in a way that feels natural. "It doesn't feel like I am being pushy."
Like many dog owners, Roberts found that it is much easier to work longer hours with her dog at work; owners worry about dogs left alone at home — both their loneliness and the possibility of accidents inside should they stay late at work. With Layla at work, however, Roberts says she does not feel rushed to get home, allowing her to stay open a little later when the need arises.
"It's all attention for her, and she loves it," explained Roberts. "Dogs are happy when they make people happy."
Although Layla is no small pup, Roberts noted that customers do not find her frightening. While she suggested it might be because of her dog's "puppy face," she believes it is more likely thanks to Layla's good behavior. The 110-pound bear of a dog is great with children. On the rare occasion things get hectic or uncomfortable, she goes straight to her bed when sent.
"You can't just bring any dog into a retail store," Roberts pointed out. Good behavior and a laid back attitude are key traits for a dog at any workplace — office or retail.
At Party, Party, Party Event Rentals in Tallahassee, the canine mascot Lady Bear is the paragon of both these traits. At 12 years old, the medium-sized black mixed breed is very mellow. In addition to her daily job boosting morale at the company's headquarters, Lady Bear also comes along on all the deliveries — boarding the truck with her own custom ramp.
Owner Kelly Roberts found that Lady Bear provides invaluable help on-site at event deliveries, doing what dogs do best: putting people at ease. "When we're on sites and they see her with us … she's a stress reliever," she explained. She added that in addition to relieving customers' stress, Lady Bear also keeps morale high at headquarters by relieving employee stress.
Rescued from an abusive situation, Lady Bear was not a fan of being left alone at home while the family went to work, and so her position at the warehouse was a natural once the family determined she was calm enough to come along.
"She's so well behaved; she's not too mischievous," Roberts explained. The main objective was to make sure the place was ready for a dog. Normal precautions had to be made, similar to those for small children — making sure there was nothing loose or dangerous for her to get into. Now, Lady Bear even has her own doggie tent at the warehouse, so when she isn't greeting customers at the door everyone knows just where to find her. Wherever she is, everyone at Party, Party, Party Rentals agrees that having a dog at work makes a huge difference.
"We're family-run, so it just adds another kind of family member," Roberts explained. "It makes it like a little family here at the warehouse. A home."
Lisa Peters, who owns Destin Jewelers, says the store has had a pet-friendly policy since she first got involved 16 years ago. The former owner's dog, Budrow, became fast friends with Peters' dog, a chocolate lab named Bailey. Having pets in the jewelry store, Peters pointed out, can help dispel any discomfort customers feel when entering a jewelry store for fear of an overly formal environment.
"We just really try to show people something fun and beautiful every time they come in, and I think pets help to lighten up the atmosphere," she explained.
More recently, the store has become host to cats. Since Budrow's departure and Bailey's passing, Destin Jewelers has become frequent host to Peters' ragdoll cats, Louis and Lola.
"They're very social," said Peters. "They almost act like a dog instead of a cat. When they're not here, people ask, 'Where are the cats?' They look forward to seeing them."
Like each office pet owner we spoke to, Peters finds that the cats offer a great morale boost, relaxing customers and employees alike. Something about having furry friends around really does put people at ease — and makes for a better connection with customers.
"It gives us something to talk about," Peters explained. "People are more at ease, and they're more able to ask questions."