Making the Case
Promoter believes Tallahassee has 'secret sauce'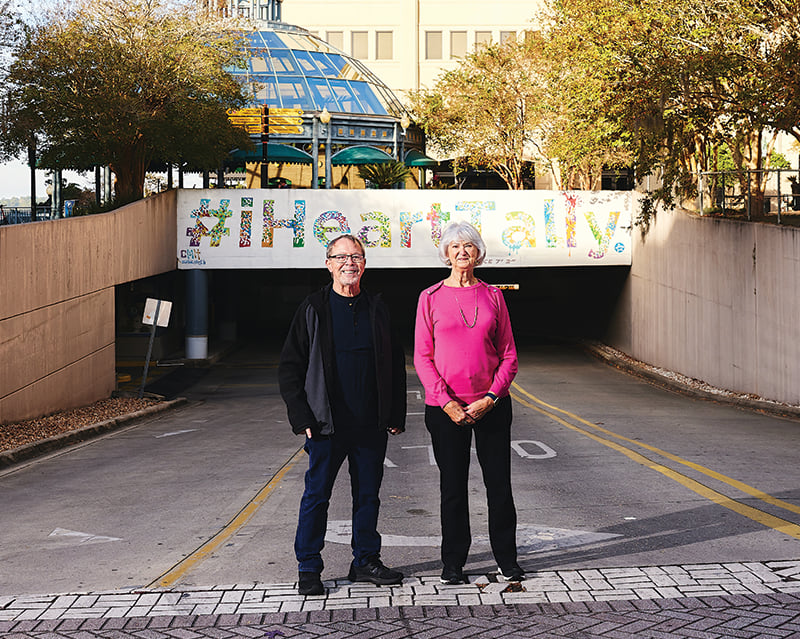 The notion that retirees are of only modest value to a local economy and thus not worth targeting with recruitment efforts is demonstrably false, according to the executive director of Choose Tallahassee.
"Among people starting new businesses, retirees are one of the largest groups," said Gregg Patterson. "They buy homes, shop at our stores, go to restaurants and volunteer at nonprofits. They use our health care facilities. They are a big part of our economy, and we welcome them."
And in Tallahassee and Leon County, the number of people who are 55 years old or older is growing as a percentage of the overall population.
Choose Tallahassee is at least partly responsible for that trend.
The organization, Patterson said, was started in 2011 by a group of volunteers after Capital Health Plan in Tallahassee was named the No. 1 Medicare Health Maintenance Organization in the country. That distinction, coupled with the city's other assets, justified a promotional effort that would bring Tallahassee to the attention of the 55-plus community, the volunteers concluded.
"In 2017, Choose Tallahassee decided to put its foot on the gas and hired me through my business as executive director," said Patterson, who owns IMS Business, a provider of accounting and back-office services.
Patterson launched a fundraising effort that promptly generated $100,000, increasing Choose Tallahassee's cash on hand by more than a hundredfold. The organization hired a marketing firm. It started to figure in media reports. The New York Times did a story on Choose Tallahassee. So, too, did magazines totaling 56 million readers.
In 2020, Virginia Glass, a retired Realtor and venerated community servant, agreed to become board chairman.
"I was told it would take about two hours a month, and right after I decided to do it, they decided to become a 501(c)(3) and take on all that goes with that," Glass said. "It really was a lot of work, but it was fulfilling work and the progress we saw as a result of becoming a nonprofit was just phenomenal."
Both Patterson and Glass said the hiring of Blaze Digital Services has had much to do with Choose Tallahassee's recent success. The company, hired in 2020, redesigned the nonprofit's website, which now features Live, Work, Play and Learn tabs.
"Mostly, people find us via Google searches," Glass said. "I have always been enthusiastic about Choose Tallahassee because when I was in real estate and dealing with buyers from out of town, I always had to sell Tallahassee before I could sell a house. The website is an extremely helpful vehicle in terms of introducing people to our city."
To measure success, Choose Tallahassee for years looked at the number of driver's licenses issued and at voter registrations.
"Now we have everything in a funnel," Patterson said. "When someone downloads a relocation guide, we capture them as a lead and send them a series of emails." Eventually, "leads" receive a survey with but a single question: Did you move here?
In 2022, 32 survey recipients had responded "Yes" as of Nov. 1.
Choose Tallahassee's success has not gone unnoticed. Spurred by entities including Florida State University and Tallahassee Memorial HealthCare, the organization has expanded its focus.
"Leaders in Tallahassee and Leon County came to us and encouraged us to appeal to young professionals, entrepreneurs and students," Patterson said.
So it is that the website now provides links to four relocation guides targeting different population segments: retirees, young professionals, working professionals and entrepreneurs/business owners.
Glass likes to tell a story about Steve Haynes, who moved to town to accept a job at TMH as its vice president/chief human resources officer. He and his wife, Rindi, ultimately moved from North Carolina to Tallahassee for a host of good reasons. Choose Tallahassee was a factor in their decision in that it helped Rindi Haynes become familiar with Florida's capital city.
"She went to our website and discovered everything that is happening in Tallahassee," Glass said.
Recalled Rindi Haynes, "When we knew relocation to Tallahassee might be a possibility, I spent a lot of time online attempting to learn as much as I could about the area. The Choose Tallahassee website was the best way to get to know the community and all it has to offer. The website covered everything a newcomer would want to know and showcased many of the features that make the community a great place to live."
A key to success for any nonprofit is an active and committed board of directors. In that regard, Patterson said, Choose Tallahassee is in good shape. Some board members have been with the organization since its inception. They include what Patterson calls "Tallahassee royalty" — former legislator and retired Tallahassee Community College administrator Marjorie Turnbull, Glass, and Ken Boutwell of Capital Health Plan.
Patterson is proud that Choose Tallahassee creates the impacts that it does on an annual budget of $150,000.
Here are key takeaways from its October 2022 report:
Monthly leads generated: 190. Year to date: 2,060.

Lead source breakdown: Google, 134; organic: 56.

Google Ads cost per lead: $7.98 across all campaigns.

Three more households completed the one-question survey in October, bringing the number of households Choose Tallahassee influenced to relocate here in 2022 to 32.

Spending of $100 on Instagram yielded 464 profile visits, resulting in 140 new followers and 89 visits to the website.

Website traffic was up from the same time period last year by 15.18%.
Leads generation through the first three quarters of 2022 was up 140.97% from all of 2021: 1,870 leads from 776.
"What is there not to like about Tallahassee?" Patterson asked rhetorically. "There are just a lot of positive things, and we are working on telling that story to the world. I really believe we have the secret sauce. I'm an outdoors guy — we have 700 miles of trails plus other recreational opportunities. And we have arts and culture and Olli courses and other lifelong learning options. If we can make sure that growth doesn't overwhelm our infrastructure, and we can create jobs for disadvantaged populations, we can become a place unlike anywhere else."
Patterson is flattered that some have suggested that Choose Tallahassee should evolve to become a regional Choose North Florida.
"First things first," Patterson said. "We need to focus on what we are doing now."
---
Choose Tallahassee 2023 Marketing Goals
At this writing, Choose Tallahassee's marketing plan for 2023 was in draft form. In any event, it is sure to be ambitious. Proposed goals included:
Management of digital marketing efforts, with a goal of driving traffic to the website. Estimated 2023 website traffic: 87,000+

Management of Google Ads campaigns, with a primary goal of generating leads. Estimated 2023 leads generated: 2,500+

To increase organic website traffic: monthly blog posts around targeted keywords, editing and scheduling of contributor posts from board members and community members, webpage audits and content refreshes as needed. Estimated 2023 organic website traffic: 50,000+

Creation of organic social media graphics and copy, posting and engagement with followers on Facebook and Instagram. 4 posts per week. 150 new Facebook followers a month (~35% increase). 1,200 Instagram followers by Dec. 30, 2023 (~85% increase).

Management and reporting on the email marketing lead funnels (capturing retirees, young professionals, working professionals, incoming college students and entrepreneurs); the welcome email automation series; and quarterly e-blasts. 1 e-newsletter per quarter. Open rate >15%. Click rate 5% or better.
Website updates and regular maintenance of the Choose Tallahassee website.
---
---