Local firms provide artwork for hotels across the globe
Two homegrown companies make the world a more artful place.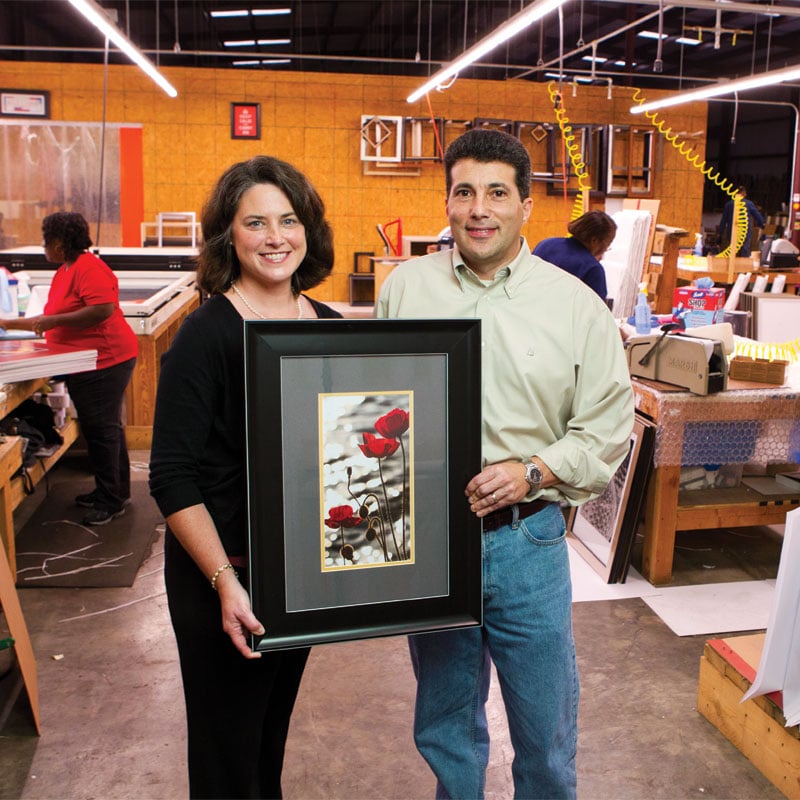 Step into the lobby of almost any major chain hotel and you're likely to encounter an appreciable degree of ambiance and refinement, conveyed in no small part by the wall décor. Hoteliers, in fact, seek to enhance your visiting experience by accenting lobbies, hallways and rooms with a variety of artwork, mirrors and photography that set a tone or establish a motif. Nor is the trend limited to the hospitality industry; many corporate, healthcare and government facilities likewise employ wall décor to one degree or other to enrich and make their environments more pleasant.
Two Northwest Florida companies that cater to the wall décor niche market are Kaleidoscope Limited and P.S. Art, in Gadsden and Jefferson counties, respectively. The two companies, amicable competitors whose histories are intertwined, are manufacturers of framed art pieces and custom-built mirrors. Their services, however, extend beyond mere manufacturing to encompass design and frame consulting, and in the case of Kaleidoscope, actual installation of the finished pieces.
Together, the two multimillion dollar companies employ 61 workers and ship their products nationally and internationally. Indeed, the list of their clients includes such well-known hotel brands as Hilton, Sheraton, Embassy Suites and Holiday Inn, as well as many corporate offices, major hospitals and U.S. air bases, the latter in countries like Spain, Portugal, Japan and South Korea. The one major difference between the two enterprises is that where P.S. Art focuses almost exclusively on the hospitality industry, Kaleidoscope also serves the commercial, healthcare and government sectors.
How it works: Kaleidoscope and P.S. Art partner with nationwide intermediaries — namely design firms and distributors — which in turn deal directly with the hotels, hospitals and other end customers, soliciting the business and finalizing the job orders. The two companies then help develop products that best meet the customers' requirements and pocketbooks. Ultimately, they produce and ship the orders.
"We're basically an assembly plant," says David Woodyard, owner/president of P.S. Art. "The frames, prints, substrates and glass come in, and we provide the labor to assemble all these components into the desired finished product. That entails matting the art, putting frames around it, boxing it, preparing it for shipment and shipping it."
Woodyard is feeling particularly buoyant this day, having just landed an order for 575 framed art pieces for a Hard Rock Hotel in Cancun, Mexico.
"This is something I've worked on about six months with my distributor in North Carolina," he happily relates.
Stuart Rubenstein, who with wife, Carrie, owns and operates Kaleidoscope (she is president and he vice president), offers that theirs is likewise a high-volume operation, if with a personal touch.
"The way I like to describe it is that we combine the quality of the local framer with the capacity and capability to do really big projects," Rubenstein says. "All our stuff is done by hand, just as if you took your mat or frame to a local framer. We use the same techniques. We're just set up to do large volumes."
"The way I like to describe it is that we combine the quality of the local framer with the capacity and capability to do really big projects," Rubenstein says. "All our stuff is done by hand, just as if you took your mat or frame to a local framer. We use the same techniques. We're just set up to do large volumes."
Both companies' websites display extensive collections of readily available artwork and frames, as well as providing links to publishers' websites with even more selections. It's safe to say that the choices are almost limitless, allowing for every conceivable design, pattern and style — from contemporary to classical to abstract to representational — and featuring every subject imaginable, be it animate or inanimate, fanciful or realistic.
Kaleidoscope additionally works with a group of select artists and photographers who can turn out custom projects on demand.
"If you have to have photos of St. Marks, for example, we can get one of our photographers to shoot the lighthouse, shoot the bay — whatever you want," Rubenstein says.
Tour the two operations' expansive facilities — Kaleidoscope's in Midway is 22,500 square feet and P.S. Art's in Monticello is 48,000 square feet — and you find clean, orderly and well-organized work environments, with nicely furnished and art-decorated offices (naturally), large production and shipping areas, and state-of-the-art equipment.
The very facilities are testament to the two companies' tremendous growth in relatively recent years. When Woodyard (formerly manager of a manufacturing division in the Wrangler Blue Jeans Corporation) purchased P.S. Art in 1990, the operation was housed in a former bottling factory in Monticello and numbered three employees, counting Woodyard. Today, P.S. Art numbers 43 employees, and its physical plant has undergone four expansions since moving to the industrial park in 1992. The company, incidentally, was started in 1986 by the daughter of the couple who founded Kaleidoscope in 1980.
As for Kaleidoscope, which the Rubensteins purchased in 2005, it was housed almost since its inception in a small, metal building in the tiny rural community of Lamont in Jefferson County. In 2010, the Rubensteins moved the operation to a modern facility in Midway, prompted in large part by the need for additional space. Kaleidoscope currently employs 18 people and looks to hire more in the near future.
Interestingly, the Rubensteins, both of whom previously worked for AT&T in London, purchased Kaleidoscope as an act of self determination.
"When you work for a big corporation, you see a lot of downsizing and changes," Rubenstein says. "We decided we'd rather control our destiny. So when this opportunity came up, we said let's take the chance and leave the safety of the corporate world."
Rubenstein laughs in appreciation of the statement's irony, given the economic uncertainty of recent times. He admits the last several years have been "challenging" — a sentiment Woodyard shares.
"The recession hit us later than most," Woodyard says. "Most people would say it started in 2007, but 2008 was a banner year for us. The difficult years were 2009 and 2010."
P.S. Art's figures graphically depict the story. From peak sales of 162,000 pieces of art and mirrors in 2008, production plummeted to 85,000 by 2010 as hotel room occupancy rates faltered and construction of new facilities practically ceased in the grip of the recession. Recovery, however, appears to be on the horizon for both companies.
"It's a low trajectory, but we're coming out of the recession," Woodyard says. "My customers are telling me the same thing. They see growth, but it's slow."
Rubenstein agrees.
"We're actually seeing some strong growth this year," he says. "It could be up to 30 percent over last year. I think the silver lining, if there is one to this recession, is that at some point there will be a flood of new work when things eventually get closer to normal, because many people who have held off renovating will say, 'Okay, we've got to do it now.' "
As in every other field, computerization and automation have greatly enhanced the two companies' capabilities, concurrently raising the level of the job skills required.
"We're not a cookie cutter place anymore," Woodyard says. "When I started, everything we did was the same size and frame; we just changed the pieces of art and that was it; but not anymore."
Granted, the two companies still largely utilize mass-produced artwork, but the quality and presentation of the finished products are now much more sophisticated. The mediums of expression also have become more varied, with such developments as the use of digitally-enhanced canvases that are then wrapped around frames or hardboards to approximate gallery pieces, and the imprinting of artwork directly onto acrylic or aluminum surfaces.
Mirrors also come in a greater variety of sizes, shapes and designs. And photography has come to the forefront, at least where Kaleidoscope is concerned.
"The trend has been toward more photography," Rubenstein says. "When we bought the business it was probably 80 percent posters; now, it's 80 percent photography."
The transformations in the types and quality of products reflect changes in their customers' industries. Woodyard recalls when hoteliers barely provided art or mirrors in their establishments, and what few items they provided tended to be of inferior quality. Then one of the higher-end hotel chains began upgrading its master plan, and the trend spread.
"It's a keeping up with the Joneses' thing," Woodyard says. "And it's been a boon for us, because we got in on the ground floor. It's not your father's Oldsmobile anymore, as they say. And everybody just followed the trend, even the guy in the small economy unit."
Rubenstein offers a similar example from the health care industry.
"Certainly the hospitals and healthcare facilities understand that the physical environment has an impact on how patients perceive the quality of health care," he says. "The type of art you have on the wall doesn't dictate the quality of the facility, but in the patients' minds and perceptions, it has an effect. So when they survey patients and ask, was the place calm, soothing and peaceful? The physical environment influences the scores."
As for the future, Woodyard plans to continue doing what has proven successful.
"I think we do a good job of being a low-cost provider with multiple options," Woodyard says. "Our basic philosophy has been, 'If you want it, we'll do it'. So I think working with these 20 to 25 distributors over the years, they know they can come to me and if it's something special, we'll work on it. That's how we stay in business; if somebody wants it, we'll find a way to do it."
The Rubensteins' game plan is similar, if with a slight variation: they want to broaden their company's appeal.
"Basically, what we do is wall décor," Rubenstein says. "That's the direction we're trying to take the company actually. We've tried to broaden the business model to say, we're not just a framing company. We're almost more like an art consultant company; we do everything, from the initial design all the way to the installation. Yes we have the manufacturing facility, but we do a lot more."
Personalized service, a willingness to customize products and adherence to high standards are Kaleidoscope and P. S. Art's proven framework for success.