Living Local
Policymakers, private sector address housing need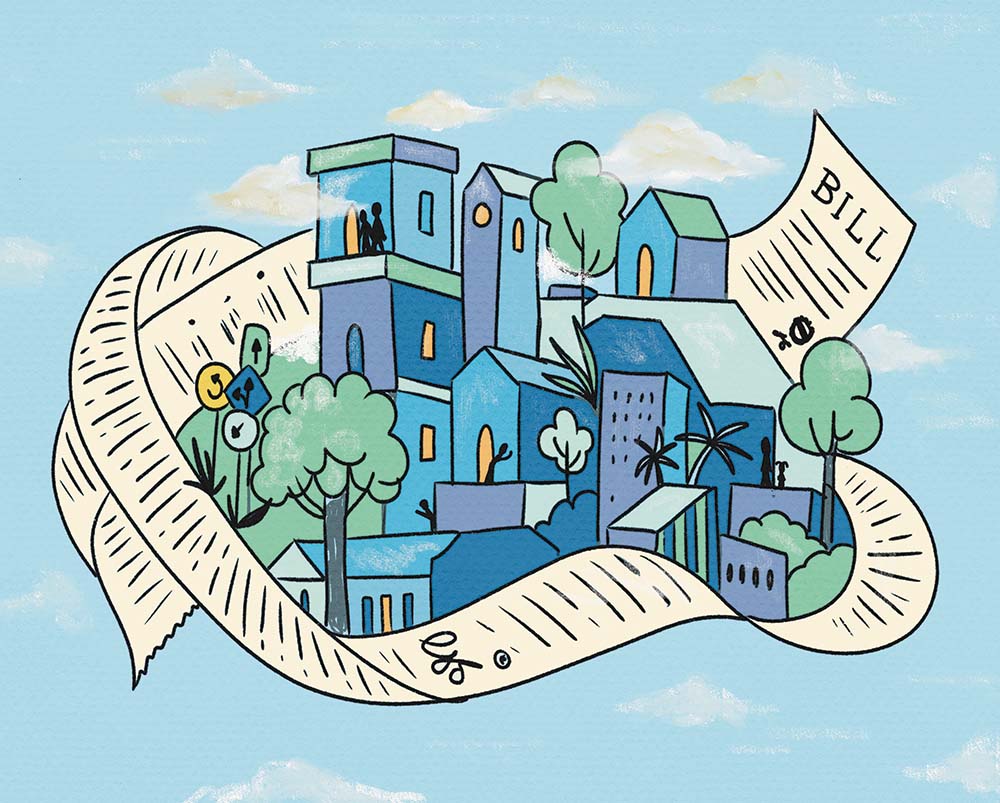 The Florida Legislature has demonstrated near unanimous agreement that affordable housing is an issue that needs state-level attention.
As part of its 2023 session, the Legislature, by votes of 40-0 in the Senate and 103-6 in the House, overwhelmingly approved the Live Local Act, the largest investment in housing opportunities in the state's history. Also often referred to as SB 102, the act is intended to focus Florida's housing strategy on ways to make housing more attainable.
According to the Florida Housing Finance Corp., the Live Local Act, which became effective on July 1, will implement and assist with several programs that will enable creative approaches to the development of multifamily residential housing and single-family homes.
Some provisions of the act represent direct investment of state resources in housing programs. A summary of the legislation prepared by Senate staff lists appropriations including:
$252 million in nonrecurring funds from the Local Government Housing Trust Fund for the State Housing Initiatives Partnership (SHIP) program for the 2023–24 fiscal year.
$109 million in nonrecurring funds from the State Housing Trust Fund for the State Apartment Incentive Loan program for the 2023–24 fiscal year,
$100 million in nonrecurring funds from the General Revenue Fund to implement a competitive loan program to alleviate inflation-related cost increases for multifamily projects approved by the Florida Housing Finance Corp. that have yet to enter the construction phase.
The Live Local Act also addresses conduct by local governments, who have been seen to impose requirements that have limited opportunities for multifamily rental housing. The act preempts under certain circumstances local standards regarding zoning, density and height to allow for multifamily developments.
Some might argue that the act, with that provision, flies in the spirit of Florida's Home Rule Powers Act, adopted in 1973, which establishes that "municipalities shall have governmental, corporate and proprietary powers to enable them to conduct municipal government, perform municipal functions and render municipal services, and may exercise power for municipal purposes except as otherwise provided by law."
But for officials including Uriah Matthews, the economic development director for Walton County and a big proponent of enabling people to live where they work, intervention by the state as a facilitator of workforce housing makes sense. The move, he believes, is a response to highly vocal NIMBYs — not in my backyard opponents of proposed projects — who prevail upon local units of government to block projects demanded by the marketplace and needed by communities.
"Housing is the foundation of our economy," Matthews said. "We need to figure out a way to achieve a kind of homeostasis by aligning housing costs with wage and salary levels. Our quality of life is dramatically at risk when the majority of households are spending more than 30% of their income — and in many cases, most of their income — on housing."
To the extent that costs for housing, transportation, utilities, taxes and health care lay claim to large chunks of household budgets, people are left with limited discretionary income with which to patronize small businesses.
The scarcity, particularly in tourism corridors, of "workforce housing" — the term has supplanted "affordable housing" as a euphemism seen to be more palatable — means that people often travel large distances from home to work.
"That adds traffic to the roads, reduces the time that wage earners can spend with their families and may eliminate the ability to have a second job," Matthews said.
He recalls with fondness working as a manager at a Gulf-front resort, making $36,000 a year and living in a condo within walking distance of his workplace.
Matthews described a recent meeting of the Tri-County Community Partnership Initiative, a project of Okaloosa County's economic development agency that unites public and private entities in efforts to support military installations and their host communities.
"The most critical areas of concern identified by Eglin Air Force Base personnel at the meeting were housing costs and the availability and cost of day care," Matthews observed.
"If housing costs were more reasonable, more people with a passion for children could afford to work in day care," Matthews said. "One of the first jobs my mother had when we moved to Walton County from New York was in a day care center. As a single mother, she supported her two kids with the money she made there and enjoyed free day care as a benefit. Today's realities don't allow most people to work in child care for $18 an hour."
Matthews is optimistic that SB 102 will permit housing developments consistent with a community's greater good to proceed and succeed.
"Efforts by a small number of people to hijack bureaucratic operations, curtail property rights and fight against market forces is potentially going to backfire," he said. "In the case of the Live Local Act, they already did. Now, we don't get to make local decisions. The state will solve the problem for us."
Noting that SB 102 also provides tax exemptions for workforce housing developments, Matthews noted a resulting irony.
"Now, those NIMBYs are going to be paying for services at those developments," he said. "I personally hope that this legislation will serve people at the local level as a lesson in what not to do. Someone's anti-market views should not supersede the best interests of a community as a whole." — Uriah Matthews, the economic development director for Walton County
In Tallahassee, Keith Bowers, the executive director of the Tallahassee-Leon County Office of Economic Vitality (OEV), noted the passage of SB 102 with interest. Housing is a pivotal factor in economic development and recruitment work, he said.
"The availability of housing and our cost of living are selling points for us when we encourage businesses to relocate to Tallahassee and Leon County or expand into our community," Bowers said. " Depending upon the number of people that an employer is thinking about adding to our workforce, they want to understand the availability of housing, whether it's rentals or homeownership."
Bowers said OEV proactively provides prospects with data including the median price of a home in Tallahassee and average rents.
"It's actually something we tout," he said.
Bowers noted, too, that before SB 102 was proposed, officials in Leon County and Tallahassee had moved to provide incentives to developers of workforce housing.
"Both the city and the county made it a priority," he said. "And local leaders had begun rolling out programs that required developers to allocate a certain number of units for workforce housing. The city and county are proactive. They're taking a holistic approach. They're providing funding to repurpose dormant hotels as housing.
"We've been ahead of the curve."
---