James and Josh Hosman, 35 and 34, Pensacola
Co-Founders, CollegeFrog Inc.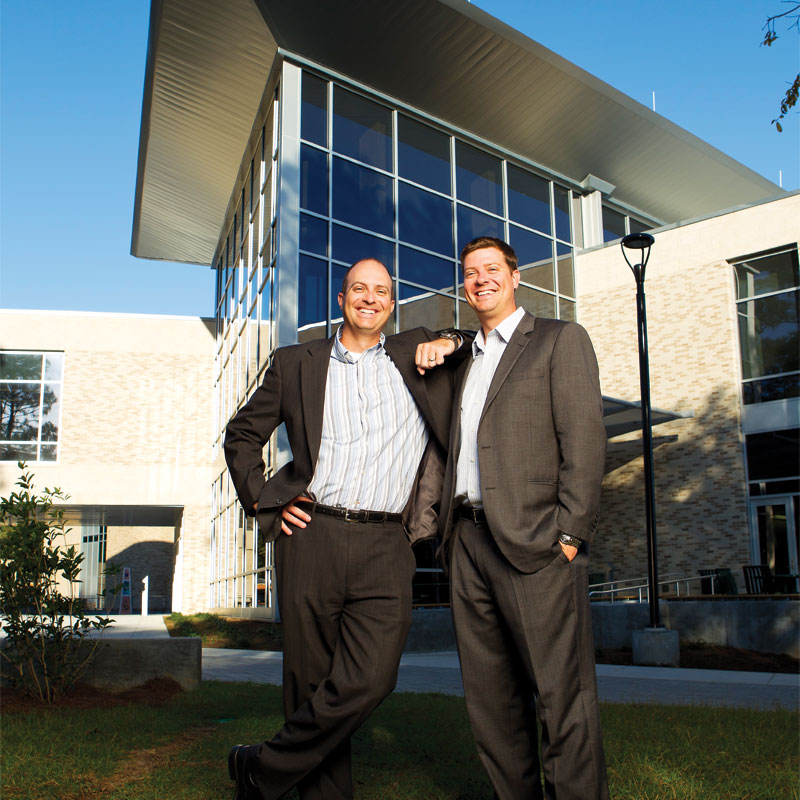 James Hosman
Occupations Vice President, Florida First Capital; Chief Operating Officer, CollegeFrog Inc.
Business Philosophy Continuously push forward and never settle.
Definition of Success The ability to lay your head down on your pillow at night knowing you accomplished what you needed to do and gave 100 percent in doing it.
Mentor/Role Model My brother (John Hosman). We push each other to the next level and constantly challenge each other. I have been blessed to have surrounded myself with a lot of really great friends, and I respect them all as leaders in their businesses and the community and push myself to be as good as they are.
Hardest Lesson Learned The most important thing for any businessperson to remember is to not "oversell" and to "under promise and over deliver."
Important Leadership Skills Surround yourself with great people and be able to work with them in different environments. I am a firm believer that one person cannot lead an organization. It takes a team. There may be one person that coordinates the efforts of that team, but ultimately, without the team, nothing gets accomplished. If there is not a team, is there really a leader?
What advice would you give your 16-year-old self? Don't take life so seriously. Enjoy it and realize that there is a tomorrow.
Inspiration My wife, family and friends. I have been fortunate enough to be surrounded by great people that inspire me daily.
Northwest Florida Business Growth Eliminate any negativity. Success starts with a great attitude, and there is still some negativity in the Panhandle. This is a great place to live and work, and I wish everyone shared that view. It won't be long before everyone does.
John Hosman
Occupations Partner, FS Advisors; Co-Founder/Partner, Sizemore Creek Beverage Company; Partner, CollegeFrog Inc.
Business Philosophy Communicate, set reasonable expectations and deliver!
My Work Entails Everything that is involved in growing and running a business. I like coming up with ideas and strategies that grow the business and then implementing them. This is a never-ending process.
Definition of Success Success to me is not financial — that is a byproduct. Success is doing the right things all the time for the right reasons. Keeping integrity and developing a good work-life balance.
Mentor/Role Model My parents, my brother and my wife. They all make me a better person and have characteristics that I strive to possess myself.
Hardest Lesson Learned Honesty and integrity. I learned shortly after college that everyone makes mistakes, but we all need to fess up to mistakes that we make and repent. If we do things for the right reasons all the time, we will make fewer mistakes. But when you do make one, correct it ASAP!
My Career God showed me opportunities and gave me the ability to add value to those opportunities. When the door came open, I acted and didn't look back.
Important Leadership Skills Passion, honesty and integrity coupled with the ability to set reasonable expectations and then the ability to execute and deliver on those expectations.
What advice would you give your 16-year-old self? Follow the same path, but don't stray so much — you won't meet your wife 'til the end of college.
Northwest Florida Business Growth Create more business opportunities as well as help young entrepreneurs get started. I have a couple ideas on cultivating businesses and opportunities for Northwest Florida, but describing them here would be too long!