Hotel Effie Offers a Golden Group Rate in 2023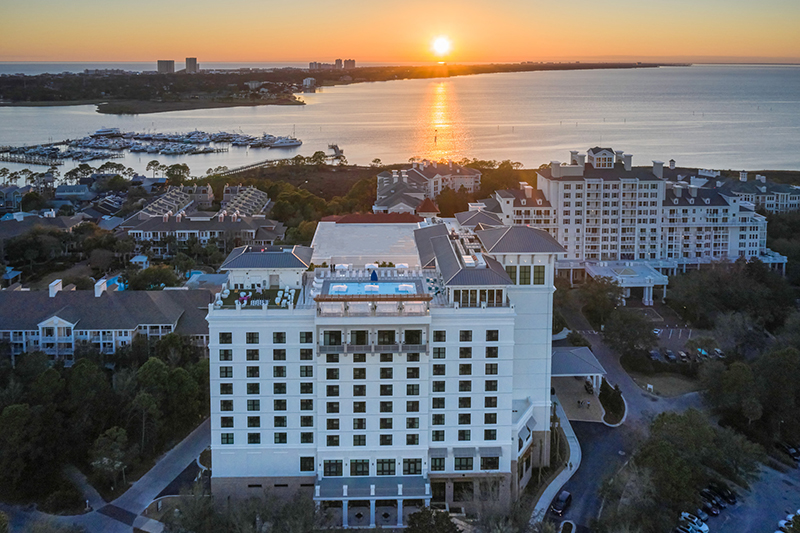 A great way to boost morale at your business is to treat your employees to a group meeting that feels like paradise. In celebrating Sandestin Golf and Beach Resort's 50th anniversary, the property is including Hotel Effie in specialized group rates that extend to the end of 2023.
Any group that books 10 or more rooms for a minimum of two nights is eligible for room rates of up to 50 percent off. The golden anniversary deal also includes 20 percent off audio/visual services, a 15 percent discount on team building activities, a complimentary one-hour beer and wine reception or a beach bonfire with a food and beverage minimum of $10,000.
Hotel Effie, Sandestin's new 250-room luxury hotel, has over 20,000 square feet of dedicated meeting space, with even more room available at the Baytowne Conference Center adjacent to the hotel.
There are three on-site restaurants all curated by two-time James Beard award-winning chef, Hugh Acheson. Ovide, the upscale dining option, just launched a new seasonal menu that goes back to Chef Acheson favorites that catapulted him to celebrity chef status. Matthew Krueger, Ovide's Executive Chef, executes these beautiful offerings and can customize experiences to meet your group's needs.
For evening gatherings, head to the rooftop to sip cocktails at Ara and experience the Emerald Coast's only hotel rooftop pool and lounge. Pamper your employees at the luxurious Spa Lilliana with its full array of spa services.
Hotel Effie's sales team partners with Sandestin Golf and Beach Resort®, which provides full resort and property access. For team building, play golf at one of four golf courses; organize tennis matches; engage in water sports at the private marina; or schedule an outing to enjoy dining and shopping at Baytowne Wharf.
On-site transportation operates throughout the entire Sandestin® property and carries guests to the Sandestin beach as well as Hotel Effie's reserved beach area.
Laurie Frank, the executive director of resort sales, facilitates group sales for Hotel Effie and Sandestin Golf and Beach Resort® and finds that 40 percent of the groups each year are legacy groups that have visited the property yearly for the past 30 years.
The addition of Hotel Effie in 2021 has expanded the offerings available at Sandestin®, providing new lodging and venues to consider for group meetings.
"The culture of our resorts accounts for that 40 percent figure," Frank said. "When a company approaches group sales for a proposal, we see this as a partnership with the goal to provide a successful meeting complete with exceptional service, Southern hospitality and an experience they will want to repeat again and again." To receive the Golden Anniversary group special rate, call (855) 660-0934 by June 30, 2023.
---
Hotel Effie Sandestin
1 Grand Sandestin Blvd., Miramar Beach | (850) 351-304 | HotelEffie.com
---