Health Care in Jackson County
Renovation and expansion brings quality care to Jackson County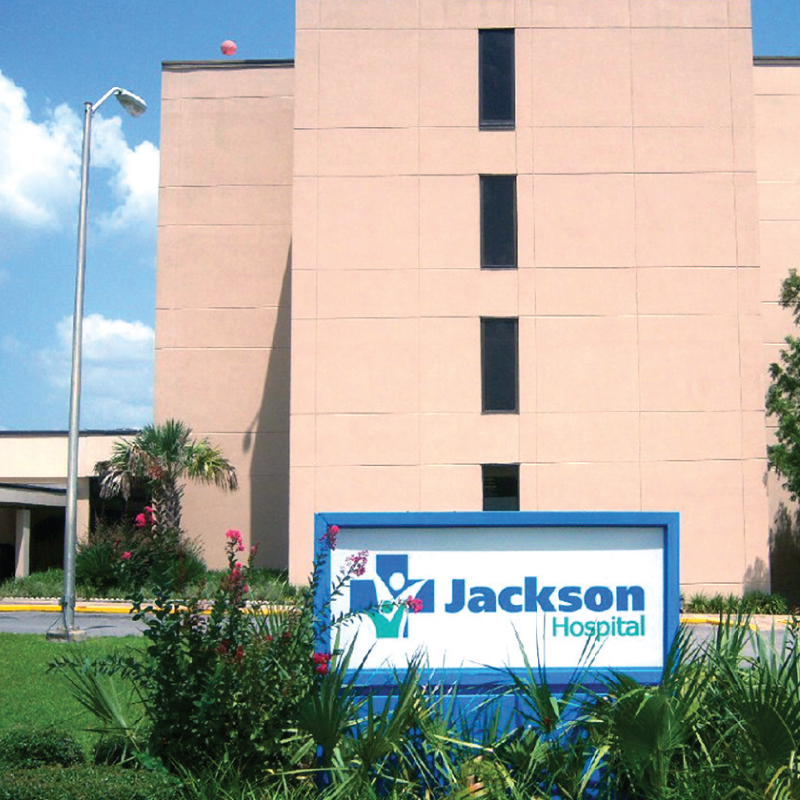 Jackson County healthcare professionals have a favorite new buzzword: expansion.
Between recruiting specialized physicians, purchasing the latest in innovative medical technology and completing multi-million dollar construction projects at local facilities, it's easy to see why the term has gained so much relevance.
At the frontlines of this expansive operation is Marianna's Jackson Hospital, a recently renovated, 100-bed community-based healthcare system that fills a variety of medical needs (everything from family practice to cancer treatment) for Jackson County residents.
But things at the county's leading hospital haven't always been so. A decade ago, plagued by inadequate facilities and limited resources, the hospital's administrators and visionaries set out with a particular goal in mind, one that, they hoped, would improve the lives of their patients.
The mission was simple: Achieve convenience without sacrificing quality by updating existing facilities and enticing new, talented doctors to join their ranks. Now, in 2013, according to the hospital's CEO Larry Meese, that mission is complete.
"We just completed an $8.5 million dollar renovation project in 2012 that included eight new emergency rooms housed in a 3,400 square-foot addition, which has enabled us to see more patients," said Meese. "We're seeing 14 percent more patients than last year in the same amount of time, and we're doing it with a much better attitude."
For Robbin Catt, RN, chief nursing officer, Meese's statistics are evidence enough of the hospital's successful transformation into a major player for healthcare services.
Best of all, it's good for the patients.
"The patients are seen in the emergency room much quicker," said Catts. "Our average length of stay in the emergency room is two hours from the time you walk in the door to the time that you're discharged. You're not spending time in the waiting room, you're actually in the back, being treated and receiving the care that you need."
With the newer facility at full functioning capacity, employees and patients are happier. From an administrative standpoint, that sort of outright, public confidence in the hospital's ability will ultimately translate into increased profitability.
Profit, said CEO Meese, which will benefit the whole community.
"By improving our service and quality more patients are choosing to stay in the county for their healthcare needs," said Meese. "Just like any other service industry, when people stay local then that's where the dollars are being spent, and that's better for the local economy."
While the potential for increased profit was a motivating factor in the hospital's recent improvements, it wasn't the only driving force behind the decision to renovate.
"I think we're motivated by our mission of providing exceptional health care to every patient, every day," said Meese. "When you pay attention to that, you know you need to expand and make improvements so that you can meet that mission."
Jackson Hospital isn't the only facility in town evolving to fit the growing needs of local residents. Jimmy Rigsby, the CEO of Campbellton-Graceville Hospital, has also seen expansion in recent years, namely in the realm of an up-and-coming healthcare phenomenon involving "swing beds."
Facilities that offer swing beds, or beds that can be used for acute impatient hospitalization or "swing" to skilled nursing facility beds, are classified as part of The Critical Access Hospital Program, an addendum created by the 1997 federal Balanced Budget Act as a safety net for Medicare.
"Eighty-five percent of our business at this hospital is Medicare patients," said Rigsby. "Medicare and the other insurance agencies say that a patient has three days in an acute setting of a hospital. If from there we realize that the patient needs some kind of therapy, Medicare will pay for the person to be in the hospital while they're receiving treatment. For us, it's helped build up the number of patients we've been able to receive."
Times are changing in the world of health care. For Jackson Hospital, recent renovations brought more than high ceilings and fresh floral arrangements. A new MRI suite was constructed, giving locals with ailments ranging from knee injuries to brain tumors the chance to be diagnosed and treated close to home. A number of new services, such as cancer screenings, reverse shoulder surgery and drug and alcohol medical stabilization, were also added to the hospital's repertoire.
In recent years, the hospital has also grown its medical staff to include new physicians in Cardiology, Hematology and Medical Oncology, OB/GYN, Orthopedics and Sports Medicine, Primary Care, General Surgery, Urology and Pediatrics.
What that means for the people of Jackson County is simple — finally, you can receive the quality of care you deserve without traveling outside of your comfort zone. While the effects of such a claim are substantial on paper, they're making even more of an impact on the lives of patients countywide.
For example, those suffering from osteoarthritis can opt to have an elective surgery, such as a knee or hip replacement, close to home, while still receiving the quality care they'd expect to find in a major metropolitan area. Chicken pox can be treated just as efficiently as a blood disorder, such as anemia or even leukemia, and both men and women can receive the full spectrum of preventive services.
Dr. Jon Ward, a board-certified dermatologist and the founder of Gulf Coast Dermatology, was among the numbers of specialized physicians who contributed to Jackson's recent surge in healthcare professionals.
According to Ward, setting up shop in Marianna was simply a business opportunity that he and his partners could not pass up.
"Marianna is located far enough away from our Dothan, Tallahassee and Panama City offices, so this office is very convenient for people who live within 20–30 miles," said Ward. "For us, the geography, the established and well-respected medical community and the number of insured in Jackson County all made it an attractive place to locate."
It's an attraction that's given Jackson residents access to the latest and greatest in dermatological treatment and services.
"We provide comprehensive care to patients of all ages, treating all diseases of the skin and all skin types," said Ward. "We offer most modalities of treatment so the patient is able to access the care that is right for them. In Marianna one of those treatments is Mohs Micrographic Surgery … Mohs allows us to remove the cancer layer by layer, examining each under the microscope until all of the margins are clear."
The hospital has gained supporters from outside its walls as well. One of the expansion efforts' biggest advocates has been William Long, director of the Jackson County Health Department.
For Long, the hospital's course of action was exactly the kind of hands-on, beneficial approach Jackson County's healthcare industry needed.
"The hospital has done a superb job in my opinion attracting new physicians, some 10 or 12, over the last few years," said Long. "They've expanded outpatient services with the addition of an MRI and radiology offerings. They've brought in physical therapy and are doing a lot of work in cancer care that until the last three or four years simply was not available on the local level."
An increase in accessibility not just to health care, but to quality health care, means that Jackson residents can stay local, a convenience that Long said cannot be stressed enough.
"In addition to the economic impact the hospital has on this community, it has also made it much more convenient for local folk who no longer have to travel outside of Marianna to have their healthcare needs met," said Long. "That's huge."