Growing the Local Economy
Means, methods and results vary as counties throughout the 850 region work to bring in new business — and jobs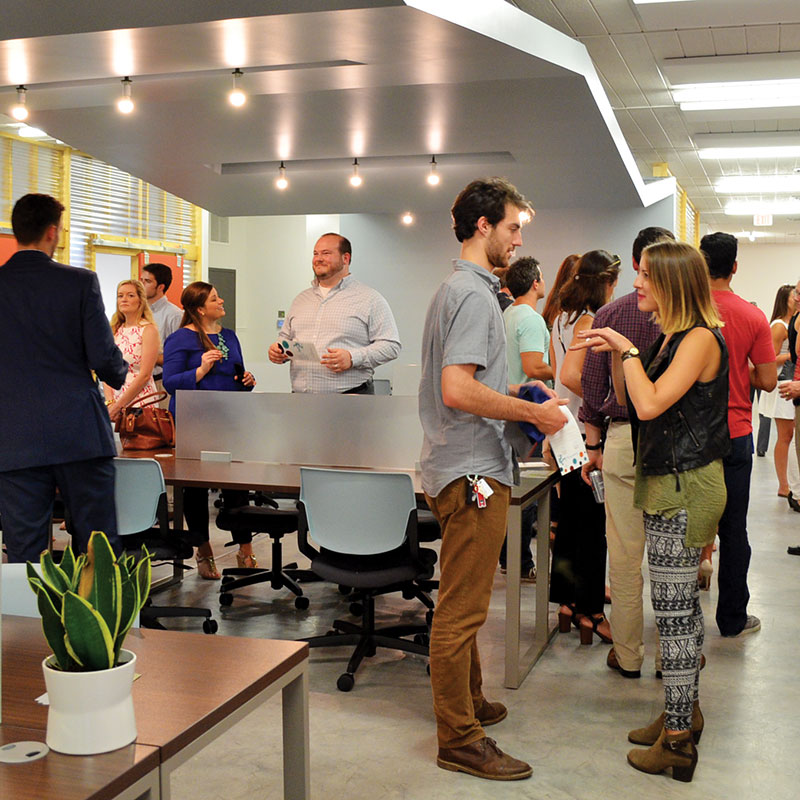 When public officials and private interests talk about bringing economic development to an area, natural questions follow. How will you do it? How long will it take? How much is it going to cost? How many jobs will come — and at what kind of salary?
But there is no exact science to economic development. A lot depends on the economy, but also on the county and the agency — and people — going in search of those jobs. As to how many jobs have actually been created, it depends on who is counting.
"Everyone looks at it differently," said Neal Wade, the former executive director of the Bay Economic Development Alliance who left in November 2014 to become director of the University of Alabama's newly established Economic Development Academy. "The standard (of reporting) has been debated for years."
Airport in Panama City
Each of the 18 counties in the 850 area code has its own agency charged with three priorities: retaining the businesses it has, helping existing businesses expand and bringing new companies to the region. The ultimate goal is to help counties grow and prosper by improving the standard of living and quality of life by providing more and better jobs with higher salaries and better benefits. Their job is to be aggressive.
"Economic development is about telling the rest of the world your story," said Beth Kirkland, executive director of the Gadsden County Development Council. "And in this day and age, you can't wait for the phone to ring."
How each county agency performs its job varies, based on its governance and funding structure, its priorities and available resources, as well as the personalities of those in charge. In some cases it's pretty much a one-man show. In others, there are a half dozen or more employees focused on the jobs mission.
But the key question remains the same in each county: How many jobs have you created?
"Economic development in Northwest Florida reflects the obsession with recruitment. Why? It's easier to both understand and execute," said Dale Brill, founder of Tallahassee-based Thinkspot Inc., a public policy development firm which has recently expanded to Pensacola, and former director of the Governor's Office of Tourism, Trade and Economic Development.
"We can count almost everything involved in the pursuit of foot-loose companies playing the relocation game. Governments, boards and the public feel comfortable when counting things is involved. Our demands for accountability make counting the end game."
Counting Jobs
Figuring out how many jobs have been created and filled in a single year by an economic development organization is not an easy task. There is no standard method to report how many direct and indirect jobs come into a county with a new business.
At any one time, a county could have up to 25 or more potential "projects" in the works, hoping that some will actually produce jobs. Some involve the expansion of existing companies while others may be a company relocation or the development of a new company. Last year, the region's economic development organizations (EDOs) reported producing thousands of jobs.
But it's hard for the average taxpayer to know exactly how many jobs an EDO was actually responsible for bringing into a county. Some economic development officials concede it's a "gray" area, with each county having its own method for tallying its success.
"There's not an industry standard for how it's counted. It's not apples to apples," explained Scarlett Phaneuf, vice president of the Bay Economic Development Alliance. "It varies among the EDOs and it varies among regional groups. Even within the state agencies."
The pressure to count jobs is the result of a need for economic development to justify itself, said Brill.
"The overwhelming majority of economic development organizations treat job creation as the primary, if not exclusive, reason for being," he explained. "Local and regional efforts across the country reflect a lopsided emphasis on recruiting businesses from outside the geographic area as the path to accomplish this. As a result, economic developers find themselves focused on the ends rather than the means."
Escambia County reports that it has helped create about 8,000 new jobs over the past five years — of those jobs, about 1,500 have been hired with the remaining jobs set to be filled on a schedule.
"First and foremost, we focus on business retention and expansion," explained Scott Luth, head of the new Community Economic Development Association of Pensacola and Escambia County. "We want to focus on growing our industry base. We've been fortunate here with the diverse nature of our economy. But part of our success is the aggressiveness of the community. Every one of our newest projects were competitive and had other places they could have gone. But I have to give credit to the city, the county and the private sector for creating an atmosphere in which those companies could be successful."
For instance, V-T Mobile Aerospace Engineering came to the Pensacola International Airport after the city agreed to build an aircraft hanger (that can house two wide-body jets at the same time) that will be leased back to the company for 30 years. Operations begin in 2016, and 300 jobs come with that project. Its economic impact on the region is expected to be $61 million.
Bay County had a goal of 1,300 new jobs in 2013 and ended up reporting 1,500. (The county's employment rolls actually grew by more than that, but Neal Wade, who at the time was head of the Bay EDA, insists the county should only take credit for what jobs it was somehow involved with helping to develop.)
"We don't count jobs we didn't have anything to do with. It's not fair," he said, giving as an example the 1,300 jobs brought to a Lynn Haven call center by General Dynamics. "But all counties won't look at job creation the same way. Our goal for 2014 was 2,000 jobs, but we don't know what we'll hit."
After Wade left, however, his successor, Becca Hardin, changed the way the jobs were being counted to include only EDA-assisted/facilitated job creation through state incentive programs where a formal announcement was made by the EDA. Bay County's new total for 2013 is now 300. For 2014, it's 120. All are direct jobs created by the companies aided by the EDA.
Neal Wade
"I thought I took a fairly conservative approach. You do count the direct jobs, but there is a ripple effect that comes with that," said Wade, who included indirect jobs related to new business in his totals. "But Becca is taking a different approach."
In its most recent annual report, the Economic Development Council of Tallahassee/Leon County (EDC) reported that it helped develop 2,200 private-sector jobs within the Tallahassee Metropolitan Statistical Area, which includes four counties known as the Capital Region — Leon, Gadsden, Wakulla and Jefferson. Those numbers, however, reflect all new jobs in the four counties as reported to the U.S. Bureau of Labor Statistics — including job creation the EDC may or may not have had anything to do with.
Asked if the EDC keeps records on a year-by-year basis for just Leon County, President Sue Dick said a change in the leadership team has forced the agency to look at better methods of recordkeeping.
"I've gone in and tried to look at those numbers," she said. "If people want numbers to look strong, they can look a certain way. I charged the team to come in and look at what was on the books. A year from now we'll be able to report out a lot better." Last year, in fact, the EDC embarked on a new program of obtaining more objective data through an existing industry survey.
"I apologize for the lack of numbers," said Kyle Touchstone, the EDC executive vice president who has been on the job less than two years and only this past January was able to get board approval of a strategic plan for the agency. "But the record keeping hasn't been up to par, and I had to dig through old reports to find numbers. From now on, we will report direct jobs that we have assisted with."
Even after checking over old reports several times, Touchstone admitted he could find no evidence of the EDC creating any new jobs in 2010.
However, last year the picture was definitely changing as Leon County saw its unemployment rate drop 0.2 percent over the previous year, and Touchstone said seven out of 10 industry sectors increased in overall job creation.
"I've been in an organization before where jobs was all they cared about," Touchstone said. "But here there is a focus on the entrepreneurial aspect. They're not going to create a lot of jobs initially. It's not necessarily all about the number of jobs. If a company brings in a large investment and a low number of jobs, the question is how does that trickle into the community through the creation of indirect jobs and taxes?"
Working New Leads
Meanwhile, the work never stops. Nearly every county has projects it hopes will come to fruition and improve its economy.
Okaloosa currently has 25 active projects in the pipeline, with roughly 40 percent of them involving expansion of existing businesses in the county.
"Of those 25, 65 percent were locally generated," said Nathan Sparks, executive director of the Okaloosa Economic Development Council. "This organization does a great job of generating the bulk of its own prospect activity. While we have great partners in Enterprise Florida, Florida's Great Northwest and local utilities, we subscribe to the theory that we have to pound the pavement."
Leon County's business recruiters are currently involved in 17 active national projects, while Bay County's EDA averages between 11 and 15 active projects at any given time and Escambia usually has eight to 15 projects going at once. Rural Jackson County currently has four projects in the pipeline with the potential to bring more than 1,300 jobs to the area.
Of course, the measure of economic development success is relative, depending on the county. In a rural area, it might be the ability to land a new truck stop at an interstate interchange. For a more metropolitan county, it's a new aviation-related company at the airport.
"Each EDO is responsive to the community it works in. It depends on what the highest priorities are. I've been in a community where the focus was on (job) retention because it was hemorrhaging jobs," explained Luth. "Success is based on what the community wants in a particular year."
Each EDO uses whatever is at its disposal to help businesses expand or relocate to its county. There are local, regional and state incentives, which are often tax breaks that play a key role in the negotiation of a project. But that's not always the primary selection factor for a company, reminds Wade.
"In some cases, the top decision drivers are more focused on community assets such as a qualified work force or infrastructure versus financial considerations," he said.
Florida's Great Northwest is a major promoter of the region and works in concert with Enterprise Florida, the state agency, in attending national and international trade shows and events. Most of the 850's small counties depend on these larger organizations to promote their interests on the world stage.
"Basically, we're marketing and branding the 16-county region of Northwest Florida. We try to understand what each county wants to do," said Larry Sassano, president of Florida's Great Northwest. "Being a local economic developer for 20 years, I know how difficult it is for them to take the time to do what we do. We make sure everyone gets equal representation. "
In most cases, the county EDOs use a combination of public and private dollars to market themselves through websites and personal visits to company headquarters, or work with site consultants to host prospects that want to visit and tour the counties.
"What's not evident in the actual job numbers is the fact that we're planting seeds that might take two to three years to develop," Wade explained. "That's what your tax dollars are going for. Economic development is a long-term investment and every county is different, its demands and expectations are different. You can't come up with one size fits all."
Chamber or Not?
Once considered a job most likely to be performed by a county or city's chamber of commerce, today's economic development is more often than not done by a nonprofit organization that operates totally independent of the local chamber. That's in part to protect chambers from Florida's public records law because at least two state attorneys have now declared that any economic development agency taking public money — and its parent organization — is subject to the state law.
100,000 pounds of ammunition being unloaded from a C-17 Globemaster at Duke Field
Courtesy of Eglin Air Force BAse
Of the region's three largest counties, Bay and Escambia have separated their economic development organizations from the local chambers of commerce; Leon County's EDO remains attached to the county's chamber. In fact, Sue Dick serves as president and CEO of the Greater Tallahassee Chamber of Commerce as well as president of the affiliated Economic Development Council of Tallahassee/Leon County Inc.
The Greater Pensacola Chamber separated from its EDO most recently, planning the change soon after receiving a letter from State Attorney Bill Eddins in which he wrote: "Anytime a private entity receives money from a governmental entity, and does a governmental function, they are required to comply with the Sunshine Law. And the policy behind that's real clear: the public has a right to know where public money is being spent."
The chamber didn't hesitate.
"We had been taking public money and were told we were subject to the public records law. Our chamber had never operated like that," said Jerry Maygarden, a former state legislator well versed in the public records law who was CEO and president of the Greater Pensacola Chamber of Commerce when the split came last fall. "We had to back up and say, 'How are we going to do this going forward? How do we accommodate (the state attorney) and accommodate our mission?' We just made a decision to spin off our economic development into a separate 501(c)6."
The new Community Economic Development Association for Pensacola and Escambia County became a reality in December, headed by Scott Luth, who had been the head of economic development for the chamber.
"From the work standpoint, there was no loss in the transition," Luth said.
High-Flying Three
Bay, Escambia and Okaloosa are among the most active counties when it comes to national and international self-promotional economic development — most notably in the field of aviation and aerospace. The three have sent teams to Germany several times since it was announced in July 2012 that Airbus would be building a facility in Mobile, Alabama. The first planes are expected to be rolling off that assembly line in 2016, but Airbus suppliers will be moving to the region prior to that, and the Northwest Florida counties closest to Mobile are hoping to score big on that count — with thousands of new jobs, although no one really has an idea how many could actually develop.
Okaloosa's Nathan Sparks was back in Hamburg at an aviation supplier forum in mid-December to meet with Airbus suppliers. Representatives from Bay and Escambia were there as well — and Fort Walton Machining had even provided a speaker for one of the panels.
"We have now done a fair amount of outreach to these suppliers through a number of means, and the good news is that it appears to be paying off," Sparks said. "A number of these suppliers know where Northwest Florida is. We followed up with individuals we had met with previously, and we're continuing to remain front-of-mind with individuals and these companies."
The big plus for these three: Each has an airport (Bay County in particular has hundreds of acres available adjacent to its Northwest Florida Beaches International Airport), and each county has a strong aerospace/aviation/military industrial base.
Leon's Game-Changer
The Tallahassee/Leon County Economic Development Council went through some recent revamping and rebuilding, shifting some of its focus after taking a close look at what it should do to expand existing industry in the area. It decided to adjust to the market and look for ways to capitalize on its assets, especially the arena of entrepreneurism and the research and development being done by those affiliated with the city's two major state universities, Florida State and Florida A&M.
"The notion that all the money is spent on bringing in new companies is incorrect," said the Tallahassee EDC's Sue Dick. "It's sexier and more exciting and that's what everyone wants to talk about, but we've noticed the trend nationally is not for as much relocation taking place. We've recognized that. Working with existing industries, we wanted to ramp that up."
A major focus of the chamber and EDC over the past year was seeking continued voter support of an extra penny sales tax, part of which will be used for future economic development projects. In November 2014, Leon County voters approved extending the tax beyond 2019 — and, in a new twist, up to 12 percent of the funds will be eligible for economic development.
"That's a real game-changer," said Ben Pingree, the Tallahassee EDC's vice president for Business Retention and Expansion. "We're looking at the potential creation of at least 8,338 new jobs and a positive economic impact of $1.1 billion. That's magnificent leveraging, when you consider about one-third of those who pay into that local penny are visitors to our area."
Jackson's Re-Shoring Victory
In some of the rural areas, it's hard to create entrepreneurs. A high percentage of Chipola College graduates leave the area, and budding entrepreneurs often seek their fortune in a more urban environment. So, Jackson County goes with what it has — and that can sometimes be vacant land or vacant buildings.
"We've been blessed with being able to repurpose buildings," said Bill Stanton, executive director of the Jackson County Development Council, the only EDO in the region that runs solely on government funds although it operates independently of the county and city governments.
One of those is the old 270,000-square-foot Alliance Laundry building in the Marianna industrial park that is being used by Atlanta-based Home Source International to produce its new "Made in the U.S.A." line of products. By the end of 2015, the company is expected to have 303 workers employed at the facility as part of a three-year commitment to the county.
"This was a major re-shoring project," explained Stanton. Products such as comforters, sheets and towels that previously were being made in Bahrain and India will now be made in rural Northwest Florida by the city of Marianna using a $1.4 million grant from the state to refit the former laundry facility. "And if the company fails? We own the building outright and can get someone else in there."
One-Man Band
The most unusual set-up is in rural Holmes County, where the Florida Legislature created a special independent district in 1959 with the mission to create jobs for local technical and high school graduates and provide a living wage for residents. There are 12 appointed board members (two specifically have to be women) who run the district, but there is no funding to go on trade missions or visits to national or international trade conferences.
"The county commission can provide funds out of its surplus, but Holmes County has never had a surplus dollar in its life," said Raymon Thomas, a former county commissioner who is now director of the Bonifay-based Holmes County Development Commission.
Thomas said a newly reorganized and "very progressive" commission recently decided to sell 500 acres of timberland (purchased decades ago through U.S. Department of Agriculture grants) to purchase two sites for a 270-acre industrial park — including 12 acres with a CSX rail siding already in place. He hopes that now brings site consultants calling.
"Now we've positioned ourselves to start doing something, and we've already gotten some inquiries," Thomas said. Of course, not all calls will turn out to be a good fit for Holmes, he added with a laugh. "Matter of fact, I got one two weeks ago looking for a call center in a high-population center."
Seeking a Bonanza
In a highly unusual scenario, 12 counties in Florida and Alabama (along with both states) have joined forces in an attempt to lure the "big one," a mega-project that will bring jobs and higher salaries to rural areas of both states that are desperately in need of better employment.
The regional effort was initiated by Bay County's Neal Wade, Jackson County's Bill Stanton and Matt Parker, president of the Dothan Area Chamber of Commerce, in 2011.
The focus is on using the combination of a 2,200-acre site in the Jackson County town of Campbellton and Alabama training dollars to bring in a major manufacturer (possibly a Japanese, South Korean or even Chinese automaker) that will create thousands of jobs using the combined labor force of the two states. Campbellton is situated on the state line between Florida and Alabama and has access to major rail lines, roads, ports and airports.
An economic-impact analysis shows that a proposed automotive assembly plant could provide nearly 10,000 new jobs and would have an $833 million economic impact. Wade said efforts are already being made to attract auto manufacturers looking to open new plants.
"When we find a company is beginning to look, we just want to get this in front of them and say, 'Come visit us and let's go from there,' " he said. "We're just trying to get them to realize we've got a site here, we've got a work force from these 12 counties and we can make this work."