Grills on Wheels
Father-son team refines the art of putting heat to meat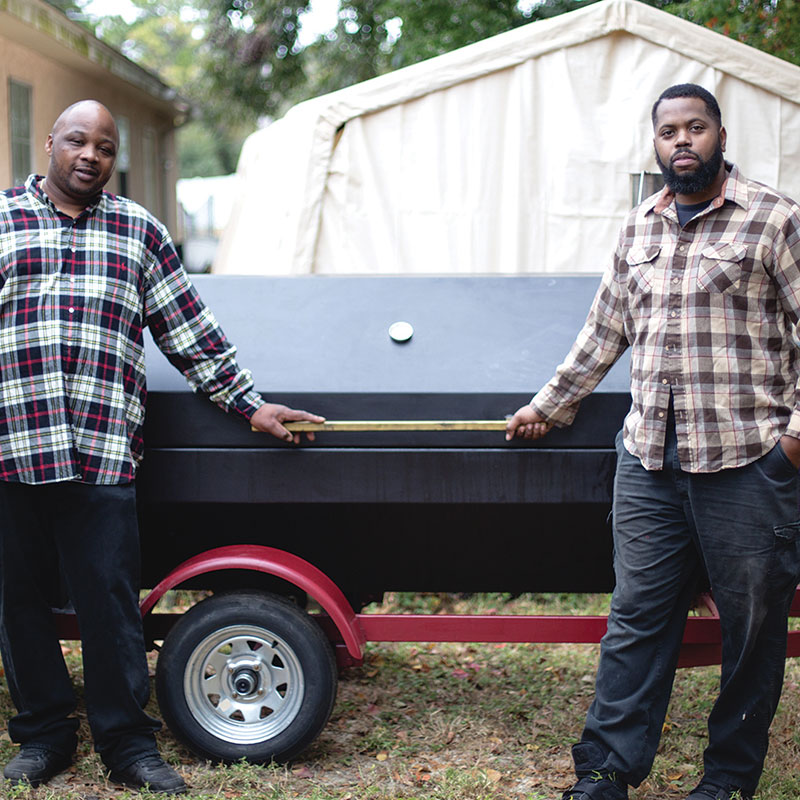 Isaac Holmes was content to work as the parts manager at the Century Boats plant at the former airport site in Panama City until he learned what a welder was making there.
"They had to get their checks from me and I peeked one time," Holmes recalled.
Welders, who were responsible for fabricating building production jigs — forms over which large hulls were assembled — knocked down more money than anyone else in the operation, and Holmes understandably wanted to join the fraternity. He did so, gaining what would prove to be valuable experience prior to the closing of the plant in 1989.
The boat manufacturer moved from its airport location to a plant at the Industrial Park north of town on U.S. 231 — it, too, later was closed — and shifted its production from large boats to sportier runabouts. Jig makers no longer were needed and Holmes was laid off, but his skills as a welder ensured that he wouldn't miss any meals. Holmes caught on as a maintenance man with Panama City-based Royal American, managers of apartment developments throughout the Southeast.
And he was inspired to launch a business of his own.
Holmes was driving about town when he spied a barbecue grill on wheels at the intersection of Baldwin Road and East Avenue. The grill had been accessorized with a pig's curly tail at one end and ears at the other and was cylindrical in shape.
There are people who can play a song immediately upon hearing it. Holmes is one of those people who can fabricate something merely upon seeing it. Before he even pulled away from the intersection, he had visualized the grill that he would make. His would be octagonal in shape like the stop sign he found himself briefly staring at.
"I had to do it my own way," he said. "I built myself one (with steel bent to his specifications by a local supplier), and I was dragging it behind my truck and a used car dealer, Roger Clemons, saw it and he had to have it right now. He wouldn't wait for me to build him a new one, and I sold him the prototype."
Holmes hadn't spent a dime on advertising and didn't have a price list or a business card, but his grill-making enterprise had begun to catch fire.
Before long, he would find that he was making grills for oyster bars, churches, banks and tailgaters. He made a customized grill for Tyndall Air Force Base with a miniature, heat resistant F-15 — fuselage, wings and pedestal — on top. For an engineering firm, he arrived at a grill/sink/water heater combination.
While with regard to the fire box, itself, Holmes held to the Henry Ford adage, "You can have it painted any color you want, as long as it's black." He added accent colors — such as garnet and gold — to handles and trailers.
Holmes moved from waiting on orders to having as many as 15 grills in inventory and had to have some help. He turned to his son, Kenny, then 14, and resolved to make him a welder.
"I'd put a helmet on him and hold his hands and help him guide the flame," Holmes recalled with fondness. "And, actually, he learned pretty quick."
Over time, Kenny became the chief welder and his father became the front man and foreman for Holmes Fabrication Co.
"I had to watch him," said Isaac, regarded by Kenny as a perfectionist. "He'll try to take short cuts, do what we call stitch (intermittent) welding. I like a continuous bead. It holds up much better."
Always, Holmes has been humble enough to adopt another griller's good idea.
In its first year, Grills Gone Wild, a fundraising barbecue competition held then at Arnold High School in Panama City Beach, attracted a standout griller from Blountstown.
"He was a cop and he had the ugliest grill you ever saw," Holmes said. "It was shaped like a train and had steel wheels, but it was built now, yessir, and it could hold the heat."
The police officer swept the board at GGW and Holmes interrogated him until he succeeded in extracting a few secrets. In particular, Holmes was impressed with the smoker box on the back of the champion's grill. Wood smoke flowed from the box into the body of the grill, flavoring the meat.
Holmes carried a mental picture of the smoker box home with him and has made it a feature of many of his grills ever since.
"I'll use different kinds of wood — mesquite, apple, hickory — but for ribs, you gotta have pecan," Holmes said. "Ain't no two ways about it."
Today, Kenny, at age 38, has inherited 61-year-old Dad's business and has renamed it H & S Fabrication. Grills that once sold for $1,300 now go for $2,900. But the two men have stayed close and are friendly rivals when it comes to grilling.
"Kenny is young and he talks a lot of noise," Isaac says. "He forgets that I taught him everything he knows."
Kenny dismisses the old man as a "fish fryer."
"My dad is a better fisherman by far than I am and he can cook you up some bream or grouper or shrimp, but I'm the better griller," said Kenny, who stresses that seasonings and marinades separate the best from the rest.
About this, however, father and son can agree: The mistake most grillers make is to cook their meat too fast over a grill that is too hot.
It's best to approach grilling with something on your stomach — and then fill it even further with ribs or wings or steaks or a Boston butt cooked slowly over a fire that is just right.