Gadsden County Sells Its Story Through a Growing Network of Partners
Establishing an approach and building relationships have been key to their success.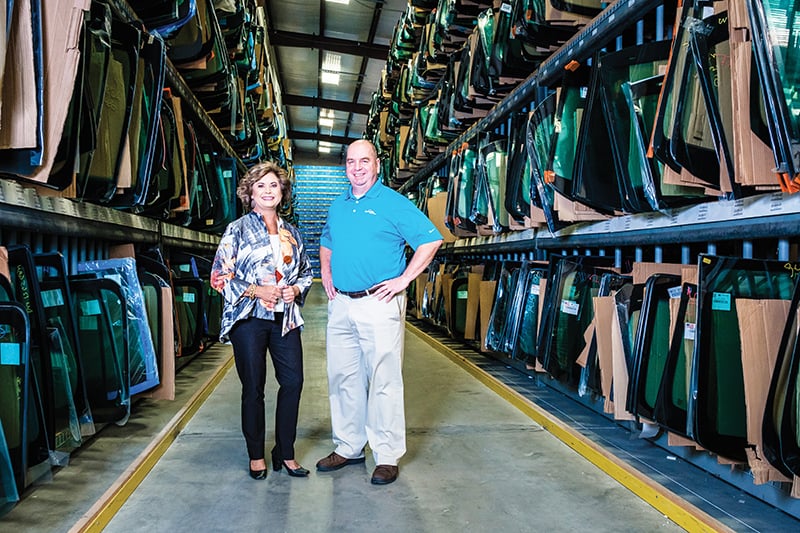 For an economic development organization to attract business, it must think like a business and perform like one.
That's the outlook of Beth Kirkland, the executive director of the Gadsden County Development Council.
She would resist the notion that the job of business recruitment can be made formulaic — every prospect requires a customized approach — but there are fundamentals involved: product, policy and outreach, as Kirkland sees them.
Like a retailer with products for sale on its shelves, an economic developer has to have products (or assets) to offer his prospects — buildings, sites and talent.
"When we established the Development Council four years ago, we embraced the fact that we have some good product here," Kirkland said, "but we also recognized that a lot of our legacy buildings our outdated from an industrial standpoint."
Many lack the type of loading docks or doors that distributors favor today, and ceiling heights are less than optimal.
"Product is racked higher these days," Kirkland has found. "Businesses need to be able to get more product in distribution centers."
Safelite AutoGlass provides a case in point. It was one of the first projects that the council, representing a coalition of business, education and local government interests, worked on.
Safelite was sharing a building in Leon County with a second tenant and needed more room.
"We had a spec building under construction with eave heights that were appealing to Safelite," Kirkland said.
"The fact that construction was underway meant that the building would become available to Safelite on a short timeline, but it wasn't so far along that Safelite couldn't customize the front office based on their established template for a regional distribution center."
Safelite wound up occupying the same number of square feet at the Gadsden 10/90 Industrial Park that it had in Leon County, but with more room beneath the ceiling.
Meanwhile, the joint tenant that Safelite left behind in Leon County was presented with room that they needed for expansion.
"Everything worked out very nicely," Kirkland said. "Both businesses benefitted, and the region benefitted.
This was a very good example of why we need the type of product that Safelite moved into."
About a year after the council was formed, then-Florida Secretary of Commerce Gray Swoope challenged investor-owned utilities in Gadsden County to bring forward what they considered to be their best economic development ideas.
Duke Energy responded by pitching something they had had success with in their North Carolina market: strategic sites identification.
SSI involves not just finding a piece of ground that is shovel-ready. It also looks at whether a parcel is sufficiently proximate to transportation assets and utilities and far enough removed from schools and neighborhoods.
Ideally, the site comprises parcels owned by five or fewer landowners whose pieces might be acquired to arrive at an adequate whole of 150 to 1,500 acres.
"By completing the initial SSI analysis, which Duke Energy funded, we put together a portfolio of 20 sites that would make sense for light or heavy industry," Kirkland explained.
"And we also considered these sites in terms of what local governments want to do and are planning in terms of utility line extensions."
Of the 20 sites, six were selected for a second, more detailed round of "desktop evaluation."
"We looked at characteristics from civil engineering and environmental standpoints by pulling data from the web and from state and local data bases," Kirkland explained.
"We wanted to honestly assess the developability of these sites. We looked for nuances that might preclude development, including the presence of endangered species or archaeological significance or landowners that just wouldn't be interested in selling."
The additional work amounted to a feasibility analysis.
"You discover where you want to spend your site-acquisition money, and you are much better prepared when you go to the state for funding from a program like the Rural Infrastructure Fund," Kirkland stressed.
"You can prove to them that you have done your homework."
The analysis didn't stop there.
Gadsden was accepted into the state's Competitive Florida asset-mapping and cataloging program, an initiative of the state Department of Economic Opportunity.
Competitive Florida communities assemble a comprehensive picture of what they have to offer, then move on to a Year 2 project in which specific sites are scrutinized.
Gadsden submitted its top SSI sites to that process. No site was eliminated.
"All of this work helps us know which properties to show someone who is looking for sites," Kirkland said.
"We get leads from Enterprise Florida, and we use a lead-generation service offered by a private company, Expansion Solutions."
The development council's progress has been furthered by technical assistance grants from the Competitive Florida program, cooperative marketing grants through Enterprise Florida and infrastructure grants awarded by the DEO.
Kirkland serves as the council's grant writer and is quick to acknowledge contributions made by her board of directors.
"We have a good board whose members agree to serve when called upon on," Kirkland said.
"They participate, for example, on regional economic development councils, the Apalachee Regional Planning Council and the Capital Regional Transportation Planning Agency. They are engaged and, through their service, we build a circle of influence and our own lead-generating machine."
Kirkland, who holds a bachelor's degree in computer science and a master's degree in systems analysis, has been a Florida resident since 1986.
Today, she is halfway through her two-year term as board chairman at CareerSource Capital Region, whose efforts are focused in Gadsden, Leon and Wakulla counties.
"You couldn't find three more diverse, contiguous counties in the state," Kirkland said.
Through activities, including an annual Talent Innovation Summit, CareerSource Capital Region seeks to unite jobseekers with opportunities at managerial, skilled and unskilled levels.
Three North Florida workforce boards have established alliances with workforce boards in South Georgia.
"People don't care about county or state lines," Kirkland said.
"They just want a job and are willing to travel an hour to 90 minutes to get there. We have developed a strategic plan in concert with the Georgia boards. And this is the kind of cooperation that the federal Workforce Innovation and Opportunity Act calls for."
That spirit of cooperation extends to education providers, including Tallahassee Community College, Florida State University, Florida A&M University and the Gadsden Technical Institute, recently accredited by the Council on Occupational Education.
That accreditation made the institute, located in Quincy, eligible to take on students who qualify for Pell grants.
Relationships with prospects are enhanced when counties and other jurisdictions can demonstrate that they reliably operate based on established policies.
"Businesses who are looking to move to your community or expand within your community require a level of certainty," Kirkland said.
"They have to know what the process is and how to get through the process and the amount of time that it is going to take. There is nothing that says that the answer is always going to be yes, but there needs to be a consistent way of arriving at the answer, on the local level and the state level."
Permitting fees are not as high in Gadsden County as they are in neighboring Leon County, and hoops may be jumped through more quickly.
But dealings may be complicated by the fact that Gadsden is home to six municipalities and a host of utilities providers, private and public.
When Hoover Treated Wood Products set up shop in unincorporated Gadsden County, it found that water and natural gas were provided by the Town of Havana.
Hoover, Kirkland noted, is eligible for a Qualified Targeted Industry tax refund, provided that it generates a required number of jobs in the next three to five years.
Of the total refund, 80 percent will come from the state and 20 percent from local jurisdictions.
"Local entities don't have to provide the match to use the state's money, but if you don't provide the match, the company only benefits by 80 percent of what the program could potentially offer," Kirkland said.
"It was important to us to put our own skin in the game. The refund is small compared to the income that will come through the company."
Generally, Kirkland is satisfied that Gadsden County has a good story to tell, one that includes four interstate interchanges and two railroads — the CSX mainline and a short line operated by Genesee & Wyoming.
"We have relationships with the industrial developers at the two railroads, and that is huge in lead generation," Kirkland said.
"We're not just about having our own website, doing social media and being in a magazine. It's about relationships. We are marketing ourselves on the railroads' websites. There is a lot of cross-promotion going on."
And a lot of targeting.
With a marketing grant, the council is preparing along with Brand Acceleration, a company that specializes in economic development, a series of emailings targeting four industry sectors of interest: manufacturing, distribution, food/fiber and tourism/retail.
"Brand has the audiences we want," Kirkland said. "Their emails get opened.
"This is good stuff."