FSU's Jim Moran Institute Offers New Direction for North Florida Entrepreneurs
Transitioning to a new stage, JMI is starting a new program to boost local businesses and has its eye on expanding its reach into the rest of the 850 region.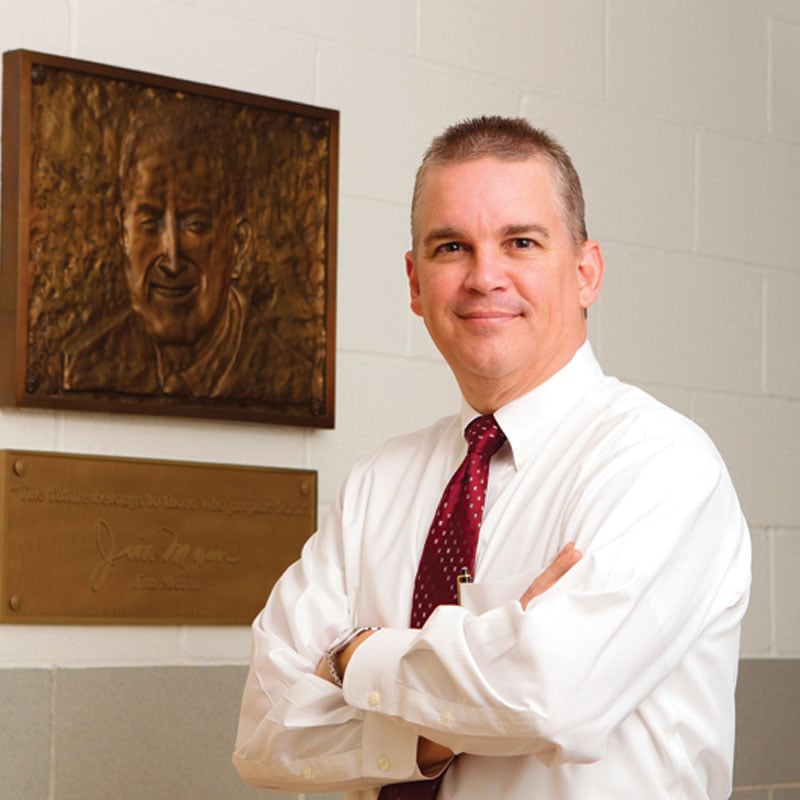 The Jim Moran Institute for Global Entrepreneurship is getting down to business.
Housed in Florida State University's College of Business, the center with a legacy of leadership will shift its focus to a more programmatic approach when it launches its Small Business Executive Program this summer. The plan falls under the direction of Mike Campbell, hired in November 2012 to execute new outreach initiatives in North Florida.
Designed to help existing businesses advance by addressing today's key issues, the nine-session series is just one component of the JMI's vision for the future of business in our region. Outreach has always been a cornerstone of the Institute. Now, a new path will be charted to expand that platform, reach more people and make an even greater impact in North Florida — and beyond.
Moving Forward, Looking Back
It has been said one can't move forward without first looking back. Perhaps Winston Churchill put it best when he said, "The farther backward you can look, the farther forward you can see."
Looking back through the history of the Jim Moran Institute, it is clear to see this period of current growth was inevitable. Much work was done early to pave the road for today's success. The JMI thrives because of its history of adaptation — modifying its services and increasing its resources to meet the needs of a shifting workforce and economy.
Today, said JMI Director F. Randy Blass, the Institute continues its local legacy while trying to reach a global audience.
"From the start, our outreach was one-on-one, gold standard, very personal," Blass said. "But that model is very time intensive, limiting the number of clients we were able to serve, so we started looking at how we could reach a broader audience."
The JMI developed a programmatic approach, one that would provide support by leveraging community resources and talent — where businesses could progress through a series of experiences, while still retaining the personal touch for which the Institute was known.
But to build a team of experts in subject matter from across the 850 corridor, the JMI needed a broker, a coordinator of those small business gurus. Enter Mike Campbell, newly minted director of North Florida Outreach.
An entrepreneur since 2000, Campbell owned two successful businesses (Statement Analysis Corp and Trusteria Services Inc.) while working in nonprofit consulting for nine years. When the JMI — a nonprofit devoted to small business — sought a program director, Campbell's dual experience was a real benefit.
"The reason I enjoy this job is I've always had a passion to help other businesses grow and to help this community grow," Campbell said. "The overall mission of the JMI is to help established businesses advance, and my personal goal is to be a catalyst for collaboration, bringing resources together for the good of our clients and community."
Get With the Program
The Small Business Executive Program (SBEP) will pool community resources to give executives of established businesses — not start-ups — the tools they need to grow. Largely through the relationship of interaction, with no true marketing plan, the JMI has listened to the needs of the community and responded.
Last summer, the Institute held a series of focus groups, presenting the idea to former clients and local economic development officials. They then distilled the feedback and made adjustments to the program.
Sam Varn, owner of Awards4U, has been affiliated with the JMI since 2001. He got involved through former director Jerry Osteryoung, a member of his Rotary club.
"I try to listen to people I respect," Varn said. "After the JMI analyzed our business, we got our expenses under control, and in 2004 we were Entrepreneur of the Year. The advice was good, and we paid attention."
Over the years, Varn said, the focus of the JMI has shifted.
He stays involved to this day, speaking to classes as a mentor and attending sessions as a scholar. Varn was pleased to see Campbell appointed to lead outreach initiatives, calling him "a true entrepreneur who knows what it takes to start and run a business."
Varn believes the SBEP will bring enormous value to the small business owner interested in participating. Members of the class may have the opportunity to meet Varn, as he is in talks to mentor in his areas of expertise, including reward and recognition.
"Participants will get the benefit of local experts sharing their knowledge of best practices," Varn said. "What really works is not theoretical or textbook, but real world application."
The SBEP will accept applications for its inaugural class of 25 business leaders in June 2013, with an anticipated first session slated for the fall. Nine sessions will be presented every other week over four months, for a total of 40 contact hours. Businesses must have three or more employees to apply. Both for- and non-profits will be considered. For application information (beginning in June), guidelines and eligibility, visit www.nfl.jmi.fsu.edu.
A Grand Architecture of Service
As the new program launches, JMI director Blass emphasizes the importance of the Institute's grand architecture of services, both to students of entrepreneurship and seasoned entrepreneurs.
"We're reaching out to business owners working in their business to try to help them work on their business," Blass said. "The SBEP will be the flagship program of our outreach efforts, the primary entry point for small businesses to the broader services the JMI has to offer."
Those services are trifold and reflect the main components of the Institute's mission — education, research and outreach. Education covers the student experience, research examines issues of the discipline and outreach provides unique opportunities for students to engage in crossover with working entrepreneurs.
Jim Moran Institute programs revolve around four major service offerings:
World-class education and experiential learning curriculum
Academic research and applied training
Consulting assistance and mentorship
Public recognition through service
Under the category of consulting and mentorship, the Small Business Executive Program is modeled after the JMI's nationally recognized Entrepreneurship Bootcamp for Veterans with Disabilities (EBV). Business leaders throughout Florida wanted a similar "bootcamp" for their companies and the SBEP was born.
"We interpreted the need by recognizing our business owners are so busy running their business, they don't always have time to think about their business," Blass said. "They are asking for some structure — a formatted journey through all aspects of running a business."
Through collaboration with community resources such as the Chamber of Commerce, Small Business Development Center, Economic Development Council and other complementary initiatives, the JMI will seek "to provide a singular experience with a clear beginning, middle and end, punctuated by receptions and ceremonies with a certain amount of pomp," Blass said.
The SBEP will be held once in its first year, then biannually beginning in 2014. Businesses must complete a thorough application to participate, including a statement of goals and financial disclosure. Accepted applicants will form a class, then follow a standardized curriculum designed to refocus their efforts through idea sharing on a series of topics including finance and growth, marketing and sales, production and human resources.
The program will offer the JMI's signature individualized consulting, as well as workshops, Peer2Peer Groups, conferences and expert presentations. Alumni classes will become a resource for future generations of small business owners.
With potential for exponential impact, small business owners may question how they could afford to enroll in such a program. But there is no fee to participate. The expansive services of the JMI are provided at no cost, in large part from the endowment established by Jim and Jan Moran and JM Family Enterprises, Inc.
"Support from Florida State and its College of Business puts the JMI on the main stage of entrepreneurship universities," Blass said. "Because of the tangible resources that come from The Jim Moran Foundation, Inc. The Jim Moran Institute has a robust capability to help our business community."
The Reach of Outreach
Though the Small Business Executive Program will be held in Tallahassee, its director invites any business in the 850 region to apply. Attendance is mandatory for two half-day sessions each month from August to October, with a closing luncheon in November tying directly into the "Advice Straight Up" event featuring nationally recognized speakers.
"Because the program meets only twice a month," Campbell said, "if an executive is willing to come to our location to advance their business — and they are in the 850 region and they qualify to participate — we will welcome them."
There are more resources for start-up businesses than established ones, according to Campbell, and it is true the JMI does not cater to new businesses. When an existing business needs help getting to the next level, however, the Jim Moran Institute will work with community partners to help or point them in the direction of a resource that can. In doing so, the reach of the JMI extends well beyond Tallahassee and even Florida.
Blass and Campbell credit Jim and Jan Moran and JM Family Enterprises, Inc. as well as former directors like Osteryoung, with paving the path for renewed vision.
"I am very confident we'll be able to put on a world-class program," Campbell said. "If the Jim Moran Institute can help businesses grow, those businesses will hire more employees, ultimately helping the overall economy of 850."