Franklin County's Giant Test Tube
Turning weapons into peacetime workhorses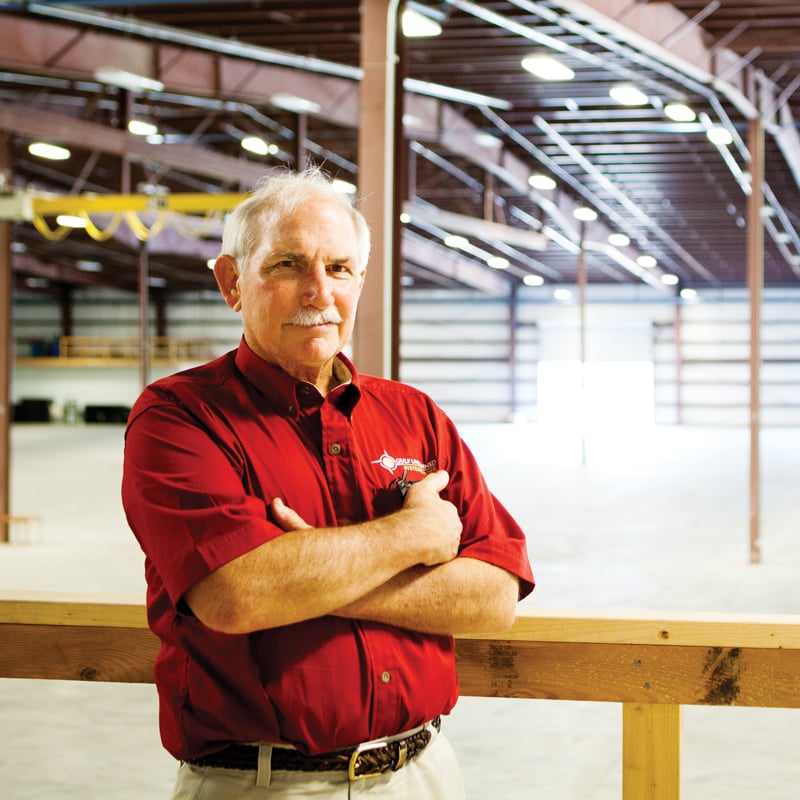 Cell phones don't work in the old bank vault that's now a conference room for Gulf Unmanned Systems Center in Carrabelle.
That's essential for James Bond-types, along with the government people whose security clearances aren't quite so romantic, and the entrepreneurs with trade secrets that GUSC's President Bruce McCormack is working to attract to the unmanned vehicle testing facility he's building in Franklin County.
With the aid of private investors, McCormack purchased the old Gulf State Community bank on Highway 98, leased the city-owned Hexaport building on John McGinnis Road and aims to build a full-service facility for businesses seeking to bring the next generation of "unmanned vehicles" to market.
And please don't call them drones, at least not in Franklin County, where McCormack and community leaders see GUSC as a "big, giant test tube" in which the drones of war are beaten into the plowshares of peacetime.
"Unmanned vehicles on and under water, and on land, as well as in the air, have so many positive purposes to serve," said McCormack, who spends a lot of time with people in government, business and academia who "tinker with technology and invent things in their garage. We're the only facility in the country that offers the range of littoral environments in which those vehicles can be tested. We can't offer deserts and mountains," he added, although that could change as GUSC develops relationships with out-of-state institutions.
McCormack spent most of his professional life in Northwest Florida, where he manufactured combat submersibles for Navy SEALS. As drone technology moved from Star Wars to real wars to "a viable means of doing countless dirty, dangerous and dull" peacetime chores, McCormack began to see Carrabelle as much more than "a sleepy fishing village."
The sparsely populated surrounding countryside with its "intertwined river, bay, estuary and Gulf and easily accessible hardwood forest, jungle, swamp and barrier islands" looked to him more like a custom-designed laboratory in which unmanned vehicles could be perfected for use in tough environments. That, along with a small but sufficient supply of quality local lodging and restaurants, convinced McCormack that Franklin County would be attractive to scientists and capitalists looking to test futuristic "gee whiz!" technology against ancient, unforgiving terrain.
And it didn't take much to sell GUSC's first employees, all of them local residents as required under the terms of the Hexaport lease.
Operations Manager Jeff Wren has worked for state agencies charged with protecting the environment since 1996. His portfolio has included oyster harvesting, sea turtle nesting, water quality, weather stations and sediment testing. "I was so happy when Bruce came to town," said the 20-year Carrabelle Beach resident, who learned from the local newspaper that GUSC was hiring.
Wren is especially excited about the possibilities of using unmanned vehicles to improve the health and productivity of Florida's oyster beds, along with the health and productivity of the public and private sector workers who look after them.
"We would randomly assess the health of the oyster beds," Wren recalled of his agency work. "We would pick itty bitty squares of the bed and count oysters by hand. Now it's possible to survey the entire bed in a fraction of the time. You can see the health of the bed, which helps you figure out how to take care of it."
Taking care of the places that feed people and support small fisheries and farms is close to the heart of Facilities Manager Clint Ivey. He speaks nostalgically of growing up on a farm in South Georgia, where he raised cattle alongside his father and grandfather. Ivey later studied forestry and is excited about the potential for fighting fires and fertilizing farmlands in ways his grandfather could not have imagined.
"I just love the challenge," Ivey said. Drawing on his family experience — selling the farm when it proved impossible to run it at a profit — he is especially enthused to be "on the cutting edge of precision agriculture.
"If you can reduce the amount of fertilizer," Ivey said, "you can raise your profit. With aerial photography of fields and unmanned vehicles to take sod samples, we can tell what fertilizer to use, how much and when. We can measure moisture in the soil and figure out how much more is needed and exactly where to put it. Farming is a tough business. We need more food, and we don't have any more room to grow it. With unmanned vehicles and related technology, we have a chance here to help."
Certified public accountant Lisa Spooner, long active in the Carrabelle Chamber of Commerce, hired on as GUSC's chief financial officer because she sees a chance to "change how Carrabelle looks at the world and how the world looks at Carrabelle."
David Butler, chairman of the Carrabelle Economic Development Council, says the business community is fully supportive of McCormack's plan. The city, he added, has a good contract with the company and if GUSC succeeds, "there'll be money down the road."
Chamber of Commerce Executive Director Suzanne Zimmerman agreed, saying, "If it takes off — and I'm sure it will — people from all over the world will be coming here. And once they find us, they will fall in love. Bruce convinced the business community that GUSC would not hurt our environment, which is very precious to us."
McCormack likes to say, "In the Navy, we live or die by teamwork." But when the team gathers over lunch at the Carrabelle River Marina, there's no mistaking who the skipper is. He's especially proud of the fact that everybody is on the marketing team.
"We want to grow together with the community, surrounded and supported by like-minded businesses," said McCormack. "We want to be at the center of an industry that's high tech and low-key, with a workforce that is well trained and well paid."