Eye on the Goal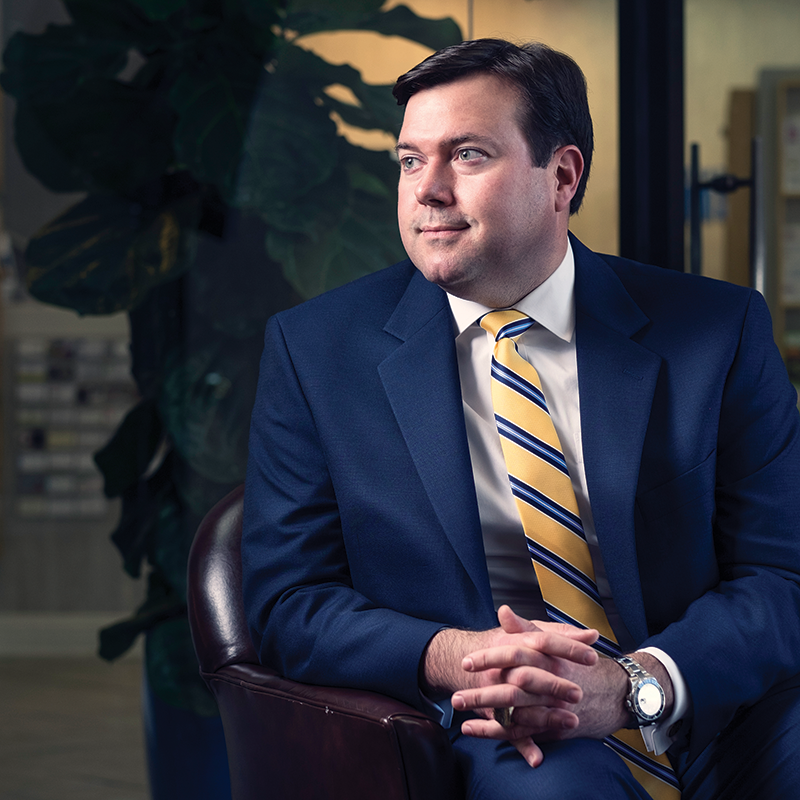 Clay Ingram, Pensacola
Legislator and President, Greater Pensacola Chamber
Since childhood, Clay Ingram has had an interest in current events. He was involved in student government as early as middle school and served as president of the student government association at Pensacola's Tate High School. His aim was to one day make an impact on an even bigger stage.
---
Today he is indeed influencing events — statewide and locally — in his two jobs. As a Republican member of the Florida House of Representatives, Ingram is chairman of the Transportation and Economic Development Appropriations Subcommittee and serves on the Florida Defense Support Task Force and the Joint Legislative Budget Commission. As president of the Greater Pensacola Chamber, he is making an impact on the business community and economy of Pensacola and Escambia County.
By any account, Ingram is a busy man.
"I'm blessed to have some incredibly supportive people in my life," he says, adding that the backing of family and staff enables him to handle both of his high-profile jobs and the constant commutes across Interstate 10, from Pensacola to Tallahassee and back.
A graduate of Florida State University and member of the 1999 national-championship football team, the 38-year-old Ingram doesn't get to attend many home games because of his children's young ages, but "I look forward to taking them more often when they're a little older."
---
His Alma Mater "I'd say that FSU chose me. I'll never forget opening the first letter that I received in the mail from Bobby Bowden as a high-school football prospect. Recruiting coordinator Ronnie Cottrell saw something in me and gave me a chance to live my dream of playing college football, and for that I am eternally grateful. I majored in general communication and minored in political science."
His Football Memories "I was the deep snapper on punts and field goals from 1996 through the national-championship game against Virginia Tech in the 2000 Sugar Bowl in New Orleans. The memories that I treasure the most revolve around the time I spent with my teammates. Those kinds of relationships don't come around often in life, and I miss the closeness that we shared during the 1999 season."
On Seeking Election "Creating a better business climate in the state was the motivating factor for me to run for office. Regardless of whether you are passionate about education, health care or eliminating poverty, a thriving economy will make a positive difference. I felt like I could be a real part of helping get the economy back on track. Looking back to 2010, it feels good to know that we have made it possible for the private sector to make a comeback through our efforts to reduce burdensome regulation and taxes."
His Major Goal "Making some of the same strides locally with regard to improving the regulatory and tax environment that we've made at the state level would be a tremendous achievement."
On Pensacola's Future "We have so many assets that other communities would love to have, including world-class beaches, museums and cultural attractions, a university and state college, and first-class hospitals. When you team these things with the fact that Northwest Florida isn't as crowded as other parts of the state and the things we've done to make Florida attractive to employers, then people will come. Our challenge becomes making sure that our infrastructure can support the increased population."
On Legislating "Convincing 119 other members of the House and 40 members of the Senate to agree with your idea can be a real challenge. The good news, though, is that the job can also be extremely rewarding. Through our constituent service program, we are often able to help people struggling through the maze of government red tape. We've all been there at some point, and so guiding someone through that process is very fulfilling."